Towards a better, balanced metropolis
A glance at the mega infrastructure projects aiming to fulfil Dhaka's urgent transportation requirements, and the stumbling blocks along the way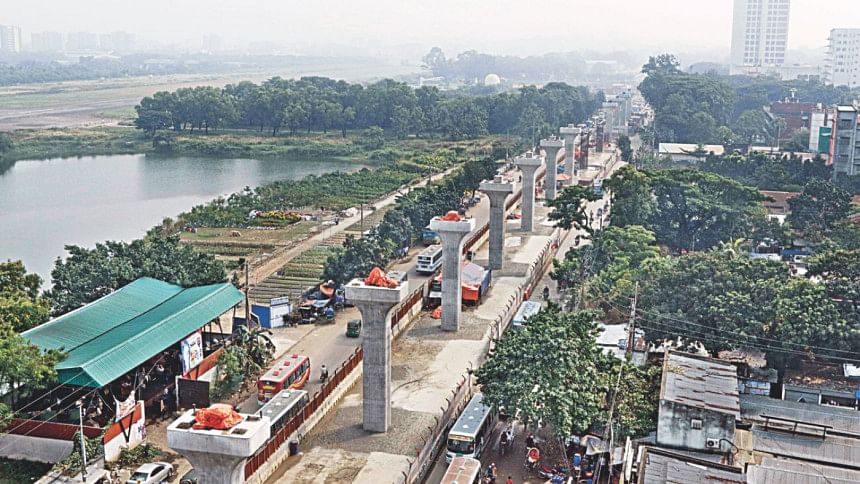 If you look hard at a map of Dhaka city, you may notice a striking similarity with the side profile of a human face. The more you focus, the more you will notice that Uttara resembles the forehead, Mirpur resembles the eyes, Tongi resembles the scalp, Gabtoli resembles the nose, Motijheel resembles the mouth and Keraniganj resembles the throat. Hardly do I need to mention that all these organs are equally important for the proper functioning of the human body.
Imagine your face being contorted and squeezed upon day after day with external pressure. Can you put a smile on your face with such pressure? You can't. It hurts, right? Well, isn't that what, in some way or the other, has happened to our beloved capital Dhaka over the years?
Well, things are starting to take a turn for the better. Dhaka is being rethought, reinvented and restructured. Concerted efforts are being undertaken to reinforce its infrastructure and transportation networks. Multiple mega infrastructure projects are in the process of being implemented and more is in the pipeline. These projects, when completed, will change the cityscape, ensure enhanced living standards of the residents and facilitate greater ease and convenience of moving around the city.
However, throughout this revitalisation therapy of Dhaka Metropolis, proper coordination between concerned development authorities is of utmost importance. Adequate Environmental Impact Assessment (EIA) strategies have to be incorporated within these mega projects. Strong regulatory frameworks need to be established for the implementation of multiple public-private-partnership projects. Also, an optimal mix of financing needs to be figured out for these projects by striking a proper balance between government funding and funding from foreign investors. All of these will act as combined catalysts to transform the face of the capital in the next few decades to come. 
As of October 2018, Dhaka is the most densely populated city on earth with a density of 47,400 people per square kilometre. Understandably so, because every day about 1,400 people enter this city for a better and a more solvent life. Being the administrative, economic and commercial hub of the country, Dhaka has seen an exponential inflow of people coming from all parts of the country over the years since liberation. The numbers keep growing, and a centralised development policy retained for many years has not helped the cause either. So Dhaka has always had to accommodate more than it could afford.
Today, a staggering 18 million people are crammed in a mere 306.4 square kilometre area. The consequent traffic gridlocks are not surprising when you consider the fact that these people make around 30 million daily trips in public and private transports. Dhaka was not designed to be under-capacity, but over the years it has become over-manned and over-vehicled.
To address the transport requirements of such a huge population, a superior Mass Rapid Transport system is of utmost importance. But as of now, there is no such system, and as a result the number of private vehicles has skyrocketed. The longer hours spent in traffic have reduced productivity and have adversely impacted the economic growth of the region, not to mention the alarming consumption of fossil fuels and resulting environmental pollution.
REVISED STRATEGIC TRANSPORT PLAN
Back in 2005, a 20-year-long Strategic Transport Plan was formulated by Dhaka Transport Coordination Authority to alleviate Dhaka's traffic woes by putting into place an efficiently planned, seamlessly integrated and thoroughly executed mass transit system. The original STP was revised in August 29, 2016 which was approved by the Road Transport and Highways Division at the Cabinet Meeting. The Revised Strategic Transport Plan (2015-2035) has been formulated to adjust the previous STP to the prevailing transport needs. Under the revised STP (RSTP), five Mass Rapid Transit (MRT) lines and two Bus Rapid Transit (BRT) lines have been proposed to cater to the transport requirements of the residents of Dhaka city and its adjoining districts of Gazipur, Manikganj, Munshiganj, Narayanganj and Narsingdi.
Later, on September last year, the Honourable Prime Minister Sheikh Hasina declared that her government plans to construct 6 Expressways, 3-tier Elevated Ring Roads and 21 Transportation Hubs alongside enhanced traffic management and increased traffic safety to ameliorate the existing traffic situation for Dhaka-dwellers.
The proposed MRTs under the broader domain of the RSTP are being implemented by Dhaka Mass Transit Company (DMTC). A dedicated agency called Dhaka Transport Coordination Authority (DTCA) has been created to synchronise the efforts of all the government agencies that are working towards the endeavour to combat the traffic problems of Dhaka city.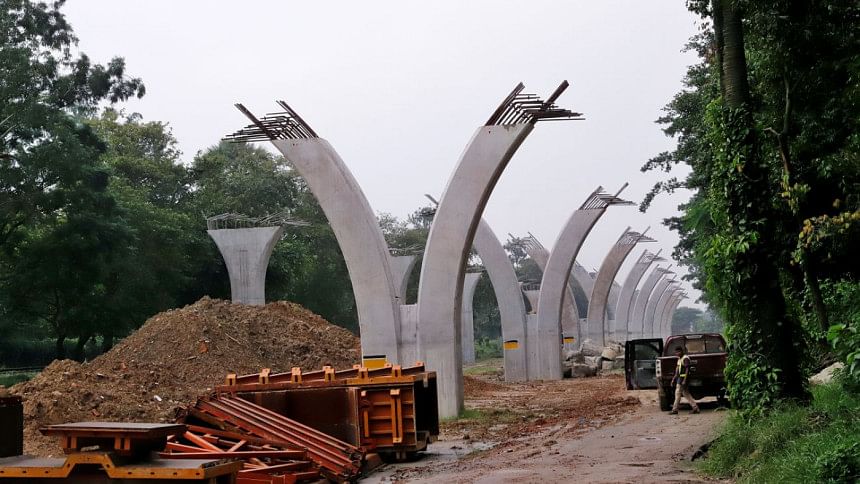 MASS RAPID TRANSITS
Five MRTs have been proposed in the RSTP, namely MRT-1, MRT-2, MRT-4, MRT-5 and MRT-6, of which the construction of MRT-6 has already seen significant progress.
MRT-6 at a glance: Length: 20 kilometres; Route: Uttara North – Uttara Center – Uttara South – Pallabi – Mirpur 11 – Mirpur 10 – Kajipara – Shewrapara – Agargaon – Bijoy Sarani – Farmgate – Karwan Bazar – Shahbag – Dhaka University – Secretariat – Motijheel; No. of Stations: 16; Travel Time: 35 minutes from Uttara North – Motijheel; Passenger Capacity: 60,000 per hour in both directions; No. of Trains: 14 trains every 3 minutes; Project Cost: Tk 22,000 crore; Expected Completion Date: December 2020; Work Progress: As of October 2018, the first phase (12 kilometres of MRT-6 from Uttara North to Agargaon) has seen 25 percent progress with almost 300m viaduct visible in Diabari; land development of the depot of MRT-6 completed and construction work of the depot is expected to be completed by June this year.
MRT-1 at a glance: MRT-1 is proposed to have two lines: Airport Line and Purbachal Line. Of the two lines, Airport Line is going to be the first MRT of the country to have all of its 12 stations underground.
Length: Total 30.6 kilometres (underground 18.8 kilometres, elevated 11.8 kilometres); Airport Line (AL) Route: Hazrat Shahjalal International Airport – Airport Terminal 3 – Khilkhet – Jamuna Future Park – Notun Bazar – Uttar Badda – Badda – Hatirjheel – Rampura – Malibagh – Rajarbagh – Kamalapur; Purbachal Line (PL) Route: Hazrat Shahjalal International Airport – Airport Terminal 3 – Khilkhet – Bashundhara – POHS – Mastul – Purbachal West – Purbachal Center – Purbachal Sector 7 – Purbachal Terminal; No. of Stations: 19; AL: 12 (all underground), PL: 7; Travel Time: AL – 24 minutes 40 seconds, PL – 36 minutes 10 seconds; Project Cost: Tk 50,000 crore; Work Progress: Feasibility study completed in 2018; Concerned Consultants: Seven Japanese and Indian companies and one Bangladeshi company led by Nippon Koei Company Limited; Expected Design Completion Date: July 2022; Expected Completion Date: 2026.
MRT-5 at a glance: MRT-5 is also proposed to have two lines: Northern Route (NR) and Southern Route (SR); Length: Total 41 kilometres; NR: 20 kilometres (underground 13.5, elevated 6.5); SR: 21 kilometres (elevated); Route (Proposed), NR: Hemayetpur – Baliapur – Modhumoti – Aminbazar – Gabtoli – Darussalam – Mirpur 1 – Mirpur 10 – Mirpur 14 – Kochukhet – Banani – Gulshan 2 – Notun Bazar – Vatara; SR: Gabtoli – Technical – Kalyanpur – Shyamoli – Asad Gate – Russel Square – Panthapath – Sonargaon – Hatirjheel – Rampura – Aftabnagar – Dasherkandi – Baralu Bazar – Ganganagar – Bhulta; No. of Stations, NR: 14 (9 underground, 5 elevated), SR: 15; Travel Time, NR: 30 minutes 30 seconds, SR: Still undetermined; Expected Completion Date: Northern Route by 2027, Southern Route by 2030; Work Progress: Preparation of a draft project document is underway for Northern Route and consultants are being considered to be hired for feasibility study. A pre-feasibility study for the Southern Route began in May 2018.
MRT-2 at a glance: Length: Total 24 kilometres; Route (Proposed): Gabtoli – Basila – Mohammadpur – Satmasjid Road – Jhigatola – Science Laboratory – New Market – Azimpur – Palashi – Dhaka Medical College – Golap Shah Mazar – Bangabhaban – Motijheel – Arambagh – Kamalapur – Mugda – Manda – Demra; Work Progress: In July 2018, the Bangladesh government made a proposal to the Japan government for technical assistance for undertaking the pre-feasibility study of MRT-2.
MRT-4 at a glance: Length: Total 16 kilometres (underground); Route (Proposed): Kamalapur – Narayanganj (along the Dhaka–Narayanganj railway track); Although these five MRTs are going to have tangible benefits as they will partially mitigate the existing traffic chaos of the capital, they need to be supplemented by other transport modes as well to provide commuters of Dhaka a holistic solution.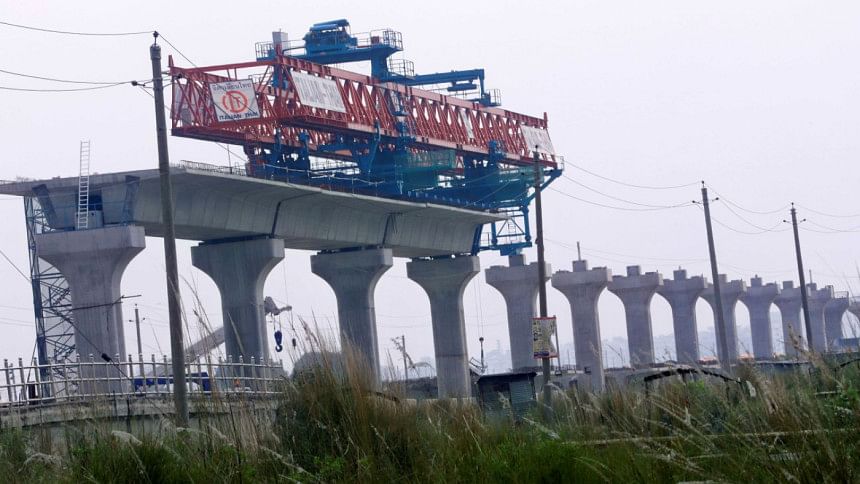 BUS RAPID TRANSITS
As part of the Greater Dhaka Sustainable Urban Transport (GDSUT) Project, a BRT line is in the process of being implemented from Hazrat Shahjalal International Airport to Gazipur (Known as BRT-3). The total estimated cost for BRT-3 is Tk 2039.84 crore. After the completion of BRT-3, around 25,000 passengers per hour will be able to travel in both directions, which will significantly reduce the long hours stuck in traffic on the Dhaka–Mymensingh N3 Highway. As of December 2018, an overall progress of one percent has been made on this BRT line including joint survey, Environmental Impact Assessment (EIA) and a substantial part of the sub-soil investigation. ItalThai Group, an Italian and Thai joint venture, has been awarded the construction contract for BRT-3.
BRTs are considered to be affordable, comfortable and environment-friendly traffic solutions that can supplement MRTs by facilitating urban commuters to travel safely and fast within the city. BRTs are mostly designed to occupy two central lanes—6.5 metres wide and cordoned off—of existing roads and intended for dedicated, disciplined and reliable bus service.
Unfortunately, the progress of the Airport–Keraniganj BRT Line has been impeded time and time again by a lack of coordination between the various development authorities. As of 2018, the initially proposed 22-kilometre stretch from Airport to Keraniganj has been reduced to less than half for a 10-kilometre stretch of Airport-Mohakhali. The original design for which the feasibility study was conducted would have allowed a passenger to hop on a bus at Airport and get off at Keraniganj in less than an hour (which now takes around three hours). But construction of the Moghbazar-Mouchak Flyover has created obstruction to implement the Mohakhali-Keraniganj stretch of the original route. Moreover, concluding the BRT Line at Mohakhali may turn out to be counter-productive as a plethora of passengers would get off at Mohakhali for further travel, creating a scope of potential congestion.
BRTs can prove to be really productive to alleviate traffic congestion within the city. However, for further expansion of different stretches of BRT lines, the importance of proper coordination between different stakeholder agencies cannot be overemphasised.
THE EXPRESSWAYS
As part of the Revised STP, along with the previously proposed Dhaka Elevated Expressway, the construction of five more expressways, i.e. Dhaka–Ashulia Elevated Expressway, Dhaka-Chattogram Expressway, Dhaka-Sylhet Expressway, Dhaka-Mawa Expressway and Dhaka-Mymensingh Expressway, has been proposed. The expressways will let national traffic to move from one corner of the country to the other without having to enter or bypass the heavily traffic-clogged capital. The construction of Dhaka Elevated Expressway will be completed by 2020 as part of the first phase of RSTP, while the remaining five expressways would be built during the second (2020-2025) and third phase (2025-2035) of RSTP.
DHAKA ELEVATED EXPRESSWAY
On April 1, 2018, construction works began for the first ever elevated expressway of the country. 46.73-kilometre long, DEE will let national traffic to bypass Dhaka vertically in the fastest possible way, substantially reducing the traffic load inside the city.
On September last year, the prime minister said that the DEE is being constructed along with ramps from Hazrat Shahjalal International Airport to Kutubkhali point of Dhaka-Chattogram Highway via Kuril, Banani, Mohakhali, Tejgaon, Sonargaon Hotel, Palashi, Moghbazar and Kamalapur as part of the government initiative aiming to remove traffic jams from Dhaka and ensure safer roads.
DEE is being constructed under the public-private-partnership modality and Italian-Thailand Development Company Ltd. is the major investor. Twenty-seven percent Viability Gap Funding is being provided by the government of Bangladesh. The estimated cost of DEE is approximately Tk 13,825 crore.
DHAKA-ASHULIA ELEVATED EXPRESSWAY PROJECT
Dhaka-Ashulia Elevated Expressway Project (DAEEP) will be connected with Dhaka Elevated Expressway and thus Savar, Nabinagar, and EPZ area will get direct access to Dhaka-Chattogram N1 National Highway. Transportation of export goods will be much easier and less time-consuming. Users from around 20 north-western districts and 5-6 south-western districts will be directly benefited by being able to enter Dhaka through Abdullahpur-Ashulia-Baipayl-Nabinagar link. Consequently, more than 40 million people of 30 districts will be connected with the capital city through the proposed expressway.
The elevated portion of this expressway will be 24 kilometres with 10.84 kilometres of ramp and 14.28 kilometres of connecting road. The total estimated cost of the project is Tk 16,901 crore, of which Tk 10,949 crore will be funded by the China Exim Bank and the remaining Tk 5,951 crore will be funded by the government. The project is scheduled to be completed by 2022. Chinese firm China National Machinery Export and Import Corporation will supervise the construction of the project.
DHAKA EAST-WEST ELEVATED EXPRESSWAY
With an intention to create a vital link between major National Highways N1 (Dhaka-Chattogram), N5 (Dhaka-Aricha) and N8 (Dhaka-Mawa), the government wants to build a 39.24-kilometre-long elevated expressway from Baliapur, Savar to Langalbond, Narayanganj via Nimtoli-Keraniganj-Fatulla-Bandar. The East-West Elevated Expressway will allow vehicles to shift between N1, N5 and N8 Highways and skip the congested streets of Dhaka. Vehicles coming from the direction of Aricha can easily switch eastward towards Dhaka-Chattogram Highway or southward towards Mawa or northward towards Sylhet without having to enter Dhaka.
The estimated cost of the project is approximately Tk 14,000 crore. The Malaysian government has proposed to the Economic Relations Division to build it with funding in the BOOT (Build-Own-Operate-Transfer) process.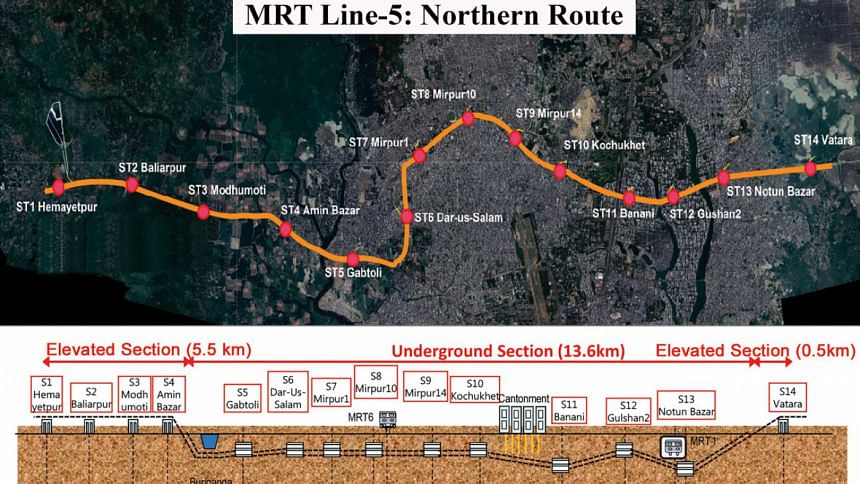 HAZRAT SHAHJALAL INTERNATIONAL AIRPORT EXPANSION PROJECT
The Civil Aviation Authority of Bangladesh (CAAB) is currently in the process of expanding the Hazrat Shahjalal International Airport (HSIA) to address the growing number of domestic and international air traffic (both passenger and cargo) passing through the facility. The airport is anticipated to witness passenger traffic of approximately 12 million by August 2022 and up to 22 million by 2035. The construction works of a third passenger terminal building (known as Terminal 3) and other infrastructure are scheduled to be completed by 2022 with an estimated project cost of Tk 13,610.47 crore, majority of which will come from JICA. The new international passenger terminal building is set to have a floor area of roughly 2.5 million square feet. After the construction work of the terminal is completed, passenger handling capacity of the country's major airport will increase from 8 to 20 million and cargo handling capacity from 2 to 5 lakh tonnes annually.
SUMMING IT ALL UP
While all these mega infrastructure projects are being implemented and more is in the pipeline, Dhaka city needs to find an optimum balance as to what build and what not to build as well. After all, these projects were conceptualised to help ease the traffic pandemonium that is present-day Dhaka. And several key aspects need to be remembered.
Firstly, proper coordination and communication have to be in place between all the infrastructure development authorities of Dhaka. These include Dhaka North City Corporation, Dhaka South City Corporation, Local Government Engineering Department, Bangladesh Bridge Authority, RAJUK, Roads and Highways Department, and Dhaka Mass Transit Company Limited. Dhaka Transport Coordination Authority, the agency created to coordinate the efforts of all these organisations, should work with more planning and efficiency to resolve conflict of interests between them.
Secondly, a conducive environment needs to be created for the implementation of all the PPP projects. All traces of bureaucratic mindset need to be brushed off when it comes to PPP projects. No agreement should be altered without prior discussion with the private investors as it may send a wrong signal to them. The government also needs to deliver its commitments like land acquisition and utility shifting in a timely manner as delay in project completion will set back overall progress. A robust regulatory framework needs to be established for the successful realisation of the PPP projects.
Lastly, Viability Gap Funding (VGF) needs to be incorporated more and more in PPP projects and the proportion of VGF needs to be increased to reduce foreign assistance. VGF is generally provided to those projects which have a long gestation period (time difference between an investment and the beginning of its profit generation) and when the user charges cannot be increased to commercial levels. Increasing VGF proportion in our PPP projects will develop our economic strength and lead us towards self-sufficiency eventually.
The distortion spell finally seems to be wearing off. Dhaka seems to be on the way of getting rid of the unnecessary traffic it can do without. With all the mega projects gradually being transformed to ideation to realisation, it would not be over-optimistic to say that within the next two decades, Dhaka will be smiling—more brightly than ever before.
Ishtiaq Ahmed is a civil engineering graduate from BUET, currently working in the financial sector.