Let's make a difference to millions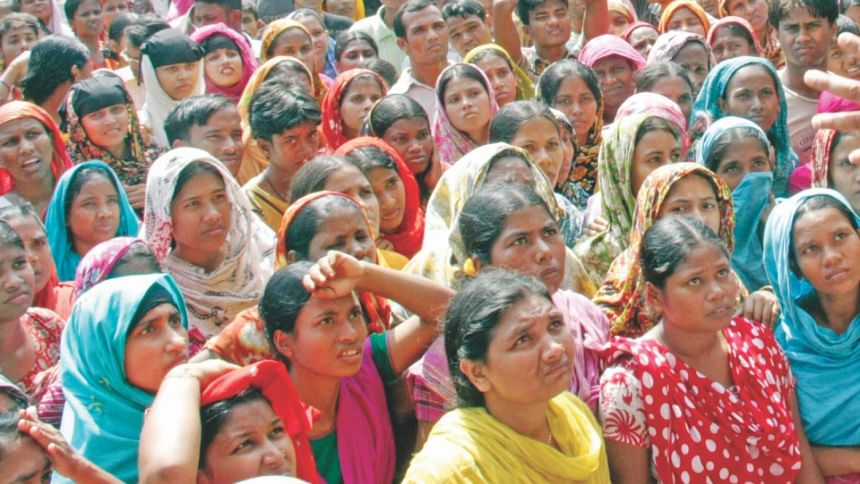 "Vision with action is a daydream; action without vision is a nightmare," states an old Japanese proverb. Indeed, if we cannot dream, how can we achieve anything? If we do not take actions, what is the point of seeing dreams? So, it is action with vision that can change the society and the country we live in. More than four decades ago we fought the War of Liberation to materialise our long-cherished dream of an independent and sovereign Bangladesh, and which did not come to us effortlessly; rather we had to take up arms and sacrifice millions of lives to achieve our goal.
We needed a vision in planning for the future with a clear purpose: economic emancipation, which was one of the aspirations of our Liberation War.  Now we have Vision 2021 set by our government is an important step towards our economic emancipation. It is a planned articulation of how we will take the country where it needs to be in 2021. We expect that by the time Bangladesh become a middle  income-country,  with  the  basic  needs  of  our people ensured and  their  basic  rights  respected.
Now the question comes: is the Vision achievable? The economic performance Bangladesh has shown over the last few years and the potentials that are lying before her really make us optimistic about future of the country. Strong economic growth supported by industrial growth, increased flow of exports and remittance, and record-high foreign currency reserve attest to the fact that Bangladesh is on the right track of development. The forecasts by international organisations also echo thus. Forecasts by UK-based global consulting firms, PwC, IMF, JPMorgan, Goldman Sachs etc. signal envious growth.
We will need strong and steady industrial growth to achieve Vision 2021. And it is our RMG industry that has both capacity and potential to supplement it. The industry's contribution to the socio-economic development of the country is now an established fact. Now we are moving towards achieving a target of USD 50 billion in exports by 2021. Here also facts, figures, global market scenario and forecasts by international firms are favourable for our dream.
In April of 2012, McKinsey made a forecast that Bangladesh RMG could reach USD 50 bn by 2021. In the latest report of Apparel CPO Survey 2013, the world's leading strategy consulting firm reiterated that our RMG industry still held a competitive position in the world market. We firmly believe Bangladesh has the potential and strength to achieve much more than the target.
What does achieving the target of USD 50 billion mean to us? It means employment for more millions of people, it means millions of people out of poverty, it means education for more children, it means empowerment of more women, it means acceleration of economic progress – all are needed to materialise Vision 2021.
However, achieving the RMG target requires concrete action. While we will have to take action to realise our potentials, steps are also necessary to address major challenges, including infrastructure, skilled workforce, power and energy, political stability etc. to reach our target.
We must acknowledge the sincerity and policy support of our government for the development of the RMG industry. The government has already taken a number of steps that will help us to attain our goal. A project of upgrading the Dhaka-Chittagong highway is underway, which once completed will ease transportation of RMG goods to Chittagong port. Besides, the government has made visible progress in power generation which is one of the keys to growth of our industry. An industrial park is going to be set up for garment factories in Munshiganj. The government has taken set up 100 new economic zones in different areas of the country to spur economic growth.
However, we have to put more efforts to achieve the USD 50 billion target. We have to further develop infrastructure, modernise our ports, and ensure uninterrupted gas and power supply. The bank interest rate is still so high in our country, which is a deterrent to development of our apparel industry.
It is really heartening that our apparel sector has made visible progress in terms of ensuring workplace safety. Inspection by the Accord, the Alliance and NAP in around 3,660 factories has been completed. The factories which received Correcting Plans (CAPs) are carrying out necessary safety repairs. The cost of remediation is really high, which is difficult to bear by the factories, especially small and medium-sized ones. So the government and our development partners have to come forward to assist those factories to implement remediation plans to ensure worker safety. Moreover, our factories are adopting eco-friendly practices and measures for better environmental performance. The government and other stakeholders should come forward to help our factories become green.
We also need the support of the media as it has a huge role to play in the development of the industry. The media can contribute to boosting our image globally through constructive reports.
In a word, we need everyone's support, including that of the government, policymakers, academics, journalists, brands, buyers, entrepreneurs, and workers, to reach the target of USD 50 billion; achievement of this will means a lot to our country and its people. The 50 billion means more employment, empowering more women, more economic growth and above all, achieving upper middle-income status. So, let's work together. Let's make a difference to millions of lives.
The writer is the President of Bangladesh Garment Manufacturers and Exporters Association (BGMEA)