Silver jubilee special
Nutritional security through bio-fortified zinc rice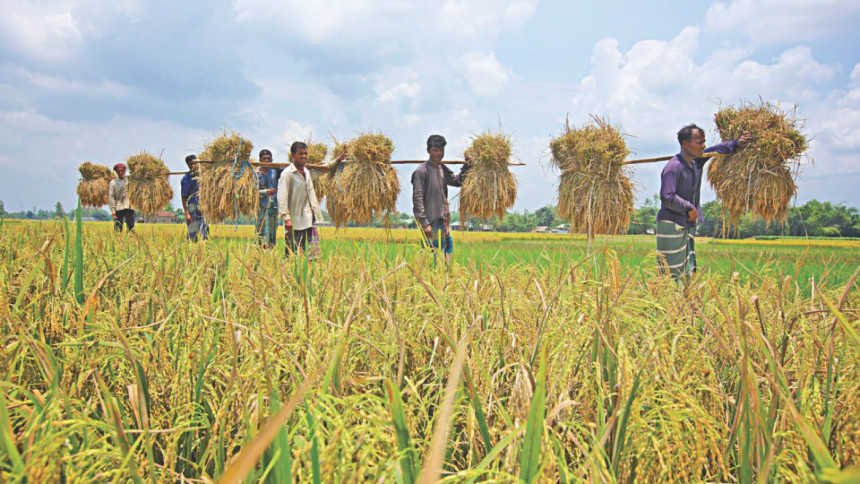 Bangladesh agriculture has contributed to achieving food self sufficiency through production of about 38 million tons of food grain. Rice alone provides a major share of this with over 35 million tons. And this was possible through a strong role by far reaching policy of the government, dedicated research and extension activities, active participation of farmers and organised seed producers. We even exported 25,000tonsof rice to Sri Lanka last year.
But did we achieve nutrition security? The answer is NO. It is yet to be achieved particularly for rural and urban poor. They depend almost solely on rice, the staple food, through which they obtain nutrition, but partial supplementation is available through fruits, vegetables and animal resources which they can manage in their homesteads and lands they have. Their main target is to mitigate hunger, where nutrition is hardly consideredas their target in their diet, although there are national programs for vitamin supplementation through tablets and edible oil enriched with vitamin A and D.Such edible oil is kept in transparent plastic containers, and according to scientists, stability of such vitamin in transparent container is about six months contrary to 18 months in dark containers. With 44% of the girls, aged between 15 and 19, too short for their age, Bangladesh is home to the world's largest number of stunted adolescent girls after Guatemala, medical journal The Lancet says (bdnews24.com; July 2,2013).
The issue of micronutrient like zinc is in a very preliminary stage of awareness and the availability to address the problems arising out of zinc deficiency was recognised in recent past in Bangladesh. Sea fish could be a good source, but poor people cannot afford to access that.It is not yet known to rural people thatzinc deficiency causes dwarfing, reduced immunity, retarded growth, Hypogeusia (decreased sensitivity to taste) and acrodermatitisenteropathica(a kind of facial skin disease) in children.However, there is growing awareness among professional and policy levels about micronutrients leading to taking up projects on crop diversification.
The 7th Five Year Plan (2016-2020) of Bangladesh government underscored importance of attainment of self sufficiency in food grain production along with increased production of other nutritional and high value crops thus endorsingfood based nutrition management through promotion of balanced diet containing adequate micronutrients. With regard to proper food and nutrition availability, government initiated many programs including "Health,Population,Nutrition Sector Development Program (HPNSDP)" recognising the importance of strengthening and expanding nutrient specific intervention among pregnant and lactating women, newborn babies, under-5 children and adolescent girls.With this in view, the 7th Five Year Plan approved strategies fordevelopment of iron and Vitamin A-rich staple crops through conventional breeding for Bio-fortification. Since all people in Bangladesh, irrespective of financial resources, consume rice, micronutrients incorporated in rice grains seems to be an immediate and sustainable approach to make micronutrients available to consumers of all levels, particularly the poor.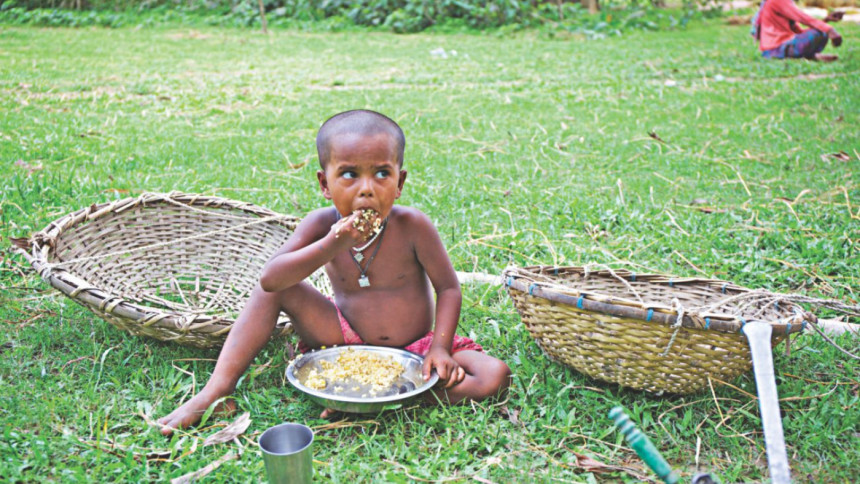 Zinc deficiency in diet in Bangladesh has already been identified as a cause of concern for health, and some initiatives were taken in the past for food fortification through coating and extrusion technologies for Bangladeshi rice grain with importedfortified rice kernels. Some high level officials also visited China in 2013 for gathering experience on such approachand mainstreaming of the technology. Accordingly, government of Bangladesh took a project in partnership with WFP and funding from Dutch embassy to reach 500,000 beneficiaries within 2017. The adoption of suchtechnology requires mandatory fortification, which is not possible under Bangladesh Socio-political situation. Philippines passed such a mandatory legislation and could fortify less than one percent only. Moreover, Bangladeshi rice millers were not encouraged because of increased cost of such products to face competition in market resulting from extra mechanical attachment in mills causing complicated processing jargon.The approach also has a rare benefit from nutrition point of view since such external supplementation is vulnerable to loss of zinc during washing prior to cooking and gruel removal. More detailed information is available in the document "Scaling up Rice Fortification in Asia" compiled by WFP and Sightand Life(Info@sightandlife.org; Bangkok.riceworkshop2014@wfp.org ).
Under the circumstances, the worthwhile approach and easily available zinc nutrition strategy would be to incorporate zinc in rice endosperm, the material we eat as cooked rice, through conventional breeding process i.e. through bio-fortification. In that case there will be little chance of loss ofzincduring milling and gruel removal since zinc is embedded in entire part of endosperm.Thus poor people will have some access to zinc nutrition through their staple food, which is very much in line with strategy of the government, even if they do not have any supplementary source of zinc.
Works are being done in Bangladesh on methods of increasing zinc in grainusing technologies like agronomic fortification through spraying zinc sulphate on plants, putting zinc fertiliser in soil, adding zinc oxide to clean rice, and above all enriching rice grain with zinc through breeding process. The last approach was considered,in a workshop at USAID office in Dhaka, to be the most sustainable at farmers' and consumers' levels, although cost of such breeding is high at research level, which happens only once in the process of development and is usually supported by CGIAR centres. CGIAR is the Consultative Group of International Agricultural Research, IRRI is one such institute.However, research indicated more uptake of zinc in grain if zinc fertiliser is applied and the crop is irrigated using AWD (Alternate Wetting & Drying) technology.
Bangladesh Research Institute(BRRI) already released four rice varieties containing different levels of zinc content. These varieties are competitive with superiority to other existing mega varieties having potential high yield, earliness and tolerance to tidal flooding and strong winds, and above alladditional   nutrients. These are :(a) BRRI dhan62(Aman season variety, 100 day life cycle,contains 20mgzinc/kg of milled rice & 9% protein,yield potential 4.5-5 ton/ha); (b) BRRI dhan64 (Boro season variety,145-150 days life cycle,contains 24mgzinc/kg of milled rice, yield potential 5.7-7.0 ton/ha); (c) BRRI dhan 72 (Aman season variety,125-130 days life cycle, contains 22.8mg zinc/kg of milled rice, yield potential 5.7  to 7.5 ton/ha with proper care). Plants of this variety are 116 cm tall with stout stems suitable for growing in tidally flooded southern districts and under strong winds; (d) BRRIdhan74 (Boro season variety, 147 days'life cycle,contains 24.2mg zinc/kg of milled rice,yield potential 7.1-8.3 ton/ha, only 92 cm height).
The advantages of these varietiesare that these are inbred varieties and farmers can produce seeds for their own use like other existing traditional and modern varieties developed through breeding process and these are not GMO against which people have some apprehensions. BRRIdhan62 is the shortest duration variety which allows accommodation of one extra winter crop before Boro rice establishment in the field. Farmers and the contract growers of the seed producer associations in Meherpur and Jessore districts reported that this variety can also be cultivated in Boro and Aus seasons, in fact some have started producing accordingly, although it is recommended for Aman season. Those seed producers cannot sell seeds of this variety with its own name for Boro and Aus seasons because of legal relevance. The variety could spread in Boro and Aman season with original identity if the National Seed Board approves this varietyforthese seasons. As a result,zinc enriched biofortified rice could cover more areas and more people in the villages to accesszinc nutrition with knowledge and confidence.
HarvestPlus, co-ordinated by International Centre for Tropical Agriculture (CIAT) and International Food Policy Research Institute (IFPRI), is a global alliance of research institutions and implementing agencies that have come together to breed and disseminate bio-fortified crops for better nutrition. IFPRI and CIAT have started implementation of the program "HarvestPlus" (Email:  k.bashar@cgiar.org; webpage: www.HarvestPlus.org) in 2002. By the end of 2016 HarvestPlus will has a goal to reach an accumulated number of 570,000 farming households and by 2018 the target is 1,375,000.
HarvestPlus aims to improve the zinc status of Bangladeshi women and children through the introduction of high zinc rice varieties for production and consumption by smallholder farm households. The micronutrient target increment for zinc in rice is 12 ppm i.e. 12 mg/kg; this increment provides about 25% of the Estimated Average Requirement (EAR) for 4-6 years oldpre-school children and adult women of child-bearing age. In Bangladesh, since 2013, HarvestPlus confined their works within seed production and delivery through fivegovernment organisations including BRRI and DAE, two private seed producerassociations comprising about 300 small and medium companies and 25NGOs distributed over 350 upazilas of 58 districts. Based on the last 2 years' dissemination and delivery activities with the help of GO,NGO and private companies HarvestPlus could reach 120,000 Households through distributing 360 tons of seeds. It has plan for 2016 to reach 360,000 Households through direct and indirect seed distribution.The target is to increase diffusion rate from 1:3 to 1:5 through farmers to farmer seed exchange or selling seeds to neighbours.
In order to  reduce hidden hunger of zinc nutrition for poor people, government needs to play leading co-ordination role through the following strategies: (a) create awareness about benefit of zinc rice consumption by rural and urban poor through publicityin the media and relevant organizations; (b) mainstreaming of seed production and delivery to farmers using BADC and private seed companies; (c) entrusting DAE for overall extension activitiestowards popularization through its rural level extension workers; (d) involve female health visitors to motivate rural women for feeding their children with zinc rice; (e) guard against any attempt of consumers being cheated—millers and rice traders should sell zinc enriched rice in sealed bags with name of appropriate zinc rice varieties printed on the bag and duly certified by rice millers so that quality can be ensured through regular monitoring by BSTI with initial assistance from HarvestPlus. (Such an approach is already in practice by Aristocrat Agro Limited for Low GI (Glycemic Index) rice valuable for diabetic patients.) And finally, (f) increase demand and market share of zinc rice. HarvestPlus has initiated work towards these aspects for implementation during 2016.The government and the development partners should extend their hands to support this moral activity to save our millions children from the hidden hunger.
On the whole, a national campaign will need to be organised for providing zinc nutrition to poor people through a national level committee consisting of Ministries of Agriculture, Health & Family Welfare, Food, Women& Children Affairs and other relevant organisations under the leadership of Ministry of Agriculture.Since it is an approach of rice based nutrition, which is feasible at village level, proper leadership and guidance can successfully address zinc nutrition deficiency. It is worth mentioning that golden rice, containing Pro-Vitamin A isin the final stage of research for accessibility to consumers.
Dr. Md. Khairul Bashar is the Country Manager of HarvestPlus, Bangladesh and Former Director (Research), BRRI and Dr. M A Hamid Miah is Fellow of the Bangladesh Academy of Sciences, Former IRRI Liaison Scientist for Bangladesh, Former Executive Chairman, BARC and Former Director General, BRRI.