Silver jubilee special
Food security prospects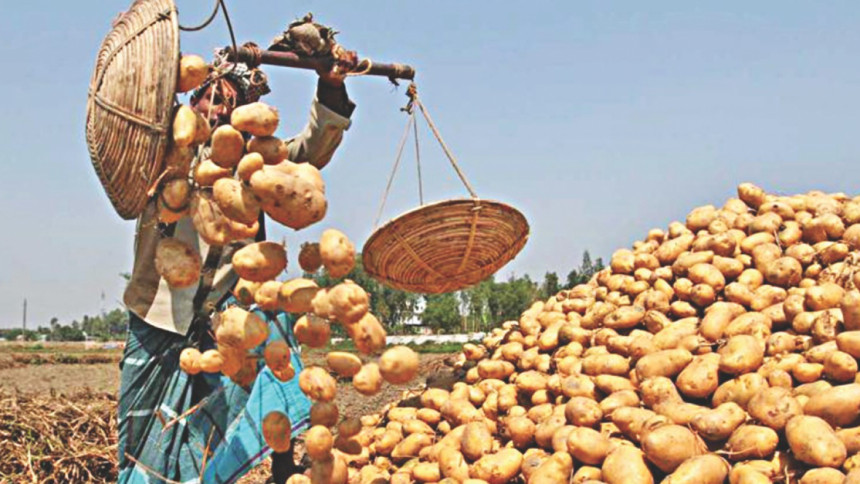 Bangladesh has made substantial progress in enhancing food security by increasing production of food grains, particularly rice and by improving access to food by strengthening public food distribution system especially by expanding food-based safety net programs over the last two decades or so.
Rice has contributed most to achieving self-sufficiency in food grain, currently accounting for 94% of the food grain production. Rice production growth has been mainly driven by an increased use of irrigation water, expanded use of other agricultural inputs, especially chemical fertilisers along with an increased coverage of modern high-yielding rice varieties. However, the sustainability of domestic food grain production remains an important issue. The growth rate attained in the past cannot be sustained without technological breakthrough vitally needed to shift the yield frontier. Furthermore, demographic pressures and increased urbanisation have caused arable land to decline at a rate of one per cent per year, while cropping intensity has virtually reached its limit. With global warming, more land is likely to be lost in coastal areas due to advancing seas. Water availability for irrigation has also increasingly become scarce. Thus Bangladesh needs to produce more from shrinking resource base in order to meet the growing demand for food due to increase in population and income.
The emphasis placed on rice production has resulted in an increased dependency on imports for non-food grain commodities, such as pulses and oilseeds which remain unaffordable to many, especially poor consumers. Traditionally, the two most important non-cereal foods for the poor were fish and pulses. Due to diversion of land to boro production, the domestic production of pulses declined substantially and its prices increased significantly. As a result, the poor substituted cereals for pulses with adverse nutritional implications especially for children, pregnant and lactating women.
Arsenic contamination has become a major concern for both agricultural sustainability and food safety. Climate change poses an emerging challenge for food security, especially in areas where agriculture and water resources are already under stress due to adverse meteorological conditions. In fact, Bangladesh is recognised worldwide as one of the frontline countries most vulnerable to the adverse impacts of climate change.
Actions are, therefore, needed on many fronts, including agricultural technology development, improved input (seeds, fertilisers, irrigation, machinery) delivery system and critically, rural financing, especially those for small and marginal farmers. Renewed crop diversification efforts need to be pursued by clear understanding of the relative profitability of competing crops, physical and location-specific conditions for non-crop enterprises, the supply chain of high value products and provision for processing, storage and marketing activities, as well as by a clear understanding of international trade opportunities.
Enhancement of people's economic access to food has been significant. Poverty incidence as measured by head-count ratio has markedly decreased in both rural and urban areas. However, many poor and vulnerable households (more than 50 million) still, do not have food security because they are unable to afford a minimum basket of food items through their own production, market purchases and other resources necessary to acquire safe and nutritious food.
According to HIES 2005, in rural areas, poverty incidence remains especially high among households headed by a member working in agricultural sectors (48.2%) as well as among landless rural households (66.6%). The undernourishment-focused Direct Calorie Intake (DCI)-based poverty data indicate that the recent decline in "hardcore poverty" (from 20% to 19.5%) and in "ultra-poverty" (from 8.2% to 7.8%) has been less impressive than the decline in absolute poverty (from 47.5% to 40.4%), suggesting that many people are likely to be "trapped" in the vicious cycles of hunger and poverty.
Poverty incidence also suggests differential access to food among different regions. It has been estimated that about 80% of the aggregate reduction in the CBN-based poverty headcount ratio is attributable to two divisions, namely Dhaka and Chittagong, highlighting the need for strategies to address regional income disparity and food insecurity. Furthermore, access to food continues to be highly unequal within households, with adult males getting preference over women and children.
About 85% of the population lives in rural areas and continues to depend largely, whether directly or indirectly, on agriculture for its livelihood. Many rural areas lack education and health facilities. They also lack modern grain storage facilities and adequate roads linking to larger market areas. Thus, concerted efforts to ensure a sustainable and equitable development of agricultural and rural sectors, especially agro-based industries and Micro Small and Medium sized Enterprises (MSMEs), will be key to food security in the foreseeable future. Such efforts would appear to be all the more compelling since increasing landlessness and underemployment in rural areas and resulting rural-urban migration acts as major drivers of poverty and food insecurity in urban areas.
Also, large segments of the population remain vulnerable to transitory food insecurity caused by drought, floods, cyclones and other natural disasters, which, in many cases, results in highly unfavourable adjustments to their means of livelihoods (indebtedness, selling of assets, etc….) due to the lack of coping capabilities. This is particularly true for people living in ecologically unfavourable areas. This highlights the need for strengthening risk reduction, disaster preparedness and management at all levels, including communities and households. Furthermore, the seasonal food crisis that continues to occur, before the harvest of aman rice each year in the northern region of Bangladesh (monga or near famine-situation), despite safety net programs, is of particular concern and need to be remedied by adequate interventions to create employment and income-generating opportunities during the lean seasons.
Another element of transitory food insecurity arises from food price instability, as experienced recently with rice and other essential commodities. Managing food price risks in an increasingly globalised environment entails specific challenges that need to be addressed. In fact, since the 1990s, Bangladesh has been following the strategy of self-reliance (importing from international market to meet the deficit in domestic production) to ensure food security. This strategy worked well particularly after the floods of 1998 and 2004. However, in 2007 and 2008, Bangladesh faced considerable difficulties to import adequate amount of food grains after floods, Sidre and during the time of high price of food grains.
Thus, achievements in the areas of food availability and access need to be consolidated by multi-pronged policy efforts to address remaining issues and emerging challenges. Moreover, the implementation of past policies and programs has not been translated into improved nutritional outcomes. The food consumption trends are not encouraging and diets remain poorly diversified, with as much as 90% of the dietary energy supply still coming from rice. While child malnutrition rates have markedly declined (from 68% in 1983 to 47% in 2005), they remain among the highest in the world. Vitamin A deficiency still affects 30% of children and women, iron deficiency anaemia affects nearly 50% of the total population and iodine deficiency affects 36% of women and children. Malnutrition from macro and micronutrient deficiencies in early life has long lasting effects on subsequent growth, morbidity, cognitive development, educational attainment, and productivity in adulthood.
Moreover, there is evidence that malnutrition prevalence in Bangladesh is not confined to poorer households. While child malnutrition is generally higher among the poorest quintiles (46-50%), it is also high among the richest income quintile (33%). Thus, while many poor households are not able to access a variety of (nutritious) foods, richer households tend to spend more on food, but not on more nutritious foods, which results in significant deficiencies in protein, Vitamin A and iron.
This implies that strategies to improve availability and accessibility of food, need to be complemented by a set of policy measures that promote the improved utilisation of food, including efforts to promote positive food behaviour, access to clean water and proper sanitation which are all linked to sound nutrition. Differentials within households as regards access to food, nutrition, health care and primary education determine, to a large extent, the differing nutritional status of household members. Health and nutrition outcomes become significantly better where resources are more equitably shared across age and sex.
The writer is Former DG, BIDS.