Education Policy - Excellent on paper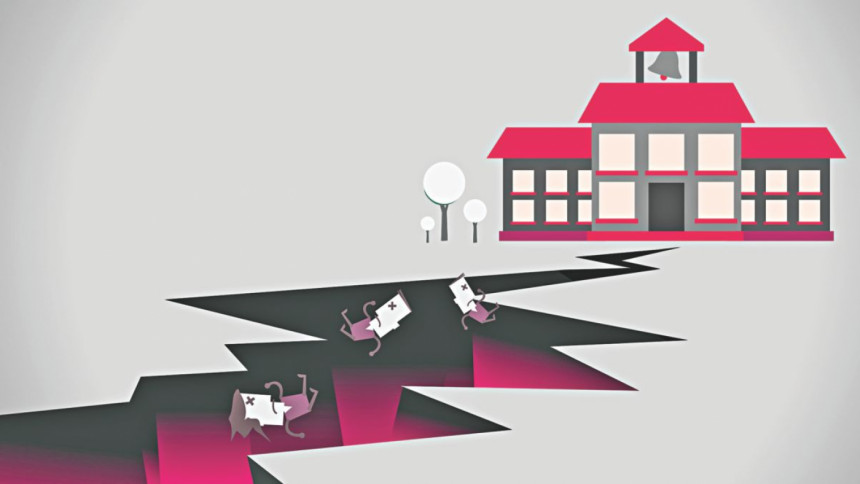 Education policy in Bangladesh has always been an issue of much anticipation and as well as heated debate. All the governments, from the colonial era to the present day have tried to formulate and implement individual education policy that reflect their own ideals and vision regarding the nation's destiny. In 2010, Bangladesh got the first education policy that was made open to all for corrective and constructive opinion before final publication. Thus, the national education policy 2010, filled with pledges for reformations and progress, became the true embodiment of the nation's principles and conscience.
After Bangladesh's independence in 1971, Bangabandhu Sheikh Mujibor Rahman ordered to form a national commission in 1972 to formulate an effective and progressive education policy for the newborn nation. Led by renowned scholar Dr Kudrat-e-Khuda, the commission published the first education policy of Bangladesh in 1974, which was finely tuned to the country's purely secular constitution. However, after the assassination of Sheikh Mujib the education policy was shelved forever and the country's education system continued to run with centuries old ideals and infrastructure. 
Later, with the change of the government, new education commissions and committees have been formed to introduce new education policies. From 1988 to 2010, the country got five fresh education policies, however, very few of those policies managed to bring any significant change and improvement in its education sector.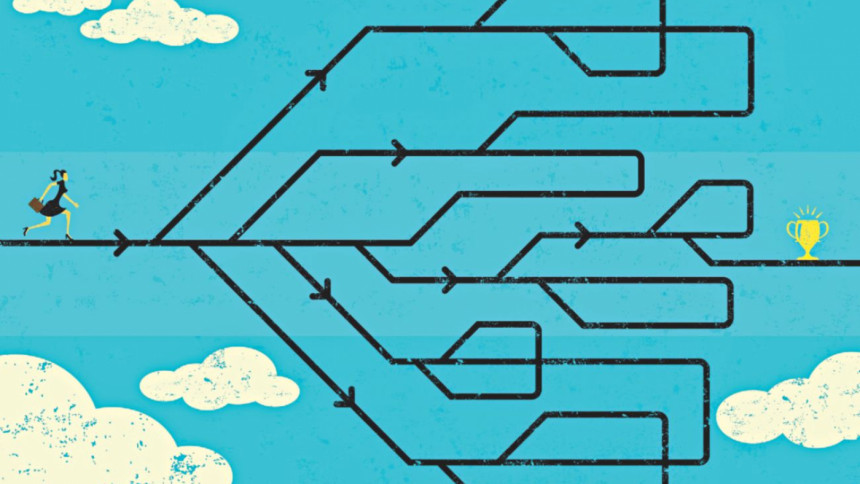 As declared in the election manifesto in 2008, Awami League led government formed an education commission to formulate a fresh education policy in 2009. Unlike the previous policies, this commission chaired by National Professor Kabir Chowdhury, was tasked with the challenging job of formulating a policy in accordance with the first education policy prepared by Dr Kudrat-e-Khuda. After several modifications, the commission published the national education policy in 2010 which is still in effect.
The national education policy 2010 is considered as one of the best and most practical education policies ever formulated in Bangladesh. It has blended the liberalism of Kudrat-e-Khuda's policy with the aspirations of modern Bangladeshis very effectively. Besides, this policy introduced some radical modifications that, if implemented, have the potential to bring in some significant qualitative changes in the education system of Bangladesh. Those ground-breaking steps promised in this policy are:
Introduction of pre-primary education
In Bangladesh, there are thousands of kindergarten schools, however, before 2010 there was no policy how and what to teach these children of 4 to 6 years of age. In this policy one-year pre-primary education was made compulsory. The policy also promised that gradually the government will create post and specially equipped classrooms in every government primary schools for the pre primary classes.
Universal primary education up to class 8
In line with the first education policy, level of compulsory primary education in all streams (General, madrassa, vocational) was extended from class 5 to class 8. A common core curriculum for primary education was made compulsory for all the schools.  
Introduction of new compulsory subjects
It has been a common allegation against many schools following international curricula that they do not teach their students about the history and cultural heritages of Bangladesh. Considering this point, government decided to introduce a new subject called Bangladesh Studies. In this education policy, it has been made compulsory to teach Bengali, Information and Communication Technology (ICT) and Bangladesh Studies up to secondary level in all the educational institutions regardless of their medium of instruction. Ethics has been introduced to the textbooks of of religious studies and these textbooks have been redesigned accordingly.  
Reforming Madrassa education and setting up commission on Qawmi Madrassas
According to the policy Madrassa education was supposed to undergo a massive modification. It promised that curriculum of madrassa education will be redesigned in such a way so that its students can be integrated into all sectors of employment. Scholarship, free textbooks, ICT education, library were also ensured in the policy. Moreover, in this policy government pledged to form the much awaited Qawmi Madrassa Commission to renovate this education system upon which still government has no control.
Restructuring the evaluation and examination system
This education policy made radical change in the examination and evaluation process. It introduced two public examinations after completing grade five and grade eight consecutively along with existing public examinations in grade ten and grade twelve. The policy also urged to apply creative question in the examinations to remove the practice of rote learning and students' dependency on guide books and coaching centres.
Quality improvement in tertiary education
To reduce unemployment, four-year bachelor degree was fixed in this policy as the acceptable higher educational qualification for most of the professions except for university teaching and researches that need special expertise on a particular discipline. Besides, universities were instructed to include three credits of compulsory English and ICT course in all the departments of the universities.
Training facility for the university teachers have also been ensured in this policy. 
Banning of corporal punishment
Corporal punishment has been prohibited in all kinds of institutions. Teachers who physically torture the students can be taken under legal procedure.
Teachers as the key to ensure quality
In this education policy much emphasizes was given on enhancing quality of the teachers. It was assured in the policy that teachers of all kinds of institutions will get training, incentives and satisfactory remuneration so that quality teaching can be ensured in the classroom that will prevent both the students and teachers from spending time and energy in the coaching centres. 
Besides these, there are many other commendable steps regarding increasing scholarships, ensuring gender parity in the institutions and strategies to increase literacy, vocational education and non formal education. 
The Bleak Reality
After five years, if we ponder upon how much we could execute from this progressive policy, we find nothing to be hopeful. Still one year of pre primary education is absent in the state run primary schools and this essential stream of education is mostly run by the NGOs and private institutions which are often either of poor quality or very expensive. In the last five years, the state could not circulate any specific order to maintain a pre primary education of uniform quality to be maintained in the institutions let alone creating separate posts for pre primary teachers and the classrooms.
Extending universal and compulsory primary education up to grade 8 has also been suspended due to the lack of available infrastructure. Again the process has been further complicated by the introduction of Primary Education Completion Exam after completing grade five and Junior School Certificate Exam (JSC) after completing grade eight. From the very beginning, experts have been apprehending that sitting for public exam at the age of eleven or twelve may produce harmful mental pressure on children and it may create unhealthy competition among the young learners. 
After the introduction of these public exams, these apprehensions came true. Students along with their guardians were brought into a rat race of getting A+ in all subjects by any means. Adoption of unfair means in the exams got new heights, the book markets became infested with illegal guidebooks. Questions of public exams were leaked in the social media several days before the exam. Even many cases of suicide occurred as the students could not pass the exams with satisfactory result. 
Introducing creative questions in these public exams also could not bring the expected outcome. Creative questions are question papers designed to test the students' ability to recollect, realise and apply the learned lesson to his real life. It is formulated in such a way so that students can write the answer from his realisation of the concept not by memorising the sentences. However, the project became almost futile as there are numerous illegal guidebooks and coaching centres in the market which supply the students with all forms of creative questions. Students along with their A+ hungry guardians rush to buy these guidebooks and notes provided by the coaching centres to memorise the answers as they have been assured to get similar types of questions in the exam. Despite of several drives against these guidebook publishers and coaching centres, still there are plenty of them to supply the students with 'easy' ways of getting A+.
The promise of forming a separate commission for Qawmi Madrassa also still remains a promise. Thousands of Qawmi Madrassas exist all over the country upon which government has no direct control. Their curriculum and teaching-learning process has no connection with the current education policy and numerous students graduated from these institutions find difficulty to secure a place in the competitive job market.  Even, the students from mainstream madrassa education have also been a victim of utter negligence. Many public universities including Dhaka University do not allow students from madrassas in some particular departments like English, Bengali, Mass Communication and Journalism, International Relations, Women and Gender Studies, and Linguistics, no matter what grades these students obtain in their admission tests which is a violation of the citizen rights ensured by the constitution. 
Improving quality of education in all tiers especially the higher education was a priority in the education policy. In the policy it has been rightly addressed the teachers as the key to ensuring quality education. However, contrary to its pledges and strategies, salary and status of the teachers of all kinds of institutions have been downgraded by an unprecedented decision of the government. Protests of the teachers from all tiers of instructions, primary schools to public universities, have been harshly refused and the issue has not been resolved yet.      
Nonetheless, it is probably the first time in Bangladesh that government has been trying to implement its education policy gradually. Despite of many fatal flaws, government has some successes in increasing literacy, ensuring gender parity and timely distribution of textbooks in all parts of the country. It is evident that the unexpected outcomes produced during implementation of several steps of the policies are the results of lack of preparedness of the related departments. Had these consequences been foreseen through preceding researches, much of these negative outcomes could have been avoided. 
After five years, it is time to ponder on the mistakes and achievements that we have garnered from this much acclaimed education policy. This policy is certainly one of the best policies that Bangladesh has ever achieved. But the fact is many of its excellent provisions are still confined to paper. Again, implementation without proper preparation may cause reverse outcomes that will be even harmful for the future of millions of our students. For the sake of the nation's future, our policy makers must learn from the previous mistakes and take steps to implement the policy, the embodiment of our nation's conscience, with proper research, preparation and adequate resources.
The writer is a feature writer for the Star Weekend and an M. Ed student of Institute of Education and Research, University of Dhaka. He can be contacted at shahnawaz.khan@thedailystar.net