SUNBEAMS' RUBY JUBILEE FAIR
SUNBEAMS' RUBY JUBILEE FAIR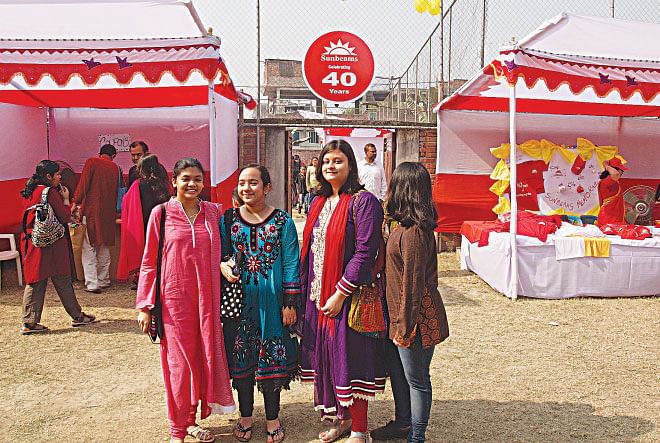 To mark Sunbeams' 40th anniversary, the school hosted a Ruby Jubilee Fair. It was planned from ahead that the school's anniversary celebrations would be a grand one, but due to unexpected closures and hartals, the students had thought that the plans would never be realised. They were overwhelmed with the news of the school fair.
On the 8th of February, Sunbeams held one of its largest gatherings. Students, alumni, parents and teachers all came to the school's Uttara section to enjoy the festivity. Aporijita, 18, a student and volunteer, said, "The fair was a great way for current students, teachers, alumni and their families to bond. People who had been part of the school years ago, reunited." The fair started from 9 am and lasted till 4 pm in the afternoon. Under the warm sun, on a soon-to-be-spring day, the school ground was a canvas of colours. Other than the volunteering teachers and students, who wore red to put emphasis on the Ruby Jubilee, the grounds became an exhibition of sarees and panjabis in blue, orange, pink and green.
There were different stalls, selling deshi toys and products, handmade crafts, and many of the usual miscellaneous mela games scattered around the main grounds. In the middle, lay a big tent with sitting arrangement, face painting and mehedi applying by the senior students of the school. At one corner was merchandise, like T-shirts, bookmarks, mugs and stickers marking the event. The smaller courtyard contained bouncy castles and chu-chu trains for children to enjoy. At one point, a few enthusiastic students started dancing to the usual mela songs blaring out the speakers, while at other times the music teachers performed the old hits live.
The fair ended with a raffle draw. Madiha, 17, one of the student volunteers, said, "The mela was great fun. Even though it was kind of hot, it felt great working for the school. Everything was so colourful and bright; everyone seemed really happy, especially the kids. So, all in all, it was a great atmosphere to be in." The array of snacks included puchka, chotpoti, kebab rolls and jhaalmuri. Food from Tastebuds served everyone's needs. The very delicious lunch included khichuri and duck, as well as nehari with paratha.
The Ruby jubilee Fair was organised by the school's very own Seleena Mustafa and Munize Manzur, and it was a general opinion that she had outdone herself once again. The principal and chairman of Sunbeams, Nilofer Manzur, too, was present throughout the whole fair.
It was a bright occasion for Sunbeams and I am sure everyone looks forward to another fair, bigger and better, next year.