YPF recommends rethinking Foreign Policy priorities in light of COVID-19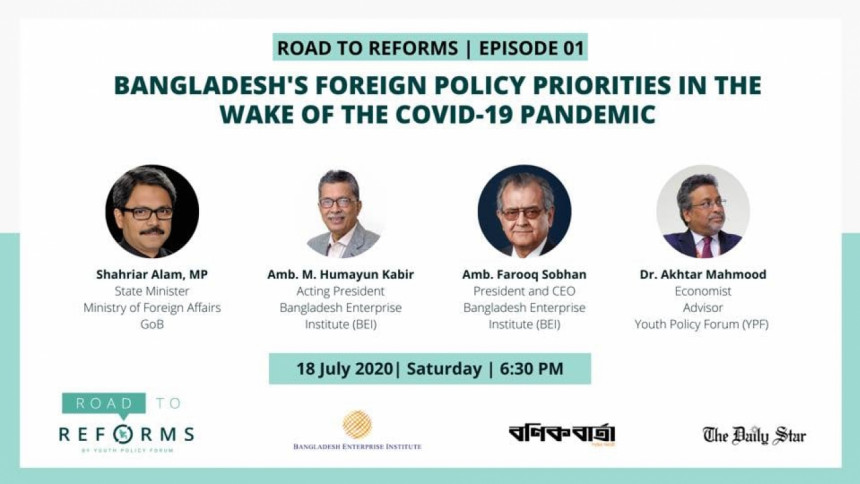 Like every other sector, COVID-19 has disrupted the very fabric of international relations. Now, Bangladesh must reform the way it deals with the world to prevail in the post-COVID world. Youth Policy Forum (YPF) launched its landmark "Road to Reforms" series on 18th July 2020 with a focus on the foreign policy reforms required for Bangladesh. The inaugural webinar was titled "Bangladesh's foreign policy priorities in the wake of COVID-19 pandemic" and was organized in partnership with Bangladesh Enterprise Institute (BEI) and The Daily Star.
The esteemed panel consisted of State Minister for Foreign Affairs Shahriar Alam;  Acting President of Bangladesh Enterprise Institute(BEI) and former Ambassador, M. Humayun Kabir; and renowned economist and the advisor of YPF, Dr. Akhtar Mahmood. The dialogue was moderated by the CEO of BEI and former Foreign Secretary, Farooq Sobhan.
The dialogue began with a presentation by YPF on "COVID-19 and Bangladesh's foreign policy reformation". The presentation highlighted the changing dynamics of global politics by analyzing its status quo. Then it touched on several key global and bilateral issues such as the prospect for new export markets, FDI attraction, alliance with ASEAN and digital diplomacy etc. It also suggested four priorities for our future foreign policy in the New Normal - climate change focused diplomacy, expatriate labor rights advocacy, refugee crisis focused diplomacy, and gender equal progressive foreign policy.
The presentation was followed by a  speech from the Chief Guest of the event, Hon'ble State Minister for Foreign Affairs Shahriar Alam. He initiated the conversation by praising Bangabandhu's post-independence Foreign Policy. He asserted, "The fact that Russia has historically utilized two vetoes to legitimize Bangladesh's liberation is a priceless exercise of diplomacy". Later there was some discontinuity in the relationship. However, more recently Bangladesh has partnered with Russia to set up two nuclear reactors in the country. Minister Alam welcomed YPF's initiative: "I appreciate the youth associating the word 'reform' with something as important as foreign policy. This is very bold", he said.
While talking about regional outreach, the  state minister mentioned Bangladesh's huge accomplishments on this front. Although Bangladesh is yet not a dialogue partner of ASEAN, the country has managed to be a part of ARF. He further stated that being with IORA can open up a new door for the blue economy and indicated that Bangladesh is trying to get the chairmanship of IORA. Moving onwards, he stated that Bangladesh maintains 8 out of 9 terms of human rights agreements of the UN, which is more than what a lot of countries do.
Regarding the possible challenges of the Covid-19 scenario, he said that out of 32 billion dollars of garments exports, only 3.2 billion dollars of orders were cancelled. This also shows that Bangladesh has been able to show resilience during the pandemic. According to two international reports, Bangladesh has a positive trajectory of expected economic growth in the post-covid scenario compared to other Asian countries.
The next speaker, Ambassador M. Humayun Kabir, also started his speech by reminiscing the vital role diplomacy had played during our Liberation War. He praised YPF's efforts to familiarize our youth with 1971's diplomacy. Ambassador Kabir then pointed out several big challenges in the post-pandemic scenario including the  weakening of international organizations such as the UN and WHO. He also predicted the rise of economic nationalism and radicalization around the world. These internal dynamics will pose a big risk to global security, he said..
As a solution to these challenges, Ambassador Kabir suggested strengthening regional partnerships, especially with ASEAN. He also highlighted the importance of Digital Diplomacy in this new post-COVID world. He concluded his remarks by urging Bangladesh's  diplomacy to get out of the institutional shell.
Although the foreign policy principle "Friendship to all, malice to none" is very generous and ideal, Dr. Akhtar Mahmood remarked that  this principle is very challenging to apply in current circumstances. One way of meeting the challenge of operating in a conflicted world is to generate national consensus on critical issues such as foreign policy and economic relations with other countries. While talking about trade and investment opportunities generated by our diplomatic efforts and relations, he opined that such opportunities cannot be realized if we do not have a "whole-of-government" approach to attract foreign investment. BIDA is the primary government agency mandated to attract foreign investments but the actions of other government bodies such as Bangladesh Bank and National Board of Revenue have an important bearing, often negative, on foreign investment. Their mandates are different but they need to understand the implications of their actions for FDI. Dr. Mahmood stated "Attracting FDI must be the responsibility of the entire government. The Foreign Ministry can be a very powerful voice to advocate for such a whole-of-government approach to attract "Foreign Direct Investments".
He also expressed his concern regarding  the challenges faced during covid-19 in terms of attracting foreign investors. He said that uncertainty has increased world-wide as a result of covid-19. He cautioned against taking a complacent view on uncertainty on the excuse that all countries are suffering from this. Instead, he suggested that Bangladesh should act proactively and offer greater policy and regulatory certainty to investors. He said, "Investors will now place a premium on certainty and will be attracted to countries which provide that certainty. Bangladesh can create a comparative advantage for it by reducing policy and regulatory uncertainty, something which can be done in the short run unlike infrastructure and skill development which take time."
Moderator Farooq Sobhan put forth two key issues to the panelists that came from the audience - the recent negative publicity of Bangladesh and the role of Bangladesh in the India-China tension.
Answering the question on Bangladesh's position in the Indo-China conflict, the Minister said that this century is called the Asian Century and these two giant economies are mature enough to settle disputes themselves. About the question of reputation, Minister Shahriar Alam said that our reputation has increased manifold in the last decade. He emphasized that recent outlying incidents will not be able to taint the image of Bangladesh in the grand scheme. He also mentioned that Bangladesh is in the list of the MFN (Most Favored Nations) of Japan.
The concluding remark was given by former Foreign Secretary Farooq Sobhan. He emphasized that we need to understand the competitive nature of global politics. We must act quickly and accordingly to obtain major relocations from China. Otherwise, the exodus of companies from China will go towards countries like Vietnam.
The dialogue can be viewed on Youth Policy Forum's facebook page & YouTube channel. More episodes of the "Road to Reforms" series will be aired periodically leading up to Bangladesh's 50th anniversary of independence.
Shamayla Mahbub is a final year student of International Relations and Shah Minhaz Chowdhury is a final year student of Peace and Conflict Studies at the University of Dhaka.