Youth from Jhenaidah opens a free gym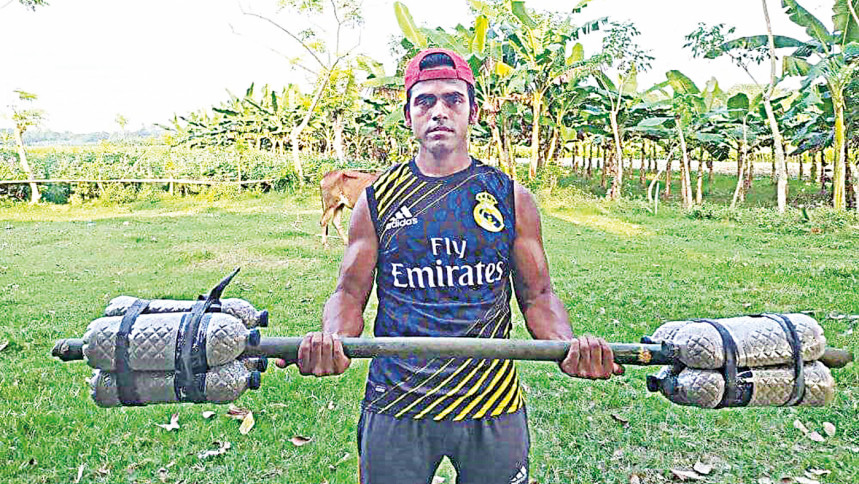 What started out as a simple hobby, eventually resulted in the formation of a gymnasium in Sreepur village under the Shailkupa upazila in Jhenaidah. Youth from the nearby villages are congregating to this gym, that was made by a member of the youth in Jhenaidah.
This correspondent spoke to the person in question, AP Palash—son of Abdul Aziz of Sreepur village in the district. He passed his honours and masters in Management from KC college, Jhenaidah in 2021. At present Palash's main source of income involves outsourcing work from online and investments in making gym materials. He lives in a remote village which is 15 kilometres away from upazila headquarters.
Palash explained that he gets immense pleasure when the local youths come to his gym. He opened his gym in June of 2020. Using materials such as bricks, cement and sand, he built all of his gym equipment such as barbell, dumbbell, resistance bands, pull up bars, and many more. Besides this, he also uses old tyres and plastic bottle as gym equipment.
The 26-year-old Palash noted that he weighed around 92 kgs when he initially started the gym. Now, after tirelessly working in the gym, he weighs 68 kgs. Seeing Palash's transformation, local youth from Borda, Sreepur, Mohammadpur and Anipur of Shailkupa upazila started to join Palash's gym free of cost.
Md Kanchan Hossain, a second-year HSC candidate from Sreepur village told The Daily Star that after joining the gym, he lost around 10 kgs of weight, dropping to 65 kgs. He also noted that this gym is a great initiative, as it is free of any charges.
Another student Tuhin Hasan, a second-year honours student said, "I was only 52 kgs, which is not ideal for my height. I needed to bulk up, so I joined the gym. Now, after one year I weigh around 62 kgs.  I come here every day in the afternoon, and work out for an hour." 
Sports lover and teacher Shahidul Islam of Alamdanga Government Primary School told The Daily Star that Palash was a very good student. Through this initiative, Palash has enabled members of the youth to go to a gym without incurring a burden on their pockets. Shahidul also noted that he also goes to Palash's gym.
UP Chairman Feroz Hossain told us that he had heard about the noble initiative taken by Palash, and that he was happy to hear about it. Jhenaidah district sports officer, Mahbubur Rahman said that while he was not previously aware of Palash, he will do his best to support Palash's initiative.