What does it take to build a business empire?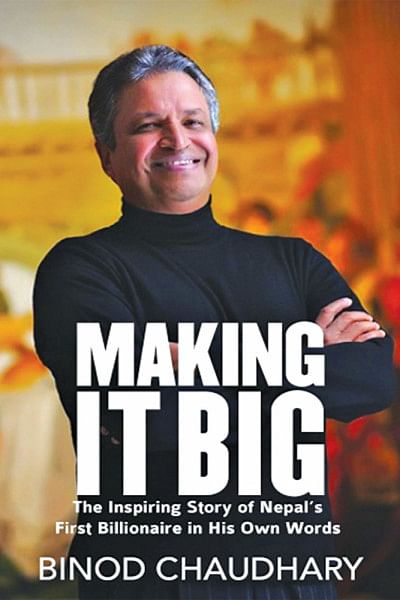 Binod K Chaudhary, the chairman of the CG Corp Global conglomerate group, is Nepal's first billionaire. He spoke at the Bangladesh Business Awards 2020, an initiative of The Daily Star. I recently had the privilege of reading his memoir, "Making it Big" (India Portfolio, 2016), in which he looks back upon his professional journey.
As the book recounts, Binod's family worked in the textile business. His father, Shri Lunkaran Das Chaudhary, and grandfather, Bhuramal Chaudhary, stepped into a valiant journey from Kathmandu to sell their products. Instead of learning about the world of business through textbooks and academic degrees, ten-year-old Shri Lunkaran started learning the trade from his own father. They set up their first proper clothing shop in 1934. In 1968, Shri Lunkaran started Arun's Emporium, Nepal's first department store catering to women, men, and children. Yet what felt like a dream shattered when he invested in several businesses only to see no promising returns.
Binod turned the tables around with the introduction of Wai Wai—a food brand that earned him the title of "Noodle King" and two percent of the world's shares in the noodle market. From regulations to finances, Binod faced the most onerous challenges, and despite the immense responsibility of expanding a family business successfully—transitioning from BhuramalLunkaran Das Chowdhury to the Chaudhary Group—he persevered.
I could trek through every word of this book with ease because of the humble yet hopeful tone Binod maintains. "[M]y most treasured possessions are my experiences and my memories", he writes in the prologue, "A Rebeginning". His account situates his personal and familial history—their travels, their corporate ups and downs—in the wider history of Nepal and the Marwari community, whose involvement in the business sector stretches back to the years after the First World War.
"Making It Big" is the story of a 23-year-old boy who never thought that he would become a billionaire. Young business professionals today are often quite restive when it comes to taking tough career choices. From this book, they can learn how to remain resilient and take one step at a time, not only to make their family proud, but to achieve heights that they might never have dreamt of.
The author is the Chief Strategy and Digital Transformation Officer of The Daily Star.