ULAB celebrates International Mother Language Day virtually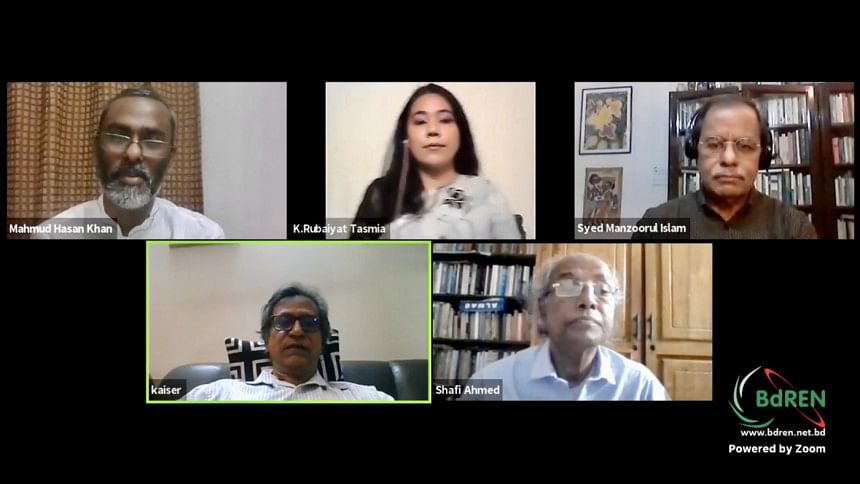 Following the theme, A(ma)r Bhashay A(ma)r Bishsho, University of Liberal Arts Bangladesh (ULAB) recently concluded their three-day celebrations of International Mother Language Day. The programme was inaugurated by Professor Jahirul Haque, Vice Chancellor, ULAB. During the first day, the organisers conducted a video screening of letters written to mothers in 21 different languages and shared an audio-play entitled "Kajol" from Kolkata. This was followed by an interactive session on German tongue twisters and superstitious beliefs.
On February 23, they organised a panel discussion on the language policy in higher education. Moderated by Professor Kaiser Haq, the programme featured Professor Syed Manzoorul Islam and Dr Mahmud Hasan Khan.
The discussion revolved around the use of Bangla as a medium of instruction in universities. Dr Mahmud Hasan Khan presented the case study of Malaysia, where universities offer courses in several languages, including English, Mandarin, Malay, and Tamil. "Their education system is a brilliant example of incorporating the language of three different ethnicities into one model that serves the purpose for everyone," he asserted. He also reflected on the role of the government in implementing policies related to education. Considering the resources required to make such a firm decision, we still have a long way to go.
For certain subjects, several universities, including University of Dhaka, provide an alternative option of sitting for examinations in Bangla. Despite this, most students prefer using English as a medium. "Bangla textbooks are low in numbers and even the ones available have problems in translation," added Professor Syed Manzoorul Islam. He also described how language is closely interlinked with our culture and heritage. "In our country, education is only a pathway to a profession and the system provides little time for students to explore the other aspects of the languages they are taught," he added.
In order to create powerful changes, we need to start from the grassroots. Teachers should be made more responsible. They must interact with students fluently and facilitate the practice of both Bangla and English languages. No matter how strongly we advocate for Bangla, English should also be promoted as an essential language. "English is gaining popularity as an international language across the globe. All scientific journals are released in English and in order to keep up with the fast world, this language in an absolute necessity," shared Professor Kaiser Haq.
The panel discussion was followed by an interactive session on lullabies. Showvik Das Tamal, a promising ethnographer and National Officer at the United Nations High Commissioner for Refugees, shared his experience of collecting lullabies from different cultures. Showvik's work often took him to various regions and he got the opportunity to inspect the lives of people very closely. The video featured songs sung in different languages, all intending to comfort the baby. He also explained the meanings of various popular lullabies and stated how rewards, fear and affection are some common themes in these melodies.
"I started this project during the pandemic as I wanted to preserve the memories of our grandparents through the songs they sang," he shared. Nowadays, mobile phones have substituted these classics and Indian songs are being incorporated into lullabies. I think lullabies are an extremely personal collection of melodies and they must be remembered."
The celebrations concluded with the screening of a traditional Noh and Kyogen play, introduced by Professor Yusuf Hassan from Jahangirnagar University.
The author is a freelance journalist who likes reading, planning and scribbling. Write to her at [email protected].