'Today my father finally gets an answer for what a girl child can do'
Diana Award winner Maria Mumu speaks at NSU's TedTalk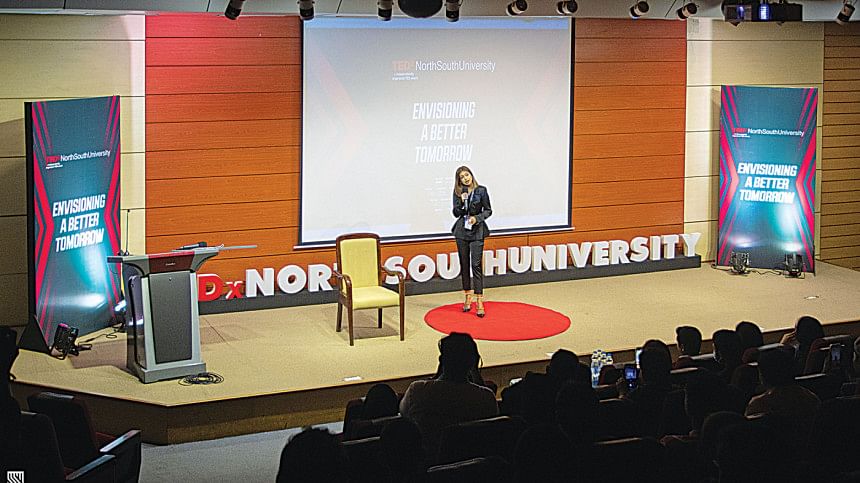 On Thursday, October 27, Maria Mumu, the founding president of Moshal Mental Health gave her first TedTalk at North South University.
When the time came for her to speak, Maria sat down in the corner for 30 seconds, before introducing herself. She started by saying that this short pause was her accepting her anxiety and allowing herself comfort, and why it is important for leaders to show their vulnerability.
An outlier, away from what is called the normal, is how she was labelled throughout her life. The mental health advocate did not have a structure, to begin with, because her life itself lacked one.
"One minute I was living in London, the next I was living with sex workers in a brothel, another minute I was working in a departmental, and then I was standing on the stage of Miss Universe Bangladesh. From being the founding president of Moshal, to receiving the Diana award, to standing in front of you all, giving my Ted Talk, in one of the best universities in Bangladesh," said Maria.
The person was able to explain to her that because she wasn't sleeping, her dreams were being projected as visual hallucinations and that she was suffering from a panic attack. In that moment, Maria finally realised that the person hitting her was none other than herself.
Maria's rollercoaster ride through life began when her mother and father got separated. She was only three years old at the time of the separation. At a time when Maria should have been playing with toys, she had to begin fighting for her life.
When her father was asked to take custody of her, he refused, saying, "What will I do with a girl child?".
"This morning, out of all the mornings of my life, would be the answer for what would one should do with a girl child," said Maria to the audience.
Due to her family situation, Maria had to begin working from the age of 12, in a desperate search for some normalcy in her life. While she was struggling in 2017, when she was in Class 9, Maria's mental health began declining. She started suffering from intense stomach pain, which no medicine could cure. Simultaneously, her academic performance began to drop off, resulting in those around her questioning her failures.
Initially, doctors said the pain was due to an ulcer. However, no medication could help relieve it. She would go to school every day and then be forced to take a medical leave. Being a student at a reputed college, everyone began questioning her ability to continue studying, especially after she failed her exams.
In such a situation, Maria began to doubt herself and question everything, isolating herself in the process. "I did not eat or sleep for seven days straight. Around this time, I started seeing things. I constantly felt as if I was in a flight or fight mode," she recounted the events as if it were yesterday.
Finally, doctors realised that the issue might not be a physical one. Incidentally, the pain would only occur when she was sad.
Maria encountered her first panic attack on July 29 of that year. She found herself feeling that someone was hurting her, falling to the floor shivering, blacking out because she could no longer breathe.
After regaining her consciousness, she was afraid of even herself. She finally gathered the courage to grab the phone and call someone for help. Luckily for her, someone from Maryland University was visiting Bangladesh then, and talking to him gave her clarity.
The person was able to explain to her that because she wasn't sleeping, her dreams were being projected as visual hallucinations and that she was suffering from a panic attack. In that moment, Maria finally realised that the person hitting her was none other than herself.
Later on, she would be diagnosed with clinical depression and anxiety. The stomach pain was from a chronic mental health issue called somatoform disorder. Maria was shocked by these findings. "If these issues can have such an impact on someone's life, why do we not know about them?" was the question running through her mind.
Sometime later, she witnessed a junior of hers jump from the stairs and commit suicide, after failing her exams. It did not stop there, Maria also lost another one of her friends to suicide. "Both of them had similar patterns," she said, "I could hear them screaming at the back of my mind, asking for help."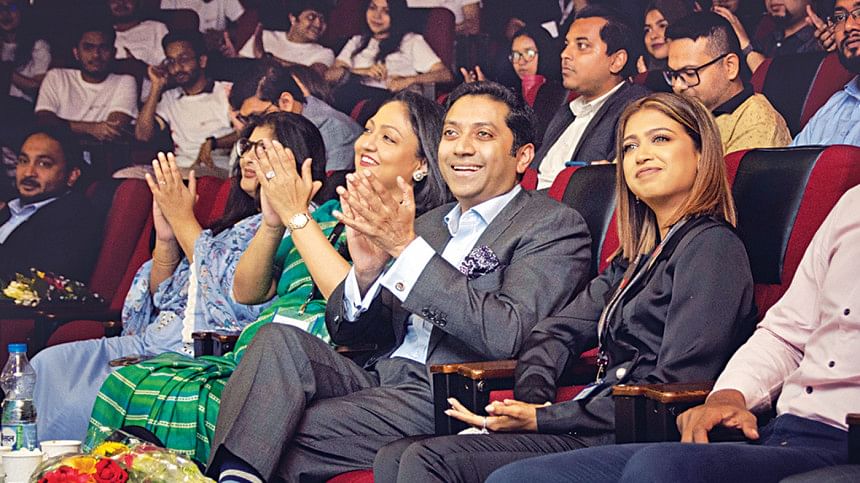 While researching, she was shocked to find the statistics on mental health and suicide issues. The budget allocation in the mental health sector was only 0.075 percent of the national budget. According to these findings, only one psychologist was allocated per 260,000 people. Maria also found that more than 10,000 people committed suicide every year.
These numbers were staggering enough for her to continue researching the topic. That is why, when she was able to take part in Miss Universe Bangladesh in 2019, she used the platform to talk about these issues.
Moshal was born on the February 7, 2020 with 300 students and parents in a parenting seminar. Looking back now, Maria is able to tie the strings together and realise why she felt she needed to create Moshal. If her parents knew about the concept of co-parenting and if teachers knew how to handle students with mental health issues, then maybe those juniors of hers would not have committed suicide.
"This was not an individual issue. It's a global issue, an institutional issue, and a societal issue," said Maria.
Till today, Moshal has provided more than 2,000 sessions—with its nationally and internationally recognised panel of experts. Having held more than 16 campaigns, Moshal now has 12 departments—with more than 80 people working at the organisation. It is the first and youngest mental health organisation from Bangladesh to win the prestigious Diana award.
The normalcy she had craved all throughout her childhood, she was finally able to find in her own individuality.
"We don't have to find normalcy. Instead, we should find the best version of ourselves and that doesn't have to be normal," said Maria at the TedTalk, adding, "This is not a winning story, but a survival story. There are millions of people who need our help and there are centuries of work left for us to do, but we start today. A lot of people have talked about mental health at today's Tedtalk, and the fact that we were able to contribute to this, is a stepping stone for our country's mental health sector."
The young mental health advocate took a moment to think back to all those years ago, when her father had refused to take custody of her.
"Today is the day my father finally gets an answer for what a girl child can do," Maria boldly concluded.