NURTURING DREAMS
Swayong's 'Jonglaphool' focuses on the strength of women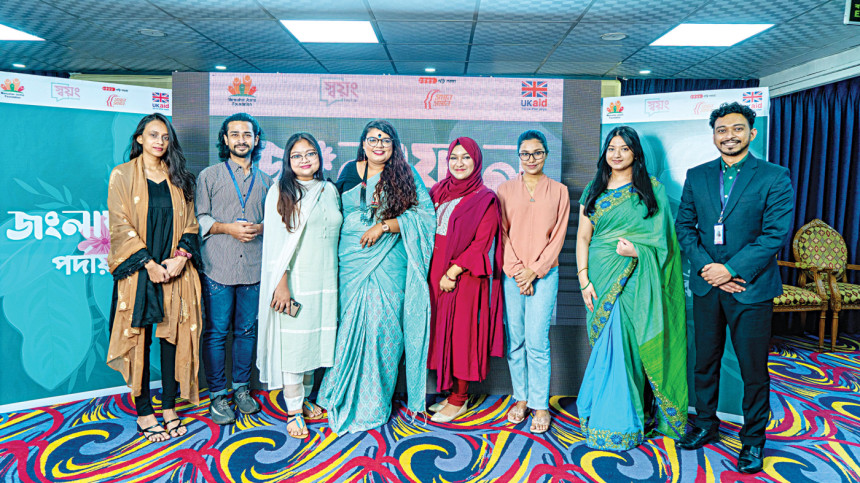 Swayong's documentary film "Jonglaphool", produced in collaboration with Manusher Jonno Foundation and UKaid, showcases diverse women of society, who, like wildflowers, know how to survive amid adversities. The storytelling platform has so far shared 121 stories and conducted 18 campaigns since its inception in 2020.
 "We believe that women are like wildflowers growing in the forest. They do not need protectors; they are independent and beautiful," asserted Swatil Mahmud, the co-founder.
"Jonglaphool" recognises women's unaccounted and unpaid care work, creating awareness about intersectional feminist activities and promoting women leaders and women-led initiatives that combat gender bias. The film encourages the audience to reflect on the unfairness women encounter and their roles in dismantling the patriarchy.
The segments in the documentary film are "Sarbajaya: Women Empowerment", "Bon Jui: Unpaid and Unaccounted Care Work" and "Mahabhringraj: Women Leading Movements". By covering themes that reflect on several aspects of a woman's life, Swayong wishes to present a relatable story about ordinary women who need more representation in media.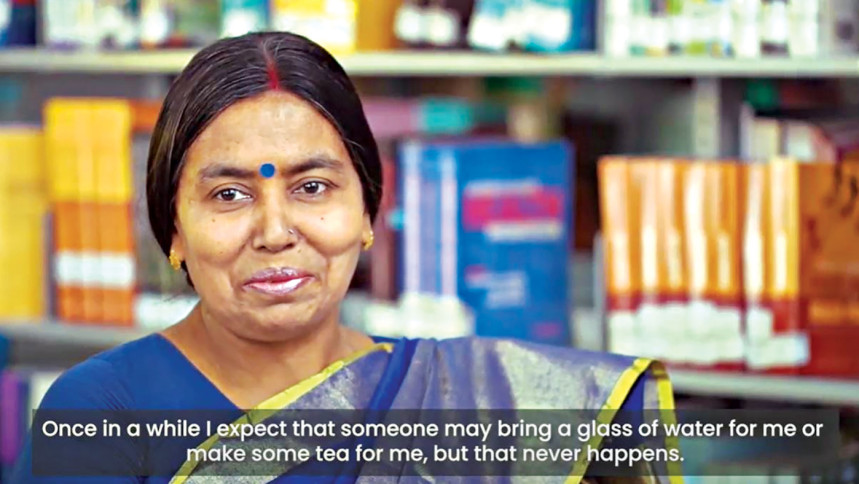 "Growing up, I did not see women like myself on television. When I got the chance to produce visual content, the first thing that came to my mind was the fact that we need to bring better role models and share everyday stories," Swatil explained.
The first segment talks about the lives of two women, who are similar, yet different in many ways. It focuses on the specific struggles of being an independent woman in society and the multiple nuances associated with women's empowerment. It begins and ends with a poem recitation and extends more power for people to become whatever they wish to.
The second segment revolves around the theme of care work and how it often goes unappreciated in households. It also features insights from experts who explain the nature of this problem. The women in this segment are ordinary working people, with the added burden of family responsibilities. It instantly connects with the viewers as they can associate these role models with people they know and thereby form a new idea about their lives.
The last segment showcases the feminist movements conducted by women across different generations. For this one, women from different backgrounds shared their take on conducting movements and how experience coupled with power helps them roar and rise.
Swatil, along with Nujhat Jabin Sumaiya, brainstormed the idea behind this film. She took help from her sister and Swayong's co-founder, Mitul Mahmud to design the story. "Jonglaphool is an ode to all the strong women out there, including the ones who made this documentary possible," she added. Apart from this, the videos were shot and edited by Mir Rabby and Emon Kalyan.
Swatil hopes to conduct private screenings of "Jhonglaphool" in the future, to connect with more people.
The author is a student of IBA, DU and a freelance journalist who likes reading, scribbling, and blogging.
Email: mislammonamee@gmail.com.