'Social Business Youth Summit 2021' focuses on building sustainable post-pandemic world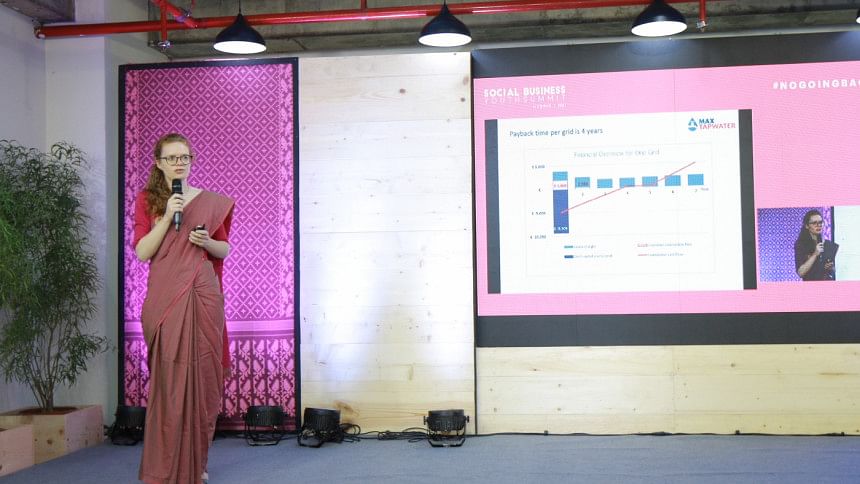 Social Business Youth Summit 2021, co-hosted by YY Ventures and Impact Hub Dhaka, curated by YY Goshti, and supported by Yunus Centre and the Netherlands Enterprise Agency took place on February 27 and 28.
The summit is an annual gathering of young leaders dedicated to creating sustainable solutions to pressing social and environmental issues. Previously, the event was arranged in different cities across the globe, however, due to the ongoing COVID-19 pandemic, it was held in a hybrid format this year.
Over 40 speakers and 500 delegates joined the event online from around the world and 75 attendees came together at Impact Hub Dhaka to participate in the summit. The theme of this year's summit was 'No Going Back'.
Hosted by Shazeeb M Khairul Islam, Founder and Managing Director of YY Ventures, the event featured several discussion sessions and speeches from guests, reflecting on the possibilities of the future and the challenges of the past.
"We don't always get the chance to rebuild the world from the start, the pandemic has given us this chance to rebuild," shares Lamiya Morshed, Executive Director at Yunus Centre & Chairwoman at YY Ventures. "The pandemic has created so many opportunities that we are now able to adapt to new standards and perspectives," says His Excellency Ambassador Harry Verweij, Ambassador of the Kingdom of the Netherlands to Bangladesh. "By being a self-starter, and re-rising by lifting up others, you have the chance to change the world together".
Nobel Laureate Professor Dr Muhammad Yunus' keynote speech on the ending day was one of the main highlights of the event. "You have to defy the old thinking and define your own thinking, your own way, only then can we create a world of three zeros as soon as possible," he says.
"This generation is the most powerful one, they have access to tremendous technology which no other generation ever had," says Nobel Laureate Professor Dr. Muhammad Yunus. "What are you going to use that power for should be your life's purpose. You must strive to find the purpose and use the power."
Several sessions including 'Resilience During Unprecedented Times' by Mostafiz Uddin, Founder & CEO of Bangladesh Apparel Exchange, 'Deep Dive: Best Practices Of Delivering Clean Water At Home In Underserved Communities' with Maartje Pronk, Product Development Manager, Max TapWater, Muntasir Saqib Khan, Managing Director, BoP Innovation Center, Jack Hartpence, Co-Founder & CEO, Powwater and Imam Mahmud Riad, Country Director, Bangladesh and Nepal, Max Foundation, 'Ecosystem Dialogue: Funding Next Generation Social Entrepreneurs' with Theodore Klouvas, Programme Manager, Orange Corners, Zeenat Islam, Relations Manager, Academia Network, Yunus Centre, Nirjhor Rahman, CEO, Bangladesh Angels, Bijon Islam, Co-founder & CEO, LightCastle Partners, Sharika Sadaf, Head of Program & Partnerships, YY Ventures, and Siddhartho Goushami, Head of Operations, Startup Bangladesh among others were arranged on the first day.
On the second day, several sessions, including 'Role of Technology for Post COVID-19 Reconstruction' with Tazin Shadid, CEO at YY Ventures, Jacki O' Neill, Microsoft Africa Research Institute (MARI), Director at Microsoft, Ming-Li Chai, Principal, Experience Vision & Design Strategy Modern Life & Learning Experiences Studio at Microsoft; 'Deep Dive: Future of Waste Management in Urban Areas' with Debojit Saha, Managing Director, Kaizen CRS, Fahim Uddin Shuvo, CEO, Garbageman and Silvia de Vaan, Founder & CEO, SweepSmart;  'Making Healthcare Accessible For Everyone' with Dr. Shazzat Rahat Hossain, Project Lead, Sneho Urgent Care and Sajid Rahman, Co-Founder & CEO, Digital Healthcare Solutions among others were arranged.
Speakers included Akkie Okma, Technical Advisor at YY Ventures and Founder of Okma Advice, Cecilia Chapiro, Investment Adviser at UNICEF and Founder of Yunus & Youth, Paula Mills, CEO, Academy of Entrepreneurs Australia, Robert Stoelman, Project Manager of "Partnerships for a Tolerant, Inclusive Bangladesh" project at UNDP Bangladesh, Ding Wang, Ethnographer/ HCI Researcher at Google AI, and Swarnima Bhattacharya, Founder of TheaCare and Curator of FemmeCon among others.
The graduate incubees from YY Goshti Incubation Program: Spring 2020 and Fall 2020 Cohorts, including AmarLab, Bhorosha, Broqué, Krishi Shwapno, Max TapWater, PolyTel, Q Vidya Bangladesh, S.E.E.D., TransEnd and Wizkit, shared their stories with potential investors ecosystem builders and enablers at the Changemakers' Meet.
His Excellency Ambassador Harry Verweij, Hans Reitz, Co-founder & CEO of The Grameen Creative Lab, Alberto Masetti-Zannini, Global Development Director at Impact Hub Network and Lamia Hafiz, Community Lead at Impact Hub Dhaka shared their thoughts at the closing session.