Menstrual hygiene of young RMG workers: Still a long way to go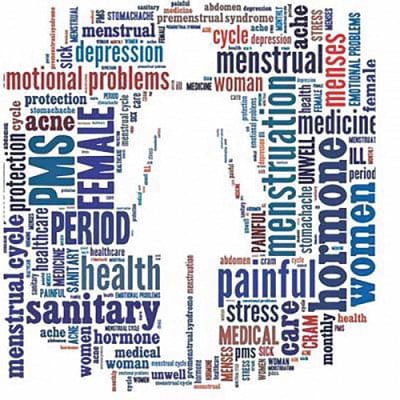 24-year-old Shirina Akter, who is employed at a ready-made garment factory in Savar's Nishchintapur, works around 10 hours every day to manage her family of five. But during her periods, she cannot always work for such a long time, and is forced to skip work on the first or second day.
Since unsanitary rags are the only recourse for Shirina, she finds it impossible to wash and dry those at the office lavatories and use a new one, when the need arises. Disposal of the used rags is another major setback.
"Since we work under huge production pressures, often, we find no time to use toilets, except for the lunch breaks. So, I need to keep wearing the damp rags for a long time, and it causes itching and irritation," she said.
"Besides, during the shift, we cannot always tell our male supervisor about our washroom needs, while the male colleagues sometimes bully us, if there is any bloodstains on our clothes."
Like Shirina, 22-year-old Rupa Akter, a helper at a textile factory in Mirpur, said that before the pandemic,sheused sanitary pads to manage her menstrual hygiene. However, recently, she started using old rags.
"I lost my job during the beginning of the coronavirus outbreak and at that time, it was difficult to manage our daily meals.Although from last OctoberI have managed another job, I am yet to repay my loans and due house rent," she said. "I have no option now other than to use old clothes. But since I have never used clothes before, this is something very uncomfortable for me," said Rupa.
A September 2020 survey conducted by South Asian Network on Economic Modeling (SANEM) and Microfinance Opportunities (MFO) on family planning and menstrual health of garment factory workers in Bangladesh found that only 34 percent of female workers use sanitary napkins during menstruation, while 44 percent still use clothes instead.
It also found that three percent of them use no measures of the sort during their periods, while two percent use toilet tissues on days they have a heavy flow. Apart from toilet tissues, several women use cotton and garment waste clothes to maintain their menstrual hygiene, compromising their health, productivity and dignity with the risk of embarrassing leaks and harmful infections.
The survey was conducted through phone interviews from a pool of 886 female workers employed in factories spread across the five main industrial areas of Bangladesh -- Chattogram, Dhaka, Gazipur, Narayanganj, and Savar.
Among those who said they faced problemswith accessing sanitary napkins, 80 percent mentioned that the problems were due to financial reasons.
Although menstrual hygiene management is closely related to SDG 3 of ensuring healthy lives and promoting well-being for all, the survey result proves that we still have a long way to go to make health and well-being a priority in Bangladesh's RMG industry, the world's third-largest producer with more than 3,000 factories, employing around four million workers, of which 85 percent are women.
Reproductive health and rights activist Monjun Nahar, who is also the advocacy and communication manager of Marie Stopes Bangladesh, sheds light on the menstrual hygiene taboos faced by RMG workers, based on her experience of closely working with small garment factory workers.
According to her, for most women, managing menstrual hygiene while on duty is no less than a mental trauma, as many are even forced to leave their jobs, due to the verbal harassment they endure from their male colleagues.
"I can still remember, one woman said that she felt like she will die by suicide for the intolerable bullying she had to face from her male counterparts," said Monjun.
Monjun also pointed out the health hazard of using damp rags or toilet rolls as tampons, as these can cause "vaginal and urinary tract infections, pelvic pain, uterus ailment, itching, rashes, redness and allergic problems."
Managing menstruation in an unhygienic way not only affects the reproductive or mental health of women, but it also hampers the overall productivity and profitability of the factories.
For example, if we consider that three million femaleworkers remain absent for at least two days per month, the RMG industry of Bangladesh is losing 1,600 million work hours per month.
Although low-cost sanitary napkins can be the only solution for menstruation hygiene management of lower-income families, according to manufacturers, they need to pay different types of taxes, while importing raw materials for the production of pads, which once in the store, remain beyond the purchasing power of women like Shirina and Rupa.
According to Square Toiletries Ltd, producer of the leading "Senora" brand of sanitary pads, they need to import nine raw materials for producing pads and pay seven types of duty fees. But if the duties are relaxed, it would decrease the price of sanitary napkins by 8 to 10 percent, while the price would go down another 15 percent, if VAT is excluded.
It is high timethe government realised that sanitary napkins are not luxurious items, and that menstrual hygiene is a fundamental health issue. We can only achieve our goals, if the overwhelming majority of our young female workers, who turn the wheel of the economy, are not left behind.
The author is a reporter at The Daily Star.