JAAGO Foundation's initiatives to help people in need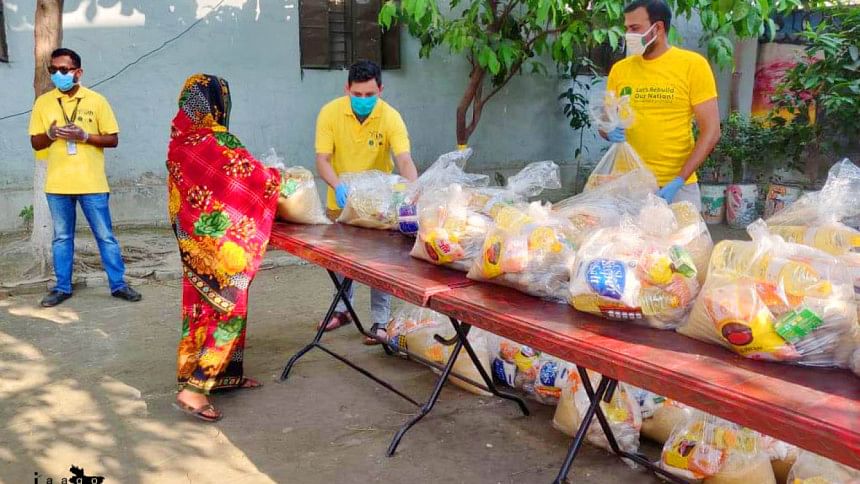 Owing to concerns over the coronavirus pandemic, a shutdown was announced in Bangladesh recently. This shutdown has taken a serious toll on the underserved communities.
Day labourers, rickshaw pullers, street vendors and domestic workers among others, who live from hand to mouth are at a financially vulnerable position at this time. Subsequently, JAAGO Foundation has initiated a campaign, titled 'Covid-19 Relief Fund for Bangladesh', through which they are raising funds and mobilising volunteers from Volunteer for Bangladesh to help the underprivileged communities.
The foundation is distributing relief materials in the form of four different packages, including rice, salt, oil, potatoes, common medicines, soap bars and sanitary napkins among other items. The packages are differentiated by the size of the families and are expected to support the families for up to one month.
The first phase of distribution took place at the Rayer Bazar slum. Later, the team went to the Korail slum in Banani. "Our funds are limited right now. We also lack safety equipment. So, we are distributing in specific locations with a limited workforce," said Safina Anjum, Deputy Manager of Founder's Office at JAAGO Foundation. All the volunteers were provided with gloves and masks, and they are maintaining social distancing rules throughout the job.
The communication officers working at the foundation have selected the communities, based on their earnings.
"Once we have access to enough safety equipment and funds, we plan to expand our distributions to other districts across the country," shared Safina.
The Facebook page for the fund can be found at 'Bangladesh Relief Fund to fight Covid-19 by JAAGO Foundation.'
For International Donations, visit-https://www.facebook.com/donate/652379992261603
For Bangladesh account online donation, visit-
https://donate.jaago.com.bd/coronarelieffund
bKash: +8801755557248 (Merchant Number)
Other payment methods are available on JAAGO Foundation's website.