JAAGO Foundation and Asia Foundation host '50 Years Dialogue between Youths & Politicians in Democracy'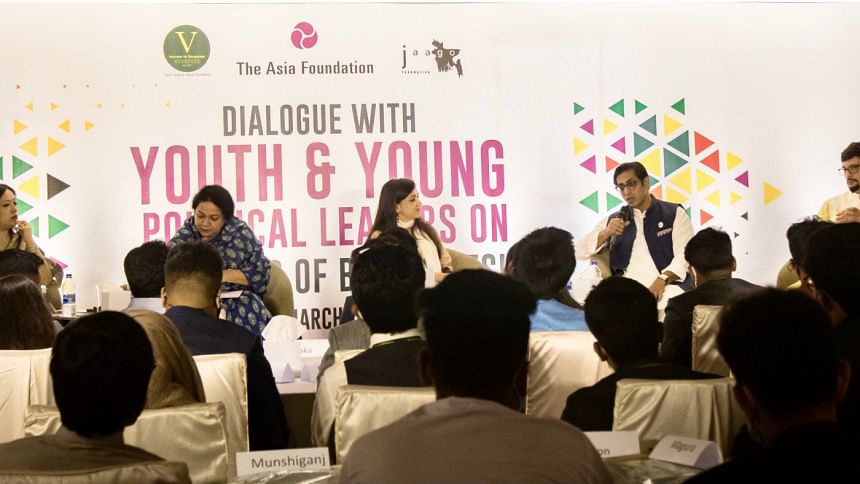 Commemorating fifty years of Bangladesh's independence, JAAGO Foundation in association with Asia Foundation organised the seminar, '50 Years Dialogue between Youths & Politicians in Democracy', recently. The panelists for the dialogue were Nahim Razzaq, MP, Bangladesh Awami League, and Convenor, Young Bangla, Nazma Akther, President, Jubo Mohila League, and former Member of Parliament, Bangladesh Awami League, Rumeen Farhana, MP, Bangladesh Nationalist Party, Tabith Awal, Member, National Executive Committee, Bangladesh Nationalist Party, and Ahsan Adelur Rahman Adel, MP, Bangladesh Government. The session was moderated by Nobonita Chowdhury, Director, Gender Justice & Diversity (GJD) and Preventing Violence against Women Initiative, BRAC.
The dialogue was also joined by young delegates, representing every district of the country. Co-founder of JAAGO, Korvi Rakshand, shared, "The primary purpose of organising this programme was to reduce the gap between young politicians and the youth. The plan was designed to include the youth not only from the urban, but also from the rural parts of Bangladesh. That is why we had 64 youth representatives from 64 districts of Bangladesh. We hope to organise more dialogues like this."
The session mainly featured topics associated with Bangladesh's political history, democracy, current educational quality, unemployment, extra-curricular activities (ECAs), poverty, social security, community service, population dividend, leadership and gender roles, among many others.
 "I believe that the best days of our nation are yet to come- it's in the future," shared Tabith Awal.  "Our country's immediate action plan to tackle unemployment should be to increase and encourage job opportunities in the private sector, which currently is in a stagnant situation."
 "For a country, there is no such thing as 'one solution fits all' - our government needs to divide sectors and issues in different categories and then individually work on them," said Ahsan Adelur Rahman Adel. With reference to a recent report he said, "Youths have ranked politicians to be the most influential motivational forces in their lives, followed by intellectuals and then entertainers."
Rumeen Farhana spoke about how youths should have unconditional and collective approach towards community development. "Youths nowadays partake in movements which are only directly related to their own lives, such as rallies related to VAT, road safety, and quota customs. As a collective society, we cannot live happily being isolated. Every year, around 10 billion dollars are taken away by foreigners who work in our country- if only our educational quality was improved, our youths could keep this whopping 10 billion dollars to themselves" she said.
Nazma Akther discussed the importance of co-curricular activities. "Our youths must take part in co-curricular activities, because if one of them are involved, many more will want to partake as well," she said. "We have women in key positions of our politics, but this is not the situation for the entire country. However, these female leaders have encouraged many women to take on different roles, and inspired them."
Nahim Razzaq, through his speech, encouraged youths to be more collectivistic and united. "United we stand, united we lead. Education is undoubtedly the base of all development index," he said. "We are trying to follow the Singapore inspired three-tiered educational system and also work on poly-technique institutes in all 7 districts of the country."
He further shared, "Our government thinks a lot about youth, and hence, we must be vocal about our opinions, create a sense of accountability and be big in advocacy." "We need to roll up our sleeves, get down on the road and do some proper work."