Freelancers ruling the world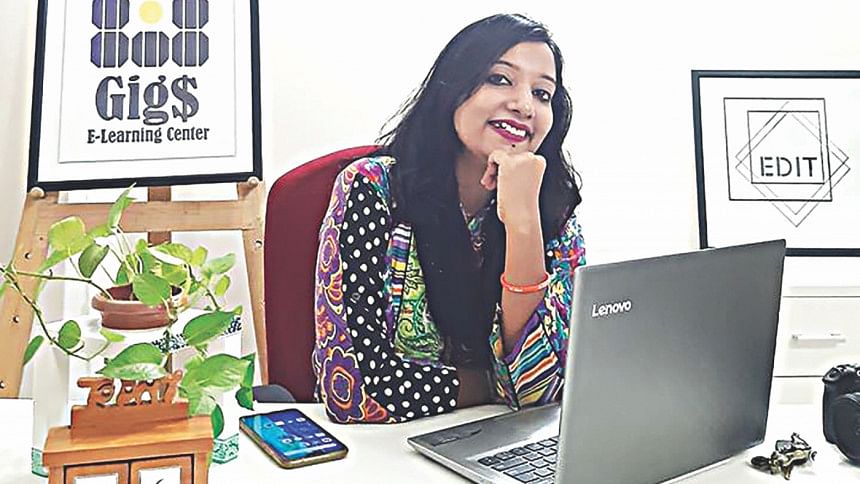 Morsheda Mouri is a BBA graduate from University of Dhaka and the mother of a two and a half year-old child. She quit her teaching job at Sheikh Borhanuddin Post Graduate College when she became a mother in 2017. After a few years, she set out to pursue freelancing, so that she can work from home while spending ample time with her son. She opened Gigs, an e-learning centre that trains women in freelancing, in January 2018. Till now, the centre has successfully trained close to 100 women. 
Mouri always had a keen interest in computing. According to her, there are a variety of work-from-home opportunities for women in fields such as graphic design, web design, web development, virtual assistance, search engine optimisation and content preparation among others. Her start-up, Gigs, offers 12 courses at reasonable prices. Their courses focus on digital marketing, graphics design and YouTube marketing among other subjects. According to Mouri, many women who are a part of Gigs have also received training through Skype, Facebook and other social media platforms from their homes. The length of the training courses varies from one to six months.
After learning about outsourcing through Google and YouTube, many students of Gigs are earning well from the comfort of their homes today.  Ameena Helali, a resident from Mymensingh, said that she worked on a project of Bangladesh Institute of Nuclear Agriculture (BINA) for 12 years. After completing the project in 2017, she was just sitting idle at home for about a year.  One day, she came to know about Gigs from Facebook and decided to take their course on social media marketing. Today, she is happy to be working in good online jobs.
"Initially, I started as an It trainer at Gigs, but as the number of students increased, I recruited five other female trainers," Mouri said. The start-up also helps women to land jobs in freelancing platforms like Upwork.