Defending my 'Bandhobi'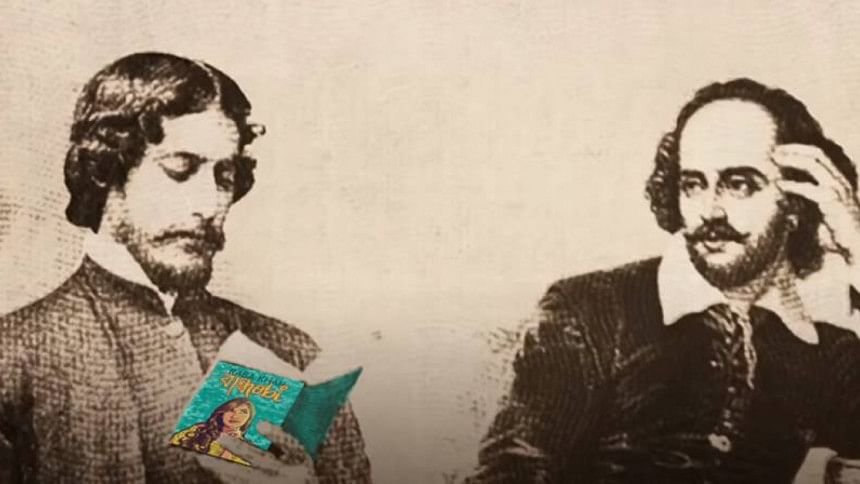 You've witnessed YouTuber, comedian, and now author Raba Khan's greatest achievement. I'm not talking about the publication of Bandhobi, but its aftermath. Khan has singlehandedly helped Bangladesh's social media population become literary critics. Lovelorn 19-year-olds who were sending her friend requests last week with messages saying "tomake nyc lagca" are now qualified to pass judgment on linguistic integrity.
Most of their rage is inchoate. But I appreciate the near-perfect irony of Masnoon Khair's meme featuring Rabindranath Thakur and William Shakespeare. Tagore is reading Raba Khan's Bandhobi while Shakespeare looks on. The caption reads, "Thakur and Shakespeare review Raba Khan's latest book, visibly shocked at the massacre of two different languages (2019, semi-colorised)."
Rabindranath Thakur revolutionised Bangla literature and music by incorporating global influences and forms. He wrote sonnets. He wrote in "cholti bhasha". He translated Gitanjali into English and was the second non-European to win the Nobel Prize. His muse did not discriminate. For example, "Purano Shei Diner Kotha" is inspired by Robert Burns's "Auld Lang Syne". William Shakespeare, being English, has the coloniser's advantage of having his achievements better documented.
Now, I'm not saying Raba Khan is like Messrs, Thakur or Shakespeare. She doesn't have a beard. But in writing a book where she combines Bengali and English in the manner we all speak online and in the corporeal world, she's putting to paper the reality of how Bangla has evolved. Just like those mad lads reflected the language they spoke and, by doing so, changed it forever.
Truth is, this is the language we speak, and language belongs to all of us. Professor Nadine Murshid says, "Language is a living thing. If you can talk like that, she can write like that. We support creativity." But we like to believe that language belongs to only us.The negative reaction to Bandhobi reminds me of the widespread apoplexy and "shamajik koshto kathinno" caused by Maqsood O Dhaka's jazz cover of "Na Chahile Jare Pawa Jaye". Or, given Khan's love of popular culture, the hand-wringing opinion columns from when the cellphone brand Djuice launched with lines like "JOTIL MOOD" written with English letters. Mac Haque turned out to be prescient—within a few years, fusion music was accepted and beloved. As for Djuice, well, look at how you talk online today.
In combining Bangla and English, Khan manages the rare feat of engaging both extremes of our national insecurities. On the one hand, English medium educated, global-aspiring tastemakers are offended that her English isn't perfect. To members of a certain privileged strata, there is nothing more sacred than proper English as defined by their favourite Marvel movie. On the other hand, self-appointed Bangla cultural gatekeepers are also up in arms.
But when you think about who Raba Khan is (an upper middle class English medium educated teenager), and what she's writing about (young romance, hair appointments, weddings), the deeper connection is to Jane Austen. Like Austen, Khan is a woman, writing about issues of traditional femininity. Like Austen, Khan uses everyday language to dissect social mores. She does so with skill. "Parrot green Aunty" calling Khan "beta" tells me all I need to know about the lady. When Raba Khan is fascinated by Tasnim and Nahiyan's budding relationship, I am taken back to 1999, when my best friend's crush told me she liked him too. (They are now married with two kids but did not name either daughter after me.) Ms. Khan also shares Austen's sharply economical wit:
"O level results came in August, just before her birthday. I know, tragic. But to her surprise, all the D's she imagined were B's. Still tragic because both her parents were doctors."
The fact that academic results may cast a pall on a character's birthday immediately sets her up as a mediocre student. When Raba Khan agrees that the tragedy is shared, readers identify with said character. (If you're a fan of Ms. Khan's videos, you can easily picture her arching her eyebrows and giving us the information in a deadpan murmur.)But then, a happy surprise! The O' Level results aren't so bad after all! We barely have time to breathe a sigh of relief before our fleeting joy is subverted again—the parents are overachievers, and Bs are unacceptable.In four sentences, Ms. Khan gives us an identifiable situation, narrowly avoided disaster, and paid it off with a punchline that snatched away our brief respite. Say what you will about the quality of her prose, her comic timing is impeccable.
Which brings me to my one complaint, the part where I half-heartedly agree with Khan's critics: Bandhobi needs an editor. In Khan's defense, I did not find spelling and grammatical errors as much as I found inconsistent and questionable style. Her stories read exactly like what they are—a teenager's anecdotes.The teenager is a supremely talented comedienne, sure, but competent editors and proofreaders would allow the book's sparkling humour to shine brighter.
Alarmist gatekeepers are so fixated on Bandhobi's perceived infractions against English and Bangla purity that they ignore Khan's accomplishments. In a content ecosystem overflowing with YouTube copycats, Dipjol remixes, celebrity pandering, and Naveed Mahbub, Khan is consistently insightful and funny. That puts her on a very short list where perhaps the only other entry with any claim to authenticity is Rantages. Whether you're laughing with her or fuming with your sudden love of grandiloquence, you can't ignore that this young lady, not yet in college, is entertaining millions daily.
Being a man, I don't believe I have the right to presume I know what it's like to be a female humourist in a deeply sexist society. Being 37 years old, I don't remember how it feels to not be part of the establishment. I can't speak for what it's like to be Raba Khan. But I can take a lesson from her book and give you, verbatim, a conversation with my 38-year-old adult-with-a-PhD BFF:
Imran: Man, raba khans getting some heat for the book she wrote it seems
Arafat: yeah many people who haven't read it have strong opinions
Imran: Yeah I was reading some of the comments
Imran: Some people are angry why her writing is so "immature"; others keno Bangla English text e lekse
Imran: Obviously ashol reason is how dare she thinks she can do everything