BMSS organises ABC of Surgery workshop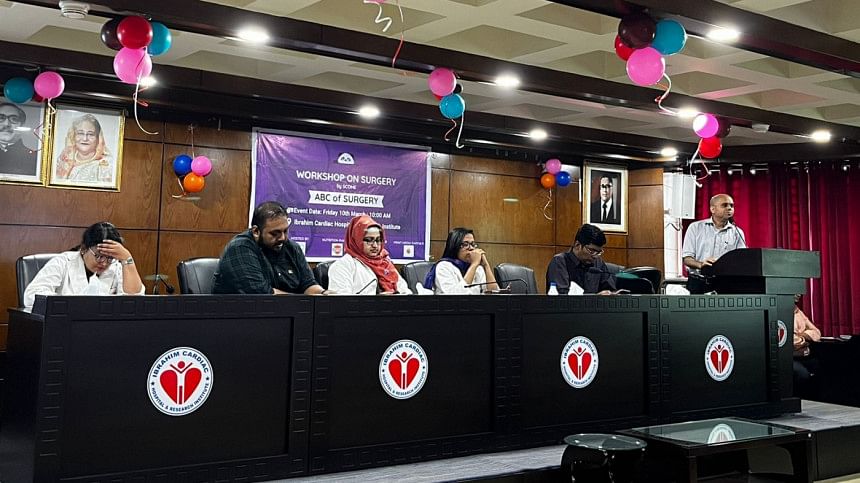 On March 10, the Standing Committee on Medical Education (SCOME) of Bangladesh Medical Students' Society (BMSS) organised the event "ABC of Surgery" at Ibrahim Cardiac Hospital and Research Institute with third and fifth-year medical students as well as intern doctors from various medical colleges across Bangladesh. The surgical workshop was conducted under the supervision of Dr Saklayen Russel, Associate Professor and Head of the Department of Vascular Surgery, Ibrahim Cardiac Hospital and Research Institute, in collaboration with Nutricare as the nutrition partner.
The event was inaugurated with a presentation from the National Officer of SCOME, Dr Suzana Afrin, regarding the past activities of SCOME. It was then followed by a welcome speech from Dr Saklayen.
There were several interesting sessions about surgical training skills facilitated by doctors of the Vascular Surgery department. Assistant Registrars Dr Wahidul Azad Palash and Dr Rusama Nuzhat discussed surgical dressing, suture materials, and knots. Following that, two other sessions were taken by resident doctors, Dr Saima Islam and Dr Marjan Hashi, regarding IV cannulations, catheterisation, and surgical history taking.
Later, Dr Serajus Salekin, Assistant Professor of Thoracic Surgery at Dhaka Medical College and Hospital, taught the students and intern doctors about pleural fluid aspiration.
The most awaited segment was conducted by the abovementioned trainers – the hands-on training segment. The participants were divided into three groups, and each group took turns on three different stations. They explored the operation theatre, learnt how to do dressing on an admitted patient, and had the opportunity to use surgical instruments for practising suturing techniques. Dr Saklayen demonstrated the proper method of gowning and wearing gloves and ended the event with an interactive Q&A session with the audience.
At the end of the day, Dr Saklayen and the other doctors of the Vascular Surgery Department received crests from the President of BMSS, Dr Myesha Maliha Binte Mamun. All the participants were provided with certificates as well.
"The awe of discovering the human body. The honour of being trusted to give advice. The gratitude for helping someone through a difficult illness. These things never grow old," said Dr Myesha Maliha.