An artist's ticket to success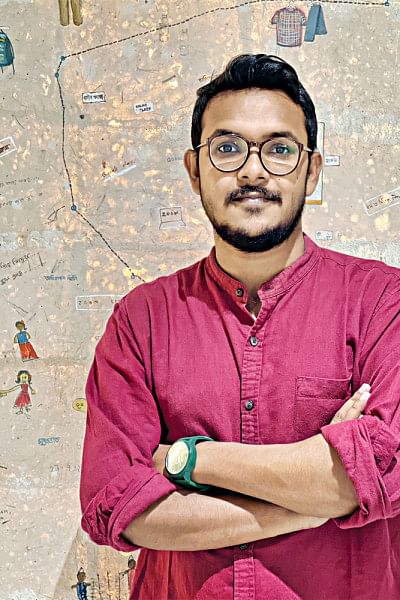 Emerging artist Imtiaj Rasel won the Sovereign Asian Art Prize 2021, under the public vote category for his artwork, "Journey by Bus". He was the only Bangladeshi to get nominated for the competition among 30 finalists who were chosen from 19 countries of Asia-Pacific.
"Journey by Bus" was first presented in the Young Artist's Exhibition at Shilpakala Academy. Later, it was open for public vote till May 23 while being exhibited in Hong Kong, where it received a massive response from online voters, becoming the highest auctioned artwork in the competition. Prominent artist Tayeba Begum Lipi nominated Rasel for the contest.
After completing his bachelor's from DU's Faculty of Fine Art in Drawing and Painting, Rasel went to India on an ICCR scholarship to pursue his master's in Visual Arts.
While commuting to different places in India, he drew inspiration from the streets that a bus would go by, as passengers got on or off. The cacophonies of Kolkata found a form in his sketches.
 "In the midst of cultural and geographical differences, one common aspect between Dhaka and Kolkata is the language," he shares. "I began collecting bus tickets and sketching on them regularly. I portrayed people's interactions, clothes, and behaviours in my work."
Rasel made a collage of these sketches on Fabiano paper in the form of a bus, incorporating catchy phrases. On the back, he drew a map of the streets that he had passed by during his bus journeys in Kolkata.
Rasel is one of the 15 artists to receive a grant for a virtual residency programme under Brihatta Art Foundation, titled "Brihatta Home Art Project", set up amidst the pandemic to create opportunities for emerging artists of Bangladesh. 
"The job prospects for young artists in our country are limited. After graduation, a student who chooses to pursue a career in fine arts has to face many struggles," asserts Rasel. "With dwindling job opportunities, especially during the Covid-19 pandemic, the situation has worsened. Some artists are starting their online businesses, while others have switched career paths altogether."
He was also a part of a residency programme, organised by the Picasso Pupils International Art Community in Meghalaya.
Rasel currently teaches at Nalonda High School, and is a coordinator for Brihatta Art Foundation. He hopes to continue taking risks as an artist, with different mediums over the years.
The author is a freelance journalist and a potential political scientist who likes to read poems and write short stories. Email: [email protected].