A Sprightly Mentor for the Young Minds
Digital Innovation Challenge for Women-2017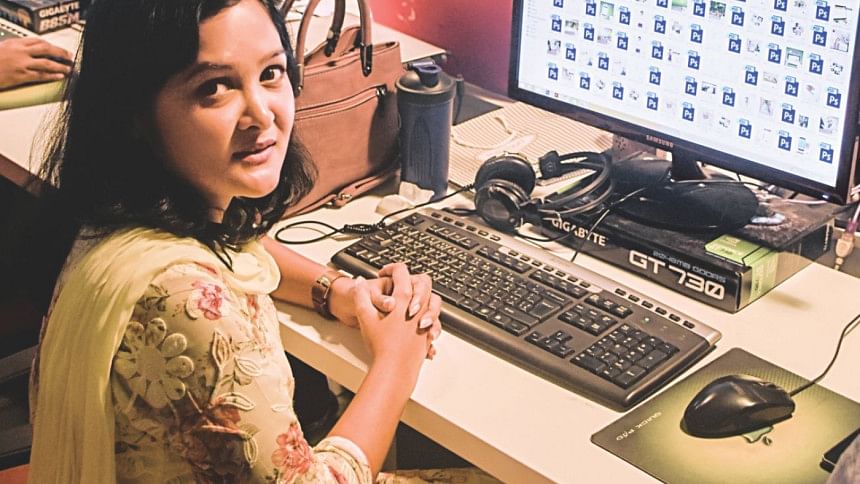 When she sat among the mentors, the participants were a little confused. She looked too young to be part of the challenge. However, when she spoke, it was clear that she was not a participant but an expert. Working as a Senior Graphic Designer in Magnito Digital, she is the youngest mentor at the Digital Innovation Challenge for Women-2017 in a pool of eleven. Jannat Ul Fardoush Hira shares her experience and expectations with Star Youth.
With a charming smile, Hira expresses her joy to be associated with this contest. "I have been working with Women in Digital for some time now. I was a mentor in the National Hackathon for Women and it is always a pleasure to work with young minds," she says.
To the participants, Hira offers mentorship for building UX, UI and web-designing. Dumbfounded with the technical terms, I ask what UX and UI stands for. Hira with her natural, smiling face explains that, it is the interface that the user would experience while using an application or the backbone of the app. So, the participants who will be building apps could take her suggestions on designing. While asking about the participants, she says that they have a lot of positive energy within them. She is also happy to see parents supporting their daughters in tech-based competitions and building potential careers in this field.
Talking about this innovative mentoring session, Hira says, "Being a mentor is not an easy task; we always have to stay updated to be able to support the participants." According to Hira, rather than critisising a budding idea or discarding it at the first go, it is better to show the participants how to improvise on it. That way, even if they fail in one, they will not lose the spirit to try again.
When asked what kind of a mentor Hira is, she replies, "Our first mentors are our parents; they help us to build confidence within us. I also try to be a similar kind of a mentor, who encourages participants to do new things." Hira believes that the digital era is here to stay, and if these girls work hard, there are immense opportunities waiting for them in the global arena. "Not just mentoring, I am also excited about learning from other mentors and the participants in this contest."