When nature calls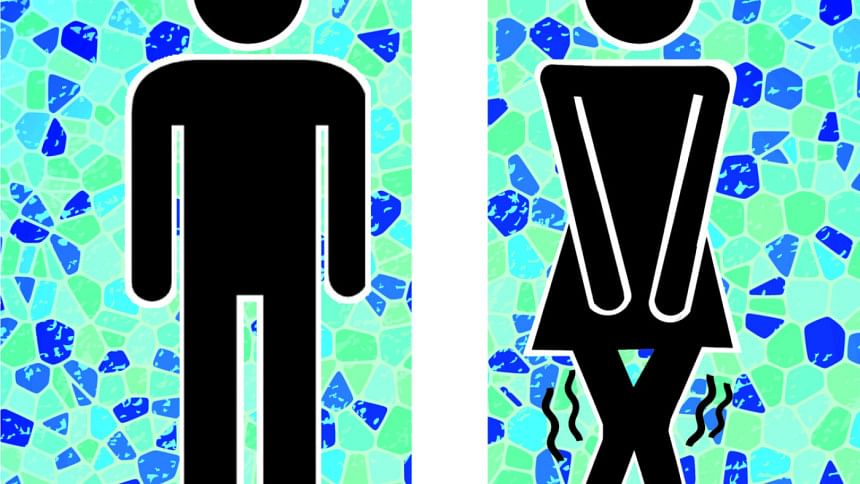 illustration: Amiya Halder
Life goes on and that's why even after the most horrendous massacre at Holey Artisan, most of the city dwellers travelled back to their roots. May be this time it was needed more than ever to see the faces of the loved ones, to feel the warmth in one's mother's lap, to get the inner peace back.
So I went all the way to Khulna to spend some time with my parents and relatives. But it took the bus five hours (as expected!) to arrive at the stand! It was 1.30am. Be that as it may, after five long hours of waiting at an overly crowded bus stand, you need to make sure you have responded to the nature's call before getting into the bus because the journey ahead can well be of "unpredictable" duration! So my nightmare started from a washroom at one of the counters there at Kolyanpur. Let's not focus on how bad and terrible it was, for if you do,   you will retch for sure, and you will retch uncontrollably. Even so, I was happy that there was at least some covered place called toilet. To avoid the pain of urine infection, I decided to drink a little water during the journey thinking what can be worse than what I just had to see or smell. Who knew that I had more to see yet!
As it was the month of Ramadan, the kind bus driver and supervisor decided to stop at a restaurant somewhere in Manikganj. People got down and the first thing they started looking for was a washroom. We women followed a restaurant staff who ensured us that there was a washroom, which is "proper" for women. Now by "proper" he only and only meant the shed because the rest is indescribable. Many returned looking inside but who once has experienced urine infection would not dare to wait till she found a "proper" toilet in a long journey in Bangladesh!
My schooling was in a private school and the washroom it had   basically misguided me about the concept of a toilet in Bangladesh.  However, the government college where I studied corrected my misconception. I could never go into the college washroom, not even during emergencies. Things are worse in the capital city which does not care about even providing the "shed". We live in a capital where there are around 50 public toilets among which 80% are in non-functional conditions. Nowadays we see some new public and mobile toilets around the city as a result of private-public partnership, however limited that number is, compared to this overly crowded city. Though limited, this new initiative to address this issue is praiseworthy.
While writing about my frustration, I was looking for some data on the number of women suffering from urine infection in Bangladesh, especially in urban areas because I was quite sure that the number should be striking considering the unavailability of public toilets in Dhaka. To my dismay, I was unable to find any data.
In Bangladesh, girls can easily find reasons to envy the life of a boy mostly because of the liberty the latter enjoy. The only reason I wish I were a man living in Dhaka is the liberty to urinate anywhere when needed!
More often than not, we talk about different rights and different facilities, but the right to urinate is one basic thing that every civilised city should provide its citizens with.