Thinking beyond Accord and Alliance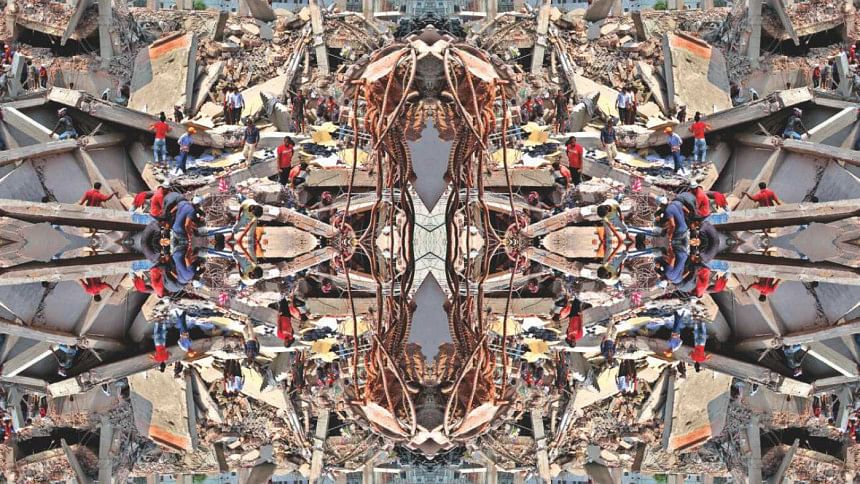 Workplace safety and security in Bangladeshi garment factories attracted widespread international scrutiny after the Tazreen fashion factory fire on November 24, 2012 and the Rana Plaza collapse on April 24, 2013. Various transnational labour organising bodies, corporations, and the Bangladesh government developed different governance mechanisms to monitor working conditions in garment factories. The Accord on Building and Fire Safety in Bangladesh and the Alliance for Bangladesh Worker Safety are the two most significant transnational private governance structures that received extensive attention worldwide.
Transnational governance is not new in the context of the Bangladeshi garment industry. Ethel Brooks in her book "Unraveling the Garment Industry: Transnational Organising and Women's Work" (2007) examines the anti-child-labour campaign in 1992 that called for US and European consumer boycotts of clothing produced in Bangladeshi garment factories to end employment of children under fourteen years. The campaign was partly motivated by the fear of corporate downsizing in the USA and export of US-based manufacturing jobs to countries that provide non-unionised, feminised, and cheap labour. Although US labour unions and labour NGOs broadly used the human rights language of protecting Bangladeshi children in their campaigns, they collabourated with various US conservative and protectionist actors that were more worried about massive layoffs and corporate downsizing in the USA than saving Bangladeshi children from exploitative labour conditions.
The campaign resulted in the introduction of "The Child Labor Deterrence Act," which is commonly known as the "Harkin's Bill," in 1993. The Harkin's bill prohibited importation to the USA of products that had been produced by child labour. In response to the Harkin's bill, thousands of child garment workers were fired and forced to take jobs as domestic workers, brick breakers, and even as sex workers. Bangladeshi NGOs, unions, and activist groups started protesting the situation. The language of protest was quickly picked up by the BGMEA as well. Later a "Memorandum of Understanding on the Use of Child Labour in the Export-Oriented Garment Industry in Bangladesh" was signed with support of ILO, UNICEF, BGMEA, and the government of Bangladesh on July 4, 1995 to place underage garment workers in non-formal schools. Brooks highlights how those non-formal schools were not regulated by the Education Board of Bangladesh, which makes it impossible for child garment workers to continue higher education. Many of these children eventually joined garment factories when they turned 14. 
Brooks further notes that ILO trained inspectors could only report the status of child labour during their inspections. There was no way to report and address fire hazards or worker abuse or withholding of wages in factories. Moreover, transnational activist initiatives focused on child workers who worked in the RMG sector and constituted only four percent of all child workers in Bangladesh. These initiatives undertaken by consumer rights groups and international labour rights NGOs never inquired why these children were forced to engage in paid work in the first place and did not propose long-term solutions. Despite those limitations, UNICEF, ILO, the Bangladesh government, and the US Department of State presented Bangladesh as a successful case study of eradicating child labour.
After the collapse of Rana Plaza in 2013, we notice that history repeated itself in a slightly different way. This time, transnational governance did not appear in the form of boycott movements. Instead, transnational labour rights groups and corporations introduced two governance structures popularly known as the "Accord" and "Alliance". The Accord was signed on May 15, 2013 as a five year legally binding agreement among global brands, retailers, and Bangladeshi and global trade unions aiming to ensure safe working environment in the Bangladeshi garment industry. The Accord provides independent inspection programmes supported by brands and involving workers and trade unions. It also requires public disclosure of inspection reports and corrective actions plans. Many people call the Accord "a historical agreement" because of its legally binding nature that requires signatory companies to assist in financing safety-related renovations and its collabouration with unions and workers in reviewing and implementation of safety protocols.
The Alliance, on the other hand, is another five-year commitment (please note that it's a "commitment," not necessarily a legally binding "agreement") unilaterally proposed, designed, and governed by corporations. Although the Alliance's Board of Directors, Board of Advisors, and Board Labour Committee include some Bangladeshi garment factory owners, BGMEA representatives, BUET Professors, NGOs such as CARE and BRAC, and trade union leaders, it does not involve independent worker representatives.  It allows brands to retain complete control of the inspection process. It runs a purely voluntary loan programme controlled by the brands to provide funds for renovations and repairs to garment factories. The approach of the Alliance mostly resembles a "Corporate Social Responsibility" model which has a proven history of failure in the context of Bangladesh. Many corporations including GAP and Wal-Mart preferred the Alliance over the Accord because Alliance provided them immunity from lawsuits that could be filed by third parties under the Accord.
Mainstream labour rights discussions in Bangladesh regularly describe these two private governance structures under a single cluster "Accord and Alliance." The Accord is popularly known as the "European" initiative (although Accord has 15 American signatories) while the Alliance is described as the "North American" initiative. Some of the vigorous critiques of these initiatives in Bangladesh examine their neoliberal and imperial nature without differentiating their contrasting origins and modes of implementation. On the other hand, North American and European labour rights discourses spend incredible amount of energy in distinguishing the Accord from the Alliance and establishing how the former is much superior to the latter. 
Pro-Accord vs. pro-Alliance tension is evident in Euro-American corporate as well as labour rights circles. The pro-alliance group, which includes corporations and their allies, try to bypass their accountability by shifting focus on the practice of subtracting that flies under the radar, thereby holding Bangladeshi garment factory owners and the government of Bangladesh primarily liable for the current situation. In contrast, proponents of the Accord, who include Euro-American labour rights groups, academicians, and activists, attempt to hold brands responsible. While doing so, they often describe sub-contracting as a minor problem and portray garment factory owners and the government of Bangladesh as "innocent victims" of exploitative corporate practices. An integrated understanding of how global corporations, the local government, and factory owners jointly play different roles in abusing disposable, feminised labour across the apparel supply chain is frequently absent in both pro-Accord and pro-Alliance discussions.  
The Accord and Alliance are currently creating lots of confusions and contradictions on the ground. Even though the Accord and Alliance originally agreed to avoid duplications, almost 300 garment factories fell under the jurisdiction of both the schemes. The overlap confused many garment factory owners who preferred uniform standards. The Accord and Alliance later reached a consensus about not inspecting a factory twice once done by either one even though Scott Nova, the Executive Director of Worker Rights Consortium, pointed out that Alliance inspections are far less rigorous than the Accord (Dhaka Tribune, April 22, 2014).The Accord also does not have information about which factories have been inspected by ILO or the National Tripartite Plan of Action on Fire Safety and Structural Integrity (Dhaka Tribune, October 23, 2015).
The Accord suggests more expensive retrofitting options in spite of availability of cheaper local sources. For instance, the Accord engineers asked for Tk. 70 lakh for retrofitting which local engineers could deliver for Tk. 20 lakh only (Dhaka Tribune, June 10, 2014). The Accord provided a list of 55 companies to source fire safety equipment from even though it emphasised that the list is not necessarily an endorsement or approval. Some garment factory owners expressed worry about the possibility of recommended companies cashing in on the situation by demanding higher price for safety equipment (Dhaka Tribune, December 1, 2014). In addition, the Accord and Alliance often arbitrarily decide safety and security standards from a Western point of view ignoring local specificities. For example, BUET engineers recommended concrete strength to be 2400 PSI for stone structure and 2100 PSI for brick structure whereas Accord engineers proposed 1750 PSI for brick structure. The Accord's recommended PSI would have closed half of all RMG factories as reported by an official (Dhaka Tribune, May 14, 2014). ILO later intervened to mediate the dispute and the Accord eventually agreed to recommend 2370 PSI for stone and 2050 PSI for brick structures (Dhaka Tribune, May 16, 2014).
Although both the Accord and Alliance claim to include workers' representatives, the nature of this representation and participation of workers in questionable. In 2014, the Accord suspended 31 garment factories, which resulted in job loss for 14,000 workers. Most of these workers did not receive wages or financial assistance even though Accord signatory Western retailers and brands were supposed to offer funds through "negotiated commercial terms" (Dhaka Tribune, May 6, 2014). The Accord (as well asthe Alliance), therefore, promotes a strictly technical understanding of "workplace safety" which does not address livelihood security of workers. A survey conducted by Bangladesh Garment Worker Unity Forum, a grassroot labour activist group, in 2015 found that 98 percent of garment workers have never heard of the Accord or Alliance. Local unions and federations that are signatories of Accord or members of various boards of Alliance are usually the ones that speak English, are well-connected with transnational activist networks, or receive transnational funds and sponsorships for labour organising initiatives. 
The MOUs signed in the 1990s or the recent Accord and Alliance highlight limitations of labour activist campaigns that rely on the model of neoliberal transnational governance. Codes of conduct, such as MOUs or the Alliance, rarely embrace workers' meaningful participation and hardly impose legal responsibilities on corporations. These initiatives resemble corporate public relations stances that are implemented in collabouration with international human and labour rights organisations as well as their Third World activist and corporate allies.Although the nature of the Accord is different from MOUs and the Alliance, the former faces significant challenges in bringing long-term changes because of its selective choice of Third World activist allies, lack of collabouration with workers and grassroots organising initiatives, and reproduction of the saviour complex at various levels. 
It also becomes problematic when certain Bangladeshi labour rights organisers emphasise violation of transnational corporate or private legal governance structures more than violation of local labour laws. Some activists argue that highlighting violation of transnational corporate or private legal governance structures attracts extensive coverage by the international press and support of international human and labour rights organisations. While this strategy is important for fostering transnational activist campaigns, it is imperative to remember that transnational corporate or private governance can only disincentivise labour exploitation but cannot implement strict legal actions at the state level for violating labour rights. The tenure of the Alliance will expire in 2018. The Accord was supposed to expire in 2018 as well but some of the members are thinking of extending the tenure for another three years even though BGMWA representatives have strongly objected the idea (The Daily Star, November 17, 2016). The temporary nature of the Accord and Alliance reflects the limited reach of transnational governance structures focusing on one country at a time. We need to strength our local regulatory mechanisms, rely less on voluntary corporate codes of conducts, and include more grassroots voices of workers and labour rights activists in transnational activist networks with a view to holding corporations, garment factory owners, and governments accountable and bringing meaningful changes in labour practices across the apparel supply chain.
Nafisa Tanjeem is a PhD candidate at the Department of Women's and Gender Studies of Rutgers University, United States.