Sexual and Reproductive Rights
For the women, by the women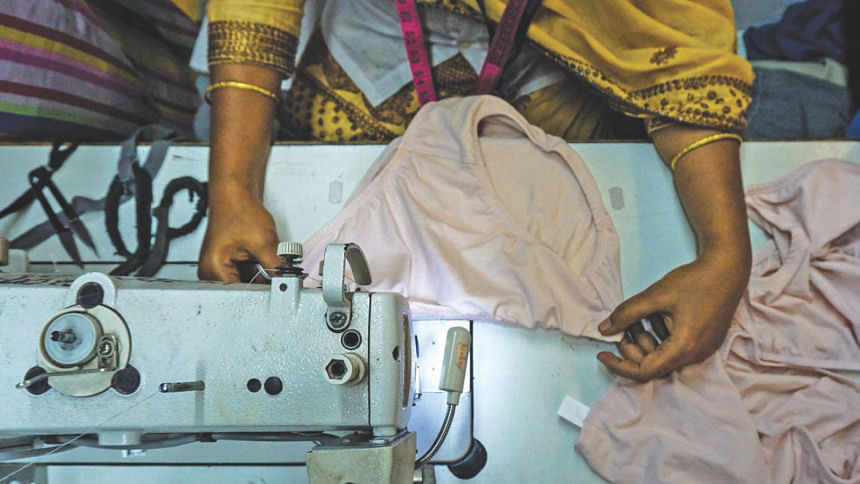 Tania Sultana, a 23-year-old sewing operator at "Esses Fashion Ltd." of BEXIMCO Textiles can now take home her compensation for 30 days of work at the end of the month, but it was difficult for her to do so just a few months ago. She was not always able to make it to work, especially on heavy-flow days when she could not work for 8-10 hours at a stretch. Since unsanitary rags were Sultana's only recourse, she would find it impossible to wash and dry these at the office lavatories and place a new one when the need arose. Instead, as it was a very unpalatable matter for her, she preferred to stay home on the first or second day.
"I would always think that the sanitary napkins that we are accustomed to seeing on television advertisements are luxury items. Also, I find it very embarrassing to buy it from the dispensary, where there is always a crowd. Sometimes people even crack jokes about it," she relates.
"So what made your life easier, Sultana?" I ask.
"Instead of using rags, now I use sanitary napkins and re-usable underwear that I make at my workplace on my own, without spending a single taka on it. Today, I don't need to fear thinking about what I will do if I need a sudden change and I don't need to rely on only one rag for eight hours that I would place before going to work and change after returning home. Instead, I can use as many pads as I need and dispose of them in the basket in the toilet," says Sultana.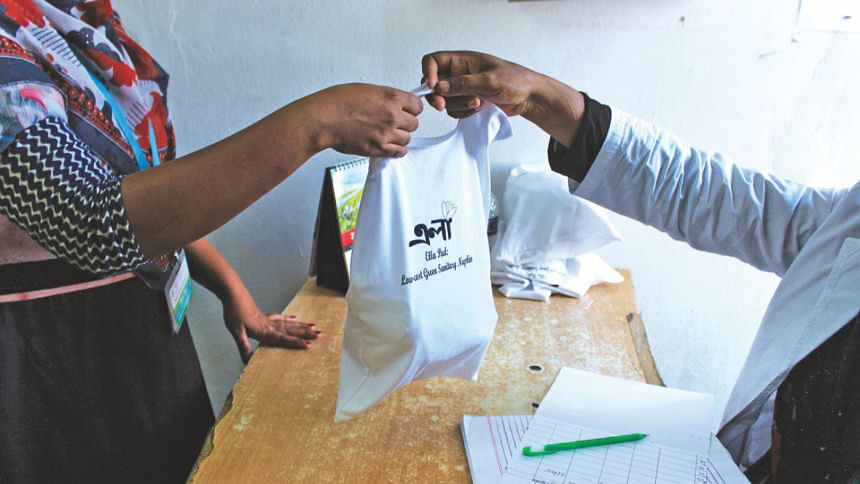 A large number of her colleagues now produce the 'Ella Pad' using fabric scraps and leftovers in their free time. The Ella Pad comes in two sanitary product variants—regular biodegradable napkins and low-cost reusable underwear. The factory has allowed them to use the necessary facilities such as machinery, scraps, leftovers and space. At first, they use the products themselves and later distribut the surplus to fellow workers. Most importantly, these female workers are getting these sanitary products free of cost. The whole process is managed by the female workers themselves. Bangladesh Atomic Commission is working with them to sanitise the pads. The underwear has been produced in a way that prevents leakage.
"When we get time after completing a certain order, we tell our supervisors to provide the materials. After that, we make the pads and pants according to the design. Later, we hand those over to our medical assistants for assessment. Whenever we need any, the medical assistants provide the products. The male workers too can take home the pads and pants for their wives," says 26-year-old Aduri Akter, a sewing operator trained to produce Ella products.
According to Khalid Shahrior, general manager of BEXIMCO Textiles, it was not so easy to mobilise the female workers as menstrual hygiene is a very private issue and most of them come from a very conservative background. "We tried to motivate them with our welfare officials, care givers, facilitators and medical assistants," he says. "And, within a span of three months, we have noticed that the rate of absenteeism has decreased to a great extent, which has helped to increase our overall productivity. In addition, the Ella solution has decreased the rate of migration too. For example, when a supervisor shouts at the workers for absenteeism, it becomes an uncomfortable work environment for them [the workers]."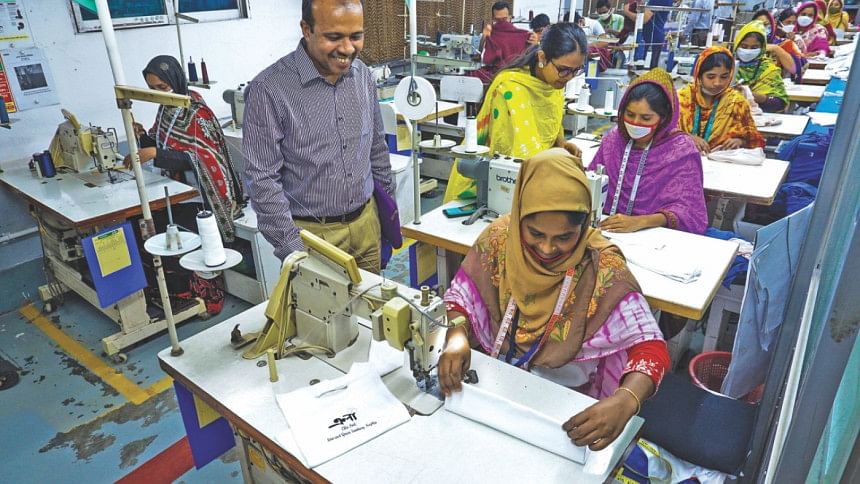 According to SNV Bangladesh, "Over 89 percent of Bangladesh's 78.4 million women still use rags instead of sanitary napkins, compromising their health, productivity and dignity with the risk of embarrassing leaks and harmful infections." Since the issue of menstrual hygiene is a taboo subject for the poor and because the RMG workers cannot afford the napkins that are available in markets, Mamunur Rahman, deputy general manager of Small and Medium Enterprise Foundation took the initiative to bring a sustainable change in this regard.
"At an early stage of my life, I observed the sufferings of my sister because of not having proper sanitary facilities. Her dropping out of school really struck me.  Later in professional life, I encountered similar experiences in the case of workers in garments factories, as they had limited access to toilets, let alone sanitary napkins. They were missing time from work and forgoing their salaries. At the same time, I observed the solution inside the garment factories: the hygiene problem could be solved by just reusing the leftovers or scrap garments in a proper way," says Rahman.
According to Rahman, the lack of hygienic feminine napkins does not just affect their financial statuses; it affects their reproductive health and well-being as well. On the contrary, the RMG sector has been losing 1600 million hours every year due to absenteeism on period days, which affects the factory productivity and profitability as a whole. 
Rahman's ultimate goal is to introduce Ella solutions to at least 1000 factories that will allow their women workers to make their own sanitary napkins in the next two years. "Later, women who have dropped out of the factories will make the napkins to meet the market demand, especially for schoolgirls," he says. He also suggests that Bangladesh's garments factories can offer their workers a retirement plan that will include making sanitary napkins post-retirement. "My ultimate objective is to turn the workers into entrepreneurs. With support from the public and private sector, we can create thousands of new green entrepreneurs who can take up the challenge of being part of the upcoming Fourth Industrial Revolution."