Of men and masculinity in a male city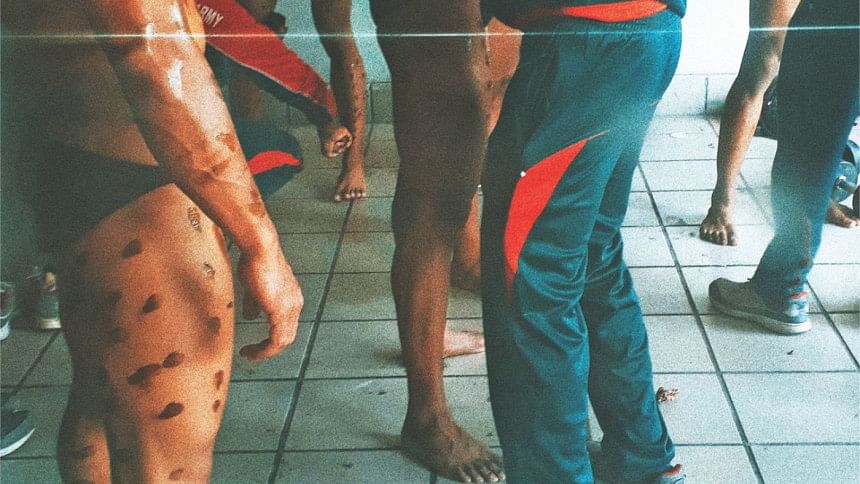 Last time, I wrote about how Dhaka's public spaces exude a strong maleness and how women walk about the city wearing their gender like the proverbial albatross that just would not unburden their shoulders. How does that weigh on men? I would say heavier!
In fact, the sociology behind certain pushy and invasive male behaviour in public can be traced back to that very fated albatross.
How did we get to this point in the first place? Through performative gender practices among all concerned. We get socialised into our expected gender roles via repeated performances of certain connections between different aspects of our being until they no longer seem to be performances. Virility has become one such naturalised referent for masculinity and sexual assertiveness its desperate shorthand. Performing the man's role in the male city that Dhaka is has a lot to do with making this dominant connection manifest—only the articulation of this link is warped in Dhaka's public space, to say the least.
On the surface, Dhaka has a strong tactile feel to it and not all of it is as unwanted as pushing, shoving and groping. For men, a tactile encounter, be it in the form of touching, tapping, or patting one another is a regular part of being in the open. Yet, and much to our confusion, the city does not approve of any activity that remotely represents or even anticipates physical intimacy between individuals of the opposite sexes in public. In fact, the city is not very forthcoming when it comes to anything sexual. 
A few years back, I came across this big DMP sign board along Shangshad Avenue proclaiming in black and white: "It's prohibited for men and women to sit together." One would come across similar directives, albeit subtler in nature, like "maintain decency", "good manners speak for good family", "refrain from any indecent behaviour" hoisted in public parks or written inside public buses or CNGs. For the wondering minds, "decency" and "good manners" simply mean asexual behaviour. Anything that resembles sexual practice is publicly derided. If people of the same sex touching each other —a very common sight in Dhaka—is accepted public behaviour, it is only because it is thought to be asexual in nature. The moment there is a hint of sexuality in the public sphere, it is relegated to the realm of the unspeakable and unknowable.
At this point, if you are wondering why Dhaka residents are such unrealistic advocates of austerity, they are not! On the contrary, one is under huge pressure to perform rites of sexuality—such as marriage, romantic relationships after a certain age, etc—and that too exclusively of the heterosexual kind. While the norm for expected public behaviour looks down on any display of heterosexual intimacy, it is the axis on which the constructs of masculinity and femininity is inextricably hinged. Performing the man, thus calls for a double performance—of one's gender and (hetero) sexuality, only the latter has to be suggestive. It is small wonder that there is a fear of being judged as less of a man if one does not claim his (hetero)sexual being in one form or the other.
Nowhere is this troubled relationship between one's gender and sexuality more manifest than in the tiny, yet ubiquitous leaflets distributed hand-to-hand on the streets, busy road intersections, bus terminals, or thrown at you through windows of vehicles without calling for any active engagement on your part. Less, indeed is more, as these four-by-six inch papers provide insights into the social and psychological dynamics behind gender performance in the city; dynamics that have gone awry.
Leaflets are the most popular publicity mode for pseudo medical professionals—quack doctors, mostly jacks-of-all-trades ranging from asthma and rheumatic to sexual diseases. There are countless such unregistered alternative medical professionals who target especially male customers of a diverse age range. People shy away from taking a careful look at these leaflets in public, for what they contain, which is mostly self-proclaimed cures for sexual ailments of various kinds. One cannot be open about sexual diseases in fear of public shaming, which in turn opens the door for these furtive practices that euphemistically and quite aptly refer to sexual problems as goponio shomoshsha (secret problems).
The quack doctors' businesses thrive on these very human frailties and reach out to their prospective customers by randomly distributing theses leaflets with details of different ailments and a promise of cure with a guarantee of immediate results—as quickly as within 24 hours. A brief look at a sample of such leaflets will reveal how they rarely if ever talked about inhibitions, fears and problems of a sexual nature, and the pressure of "performing the man" are less a privilege and more a challenge for a man. A herbal massage cream for men, for example, starts with these catchwords: "Embarrassment! Fear!! Frustration!!! No more inadequacies". After tapping on the right keys—fear, frustration, embarrassment—in the taglines some products go on to incite the male aspiration towards achieving "roaring sexual prowess like a lion"—the ultimate symbol of strength and control in the natural world. The lure is strengthened by another outrageous claim: "A bullet can miss its target but our capsules won't", playing on the tropes of both natural and man-made symbols of power.
Most importantly, alongside the comparatively cheaper price range, what lures customers is the protection of privacy. For men, the situation is socially complicated as seeking help about sexual problems automatically becomes an assault on their manliness, which in turn threatens the power structure in the family. Hence, many such leaflets come with options where one can describe one's ailment over the phone and get the medication by parcel or post, in which case the customer's privacy is not sacrificed. Assuring secrecy and anonymity, these small-scale entrepreneurs capitalise on fears that exist but cannot be articulated in public.
When virility alone has come to constitute manliness while sexual disorders, incapacities, diseases are socially denigrated, a showing off of this limited manliness is all but expected. That is why in many places like Dhaka, men strutting around with their selective masculinity worn like a crown and behaving aggressively towards women in public spaces are more the norm than exceptions.
These commotions in the underbelly of the city do belie masculinity's completely asexual public existence, where any articulation related to sex is taboo and mere displays of physical intimacy are frowned upon.
On this auspicious day, let's hope we are able to reflect on and work our way past the limited understanding of manhood and masculinity. Let's man up to qualities that you can take credit for, things that you think make you a better man. If you have to overplay, let it not be your crotch. Happy International Women's Day folks!
A Dhaka girl through and through, the writer teaches at the University of Liberal Arts Bangladesh (ULAB). She is a Dhaka enthusiast, who wants to tell the everyday city anew.