The Workers' Revolution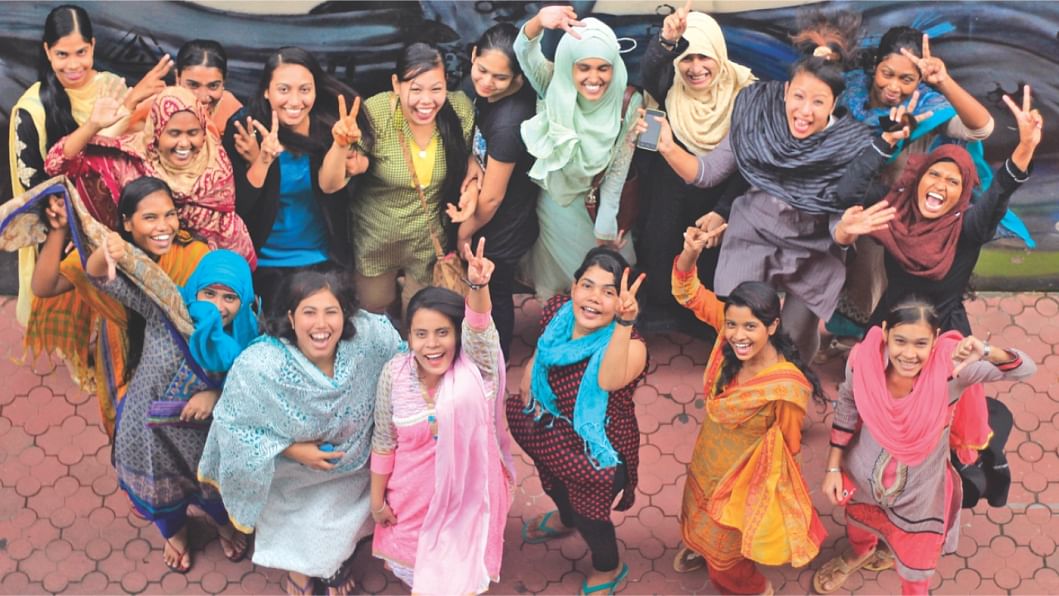 Photos: Marlin Biswas
When Rokeya Khatun was in college her father suffered from a cancerous tumour. This led to her family struggle with finances. The strain of earning money became hectic day by day. To contribute in this fight, Rokeya after completing scoring a 4.3 GPA score on her HSC, she was forced to work in a garments factory. Her employer was the Mohammadi Group, which makes clothes for H&M, Gap and Next. Rokeya worked overtime a lot for which her earnings were boosted to ten thousand taka a month, "Somedays overtime stretched to twelve or even thirteen hours a day, but this was something which I had to do to help my family," says Rokeya.
She could not picture her circumstances improving, until she was called to a meeting at the factory and learned of a programme – the first of its kind – launched by the Asian University for Women (AUW) to provide free university education to women working in Bangladesh's garment factories. Rokeya jumped to the occasion and gave the entrance exam. On one fine morning she was called by the authorities to annouce her the result.
Rokeya now dreams of becoming an economist as now for months, she has been a proud student of AUW.
Asian University for Women was established in 2008 in Chittagong to educate the brightest young women with the greatest potential. It is the first regional university to adopt a liberal arts curriculum. The university works with aim of creating a new generation of female leaders and is funded by donors including the Ikea Foundation and the Bill and Melinda Gates Foundation. Like Rokeya Khatun, AUW has enrolled more than thirty RMG workers in their new program 'Pathways for Promise'. The programme aims to identify talented young women among Bangladeshi garments factory workers and provide them with the academic, professional, and financial support required to earn their Bachelor's degrees and take leadership positions in their chosen fields. "One would be surprised to know how many HSC graduates work in this sector, which is a total waste of their talent," says Tanzila Mazumder Drishti, programme coordinator, special programmes at AUW. In most cases, it is seen that these women are forced to work in the garments, either due to poverty or because of a family mishap. "To drive our economy further, we steer them into working long hours yet we don't see the full potential of these women. If they are utilised, we can bring a revolution in the RMG sector." The programme started its pilot project on January 2016, with twenty-two young women beginning their studies at AUW.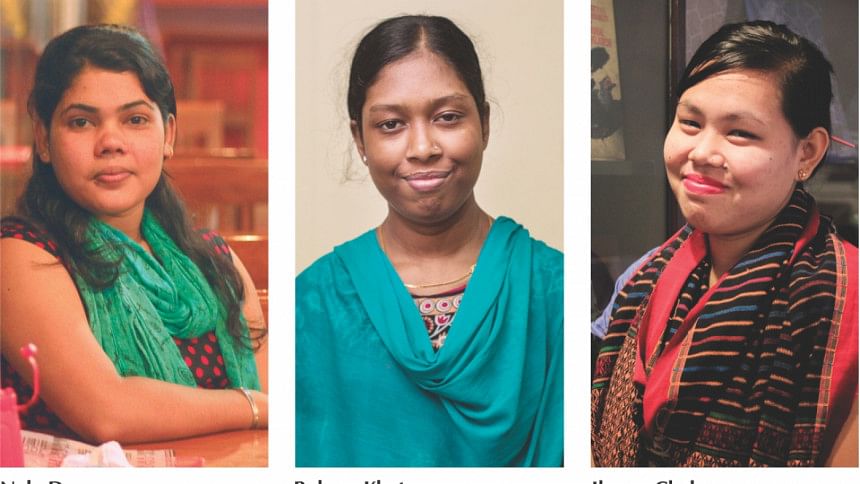 The programme was the brainchild of Kamal Ahmed, founder of AUW— who thought to utilise this untapped tool of human resource that nobody has looked into before. After months of planning, AUW went to all potential factories to pitch this idea. "The real coup was persuading factory owners to continue paying workers whilst they are studying," says Drishti. In most of the cases, these women were the sole income source of their family. Driving them away from work meant more suffering for their family. "Most of the factories we went to, agreed to our proposal. It was a very little amount for the factory owners to spend and, applauding the initiative, they helped us with open arms."
Interestingly enough, AUW was not the only ones who needed to convince—it worked the same for the students as well. Rubina Yeasmin was only 13 when her father died of a heart attack. Her mother tried her best to provide the money to keep her in school but finances became increasingly tight. Soon her relatives started pushing her to get married and quite school. Yeasmin refused to marry and fought for her education. Though she managed to pass her HSC, Yeasmin could not get rid of her financial troubles. She moved to Dhaka, to work as a quality control inspector in one of the city's many garment factories.
Yeasmin worked overtime, so that her younger brother, Murad, could go to school too. When the AUW opportunity knocked on her door, she again had to face her relatives. It was after a lot of assurance from both Yeasmin and the university that she could continue studying. Much like Yeasmin, a lot of students went through the same, for some the scenarios were even worse. "I used to get calls from the guardians asking if we are a legitimate institution and if we are going to smuggle them somewhere," says Drishti.
A major challenge for AUW was to ease the transition between these students and the curriculum of the English medium university. Though these women possessed higher secondary degrees, stepping into university curriculum was a completely different scenario. " The Pathways Program primarily focuses on developing the students' English language skills in an approach which equips the students with the linguistic and communicative competencies, enabling them to become effective communicators in both the academic and social AUW communities," says Andrew Jones, Director of Pathways for Promise programme. The 'Pathways' students have to go through extra courses which helps to build a strong hold on the English language and other basic subjects. The competency based curriculum uses an approach in which language is seen as a medium of interaction and communication between people who want to achieve specific goals and purposes. Therefore, the ability to use language as a speaker, listener, reader and writer is critical in the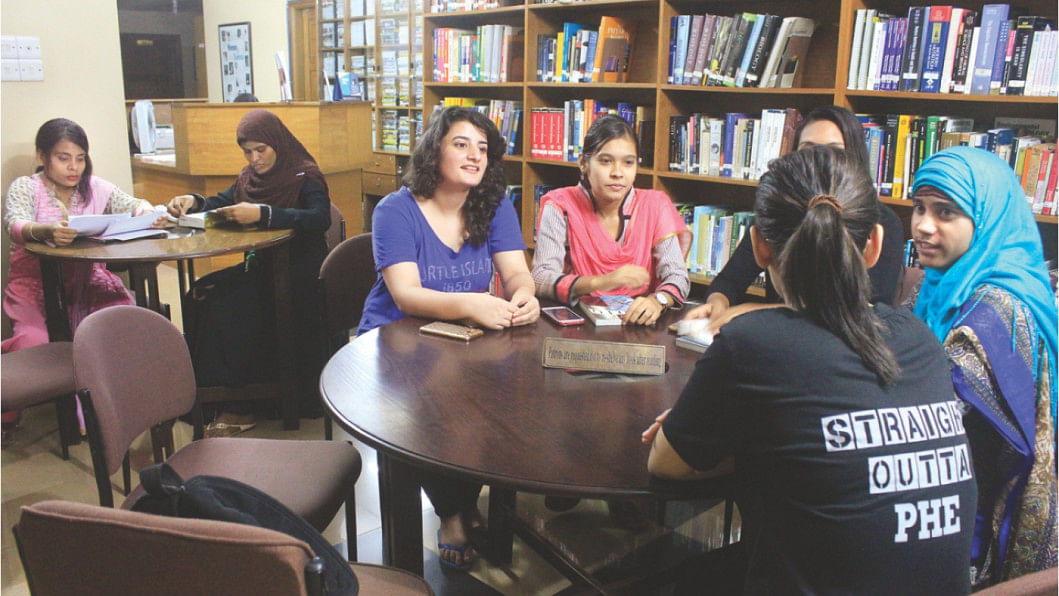 goals of the Pathways curriculum. "The English language skills developed within Pathways also embeds critical thinking and reflective skills, meaning that students not only improve their English competencies, but are empowered to communicate in a manner which underscores the academic values of AUW," says Jones. "Another important sub aim of the curriculum goals is to develop team work and leadership skills. These behavioural competencies are achieved not only by core curriculum activities but also through extracurricular activities such as project work and community time." Enabling students to take responsibility for their own learning is also an integral aspect of AUW's curriculum. Students are given guidance in autonomous learning approaches through an introduction to study skills.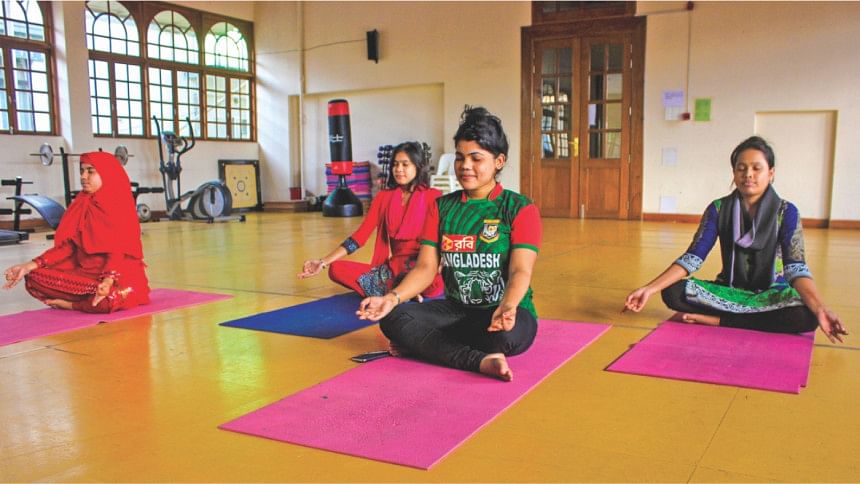 In August of this year the first batch of students passed a stringent test which allowed them to continue their AUW academic journey into the Access Academy. "This is the main measure of our success but our students constantly also give us feedback on how the Pathways programme is holistically developing and empowering them – a key factor which is very motivating for all the staff members involved in the Pathways Programme."
This curriculum is what drove former RMG worker Nely Dey to make friends across borders—which she states is a "Dream come true." The twenty year old student from Banshkhali used fantasise about making friends with foreigners. "The classes we took were so well designed that I myself am amazed of my English skills. Nely now lives in the AUW hostel with three room mates from Vietnam and Afghanistan. Other than studying she keeps herself busy, trading recipes with her room mates.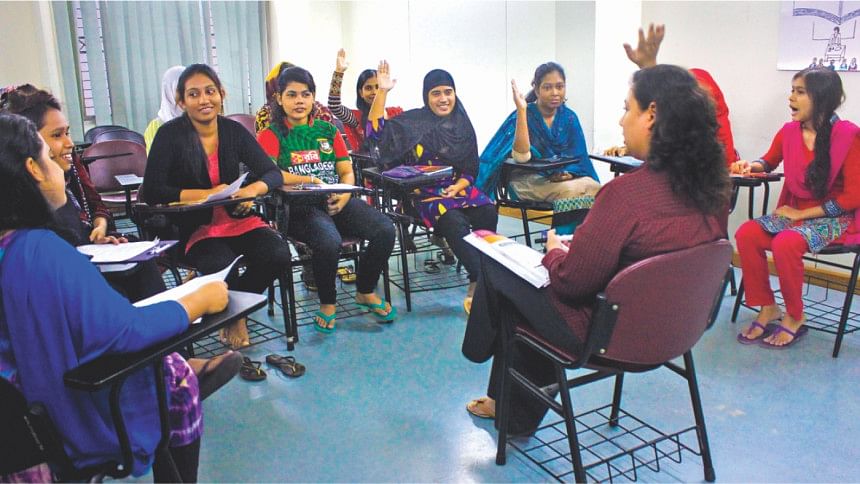 Another aspect of the programme includes the co-curricular activities. Students are encouraged to join different clubs to pursue their hidden talents. Jhuma Chakma, one of the students from this programme, took full advantage of this facility—training in karate. "When I first heard about this programme, I didn't think they would select me, as I came from an ethnic group. I was very amazed to know how wrong I was," says Jhuma. The 22-year-old former RMG worker used to work in the Youngone Group garment factory to support her family. "Now I feel like the world is within my grasp, and my options are limitless." Though she dreams of going to America for further studies, Jhuma currently keeps her self busy with studying, taking photographs and having endless chats with her Afghani roommate, Somaya Ahmady. "She is a terrific girl and is very helpful as a roommate. She's also very good at cooking MAMA Noodles (a specialty among AUW students)" says Somaya. Though both of them are still getting accustomed to the English language, Google dictionary plays a huge role in their friendship. AUW encourages diversity among their scholars. The dorm rooms consist of members from different nationalities and changes every year, so that students can learn different cultures and traditions from each other. "Though this method might seem harsh but this actually helps them to overcome the culture shock they get at first. They realise making friends is the only way they can keep up," says Drishti.
The time one spends in university is considered the most memorable for any student. It gets even better if one has their best friend with them throughout their academic venture. Meherunessa and Mrashanching Marma both used to work at the Youngone Group when they both got admitted to AUW together. "When we both came here, a lot of people discouraged us, but we didn't care. We knew this was the right discussion and look how happy we are now," says Mrashanching Marma. "We all come from different cultures and religions, yet we are so at peace here. I think the best thing about this place is how people with different philosophies come together and live in harmony," says Meherunessa.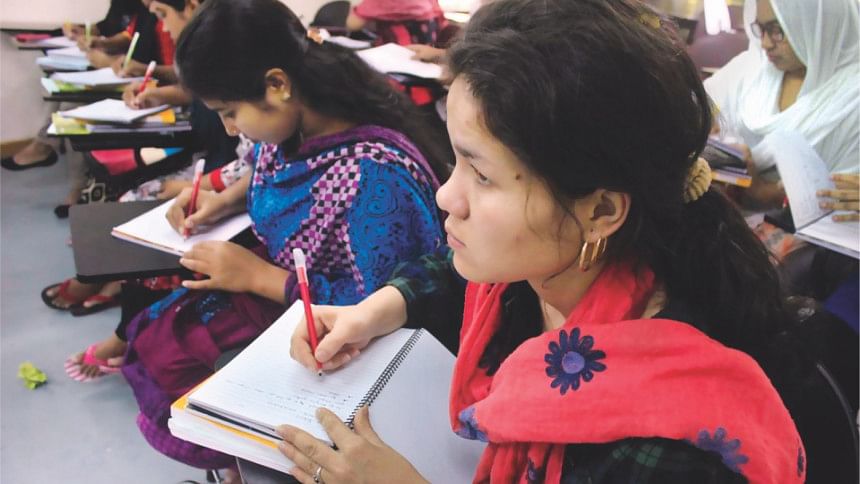 The Pathways for Promise programme has already become a milestone development project and has been covered by many foreign newspapers such as The Guardian and Reuters. When asked what they wanted to do after graduation, a lot of them said they wanted to return to their factories for managerial positions. "See, all these people no the RMG sector like the back of their hands. They know what would be best and worst for the workers. In the past, they couldn't do anything to bring a change as they lacked the degree, but imagine the things they can do after they get the degree," says Tanjila Mazumder Drishti. If and when students like them returned to the sector, the factory administration would be able to see a drastic change in their working systems and the whole RMG sector itself can witness a ground-breaking change. AUW aims to continue this programme and include as much RMG workers as possible in the future.
In a country where women are still fighting for empowerment, AUW showed a new way of bringing it about. These women, who once feared to even dream, now actually stand with their heads held high— working for their own and also the country's betterment. Initiatives such as this can give us a light of hope for a better future – a future where workers bring revolution.