The slow and steady conservation of the Asian Giant Tortoises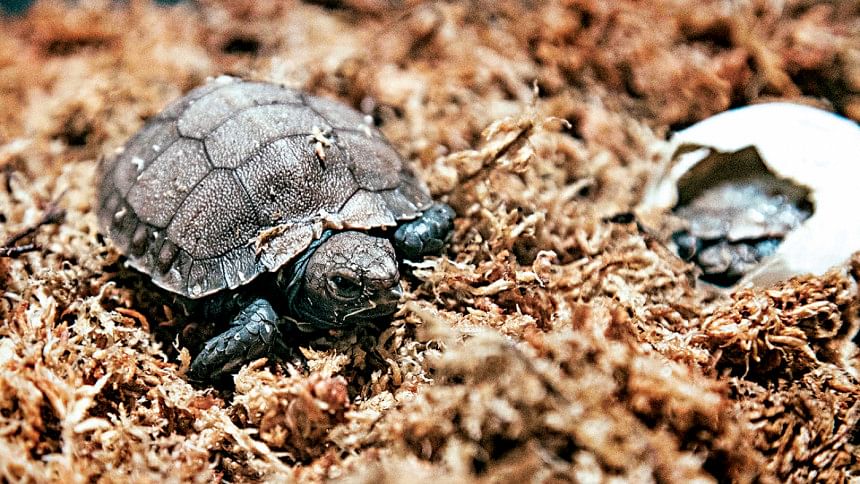 They are famous because they battled petty criminals, overlords, mutated creatures and alien invaders, all the while trying and mostly succeeding to stay hidden. They are famous, for they were cursed and are now manifestations of an evil spirit stuck in a pond for eternity at a shrine in the depths of Chattogram. They are famous because writers, moviemakers, shamans, philosophers, kung fu fighters alike have been fascinated by their slow and steady gait and their resilience. Yet, thousands of years on, this very resilience is under threat. If you have not guessed by now, I am talking about the order Testudines of the animal kingdom, which includes turtles and tortoises.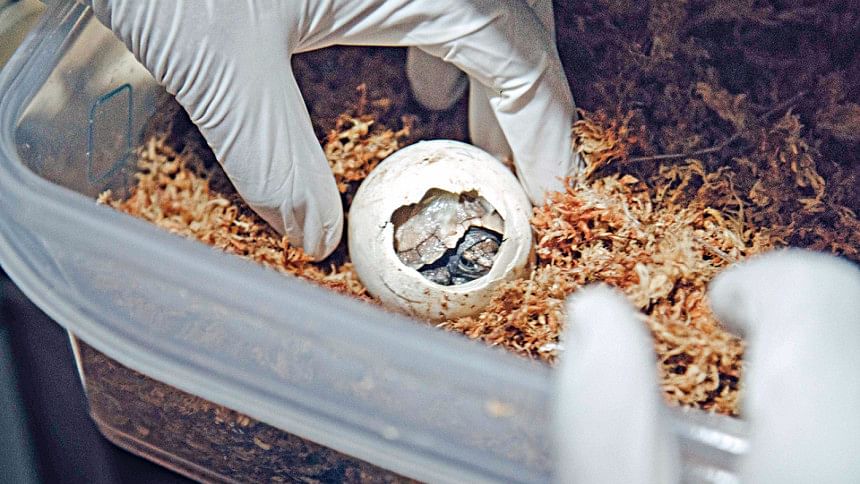 Much like everywhere else on planet Earth, the storm of extinction rages on. This has so far pushed countless animals towards extinction. Some may be lost forever from science without ever being documented but for the 'fortunate' few, their extinctions have gotten notice. And conservationists are hard at work trying to turn back time.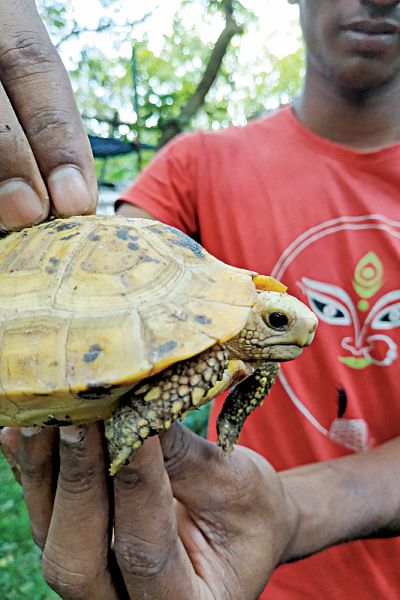 And one fine Friday morning, we were witness to this small scientific 'miracle' unfold in front of our eyes.
Asian Giant Tortoises: Captive breeding of the reptile giants of the hills
Conservationists confirmed the presence of Asian Giant Tortoises in the Chittagong Hill Tracts of Bangladesh when they started working in the region in 2012. All of that has been documented and written about in great detail, both locally and internationally.
With the discovery of the Asian Giant Tortoise, while giving a reason to rejoice, the conservationists also knew it was time to take decisive measures for their conservation. They put their heads together and decided the only way to save this species would require drastic efforts.
Thus, was born, the Turtle Conservation Center, established in 2017 by the team of Creative Conservation Alliance (CCA), with full support from the Bangladesh Forest Department and the help of Dr Istiak Sobhan, environment specialist of the World Bank.
Established formally in 2017, the Turtle Conservation Center feels like an establishment taken out of time almost. On a sultry, humid Friday morning just after the Eid holidays, we set out from Dhaka en route to Bhawal National Park.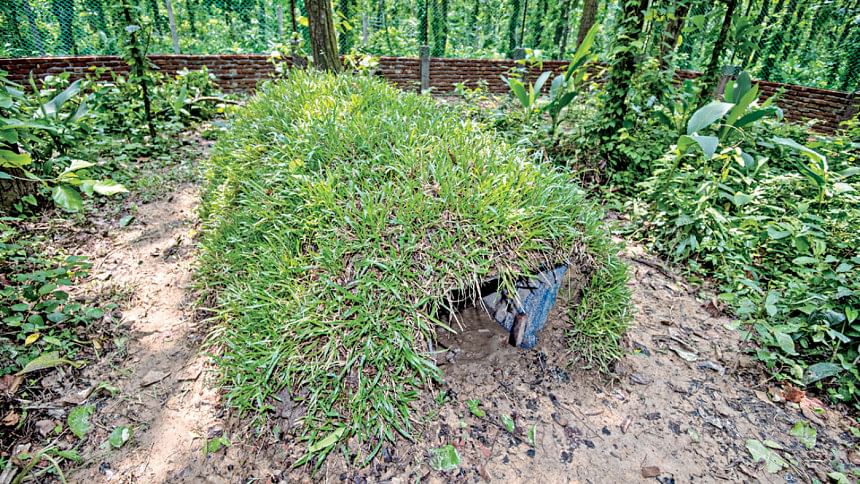 This is where Istiak Sobhan helped the team of CCA secure a piece of land, which was provided to them by the forest department, to establish their captive breeding programme for Asian Giant Tortoises, now considered critically endangered. 
There are seven Asian Giant Tortoises in the facility currently. They have been brought here after they were rescued from different places, one from Dulhazra Safari Park, another from a forest office, a few others from the Chittagong Hill Tracts and one from the enclosure for captive breeding of Batagur Baska (another species of turtle which is critically endangered).
The car ride to Bhawal was quick, thanks to the post-Eid free roads. Groggy, somewhat, still in a holiday delirium, it took us a minute to find our bearings in the humid, green expanse. A quick walk, a sharp turn in the forest, and we were inside this strange life-sized science experiment. I believe I will be speaking for everyone who was there, that the facility and whole experience made us feel like the kids from Stranger Things—where we were privy to nature being handled, revived and somewhat manipulated, by a bunch of young conservationists trying to save the last of these majestic species. 
The facility is surrounded by towering shal trees and a huge pond that almost appears as though it is a mountainous stream. Inside the facility, there is a small house. Here, stay the guardians of these critically endangered turtles, two young parabiologists, and is also frequently visited by the project officer and other team members of CCA.
The Asian Giant Tortoises live inside another makeshift enclosure. They appear like huge gnats on the forest bed, which is soggy and almost sucks you in as you step into it. But the tortoises seemed to be having a merry time.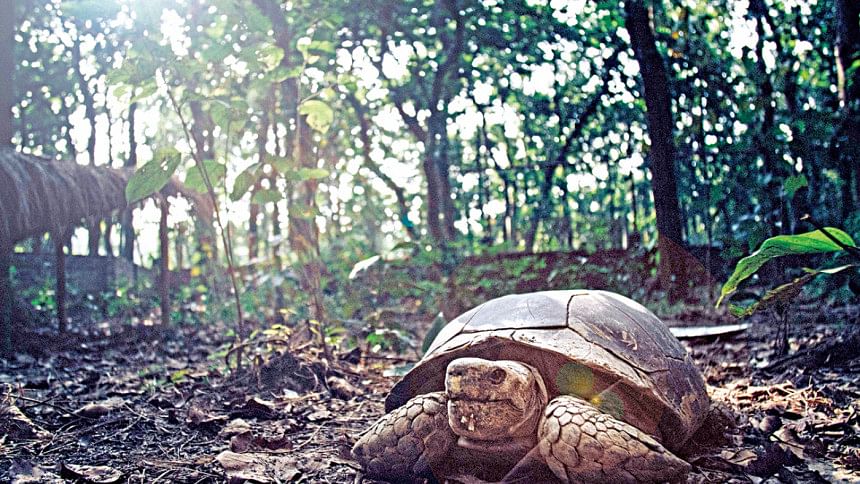 As they munched on their daily meal of cucumbers and snake beans, the conservationists told us of the massive effort it took to finally kickstart the breeding programme.
Even though some of the seven turtles were mating for the last two years, none of the female tortoises laid any eggs.
This was cause for concern, because if the tortoises do not lay eggs, then these could be very well the last of the Asian Giant Tortoises in Bangladesh. There are a few records of these species in the forest of Rangamati, but none very recent, says Asif Ibne Yousuf of CCA.
Last year, a renowned herpetologist from India visited the breeding facility and gave a few suggestions which eventually bore fruit in the form of a whopping 240 eggs!
This was in March. The eggs were immediately collected and taken into a more controlled environment where they were kept in sealed boxes and incubated to ensure they hatched.
It was a nail-biting few months, before the eggs decided to finally hatch. They were kept inside a room just beside their parents' enclosure. Here, the eggs are incubated in a small box, where the room temperature is constantly maintained at 25 degrees Celsius.
After three years of efforts, the Bangladesh Forest Department, the Creative Conservation Alliance, in partnership with the Turtle Survival Alliance and IUCN Tortoise and Freshwater Turtle Specialist Group, welcomed three baby tortoises bred in captivity for the first time in the history of Bangladesh. This was on May 23, serendipitously on World Turtle Day of all days.
"These little giants will be roaming their native forests once they are big enough to fend for themselves. With their eventual release into the Community Conservation Areas, we will finally be giving Asian Giant Tortoises a realistic chance of surviving in Bangladesh," says Asif Ibne Yousuf.
The efforts to make the Asian Giant Tortoises mate and eventually lay eggs was no small feat either. Tortoises do not lay eggs if they find the environment stressful or consider there might be threats in the near vicinity.
It was thanks to recommendations by Shailendra Singh, a top herpetologist from India, that the results finally came through. But not before revisions were made. Shades were put up to cover the area for times when the weather gets too hot. The tortoises also love soaking in pools and small streams. So, the conservationists had to create an artificial pool with fresh water supply, install sprinklers in parts of the enclosure to keep the humidity high and soil damp. Additionally, leaf litter was supplied in abundance, enough to make nests.
Their diets too were changed. The food disbursement was adjusted according to the seasons. And lastly, the males were either moved or isolated when the nesting season started because the males could cause stress during nesting which would result in the female not nesting altogether.
The conservation breeding programme that is being attempted here has many limitations. The challenges that the conservationists will face when tortoises are ready to be released back into the wild, are manifold.
Not only does the facility host Asian Giant Tortoises, it is also home to an Arakan Forest Turtle and Elongated Turtle, both critically endangered. There are plans to also initiate captive breeding programmes for all of these species. However, mating partners are yet to be found for all of them.
Yet, work continues. For now, days and nights inside the facility is spent caring for the turtles, tortoises, their hundreds of eggs and the three newly hatched Asian Giant Tortoises.
Chances of all 240 eggs hatching are slim—a measly 10 percent—still with three little tortoises already taking tiny baby steps in their incubator and munching on small leafy greens is reason enough to celebrate.
Watching the little tortoises walk around in their miniscule home—the sterilised tray—and listening to the squeals of the conservationists inside that sealed makeshift laboratory reminded me, yet again, of all the work that goes into any conservation initiative. It was also a reminder to celebrate the little victories, because in wildlife conservation they are few and far between.
In fact, legendary conservation scientist George Schaller put it most aptly, "There are never victories in conservation. If you want to save a species or a habitat, it's a fight forevermore. You can never turn your back."