Timeline
One Hundred Days: The Ballad of Keraniganj Jail
Internationally acclaimed photographer Shahidul Alam was granted bail by the High Court on Thursday, November 15—on his 102nd day in prison. This write-up was prepared by his niece to commemorate his 100th day in detention.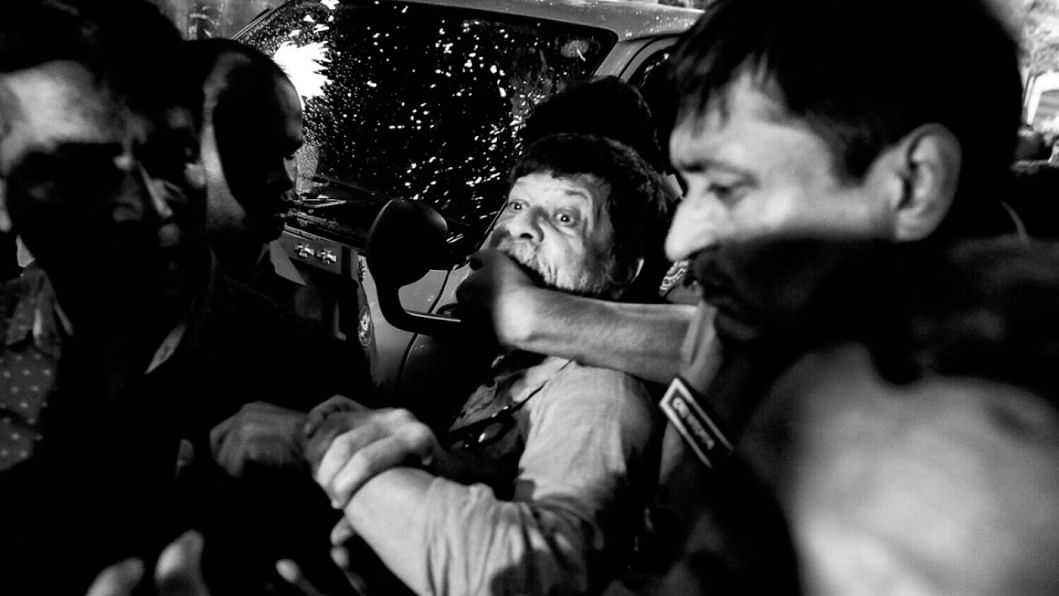 August 5 -15 (0-9 days)
I once found a cassette recording of myself aged two. In it I only sound your nickname again and again "Zahed, Zahed, Zahed…." It was the mantra of my life.
On August 5, 2018 a message comes: "Your mama has been taken. It was soon after he did an Al-Jazeera interview…over 20 law enforcement agents, possibly Detective Branch." My mind shatters into a million stars that try to reach you with their light.
Through the night I whisper my mantra "Zahed, Zahed, Zahed…." thinking this could shield you from being hurt. But the next day we see that you are hurt.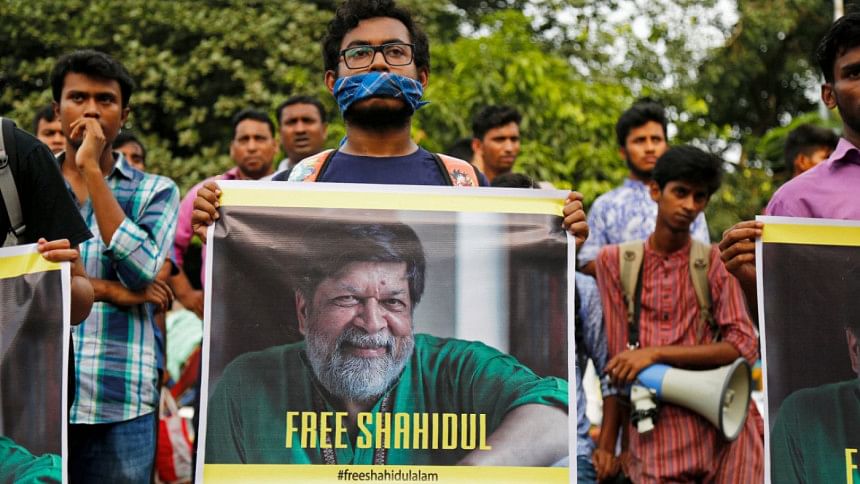 The video footage shows you being brought to court, barefoot and limping. They pull you as if not a human, your face puffy, your eyes bewildered but defiant. Survival instinct calls you to announce "I have been assaulted. My bloodstained panjabi (tunic) was washed and put back on me. I was threatened that if I didn't testify as they directed, I would be further…" In a now iconic black and white photo, they put their hands over your mouth to stifle your beautiful voice.
What were the following seven days of remand under interrogation like, in those notorious chambers of pain? Did the light from the stars I sent ever reach you? With my mind I try to bury into your cell, like a worm. If I could only hold your hand.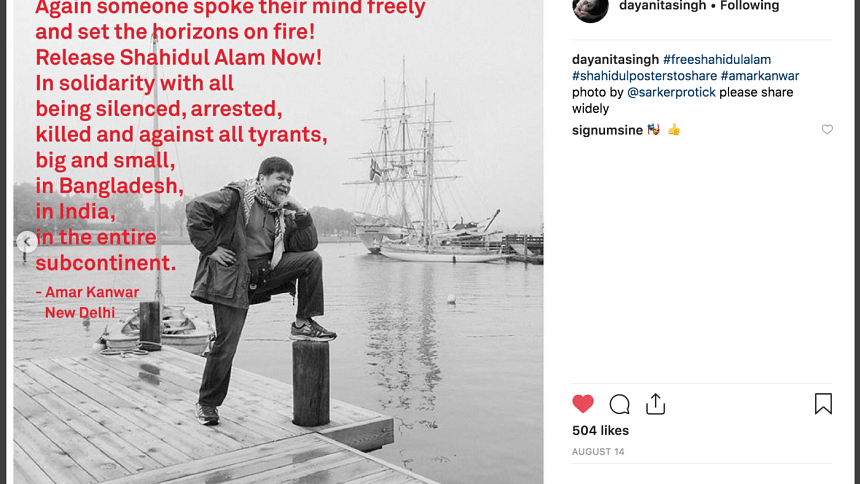 August 16 - 25 (10-19 days)
By now the world is shouting for your release. 13 Nobel laureates including Archbishop Desmond Tutu and Amartya Sen, philosopher Noam Chomsky, authors Arundhati Roy and Naomi Klein, photographer Raghu Rai, professor Gayatri Spivak, actor and activist Sharon Stone, over 400 photographers, filmmakers and artists in India, and many, many more. Then a rally for you at Shahbagh, Dhaka, one in London outside the Bangladesh High Commission and others—Nepal, India, Sri Lanka, Australia, Mexico, Peru, USA. Numerous articles in the world's leading newspapers.
They have moved you to Keraniganj jail to be with other prisoners in the 'commoners'' section. I know you will be observing everything with your curious eyes. Your lens may be gone but you are still their witness.
August 26 - September 4 (20-29 days)
You spoke of the wonders of Rahnuma Ahmed but now I know what depths a woman's courage can reach. To this day I have not heard her raise her voice or snap at anyone in exasperation. She and your friends travel to Keraniganj to visit you every day, a round trip of around four hours. Rahnuma posts on Facebook: "Seeing him up close, holding him, hugging him, touching him was so lovely… Shahidul was transferred to the prison hospital last evening. He now has a bed. He first suffered breathing difficulties four days earlier, then again, two days later. His jaw and gums hurt, it is a constant dull pain, he said. His eyes are watery. He has been prescribed antibiotics. We are still waiting for the Jail authorities to agree to having him transferred to a proper hospital so that he can get the urgent medical attention he needs. He smiled and joked…But even as we smiled and joked and chatted, I could tell he was in pain."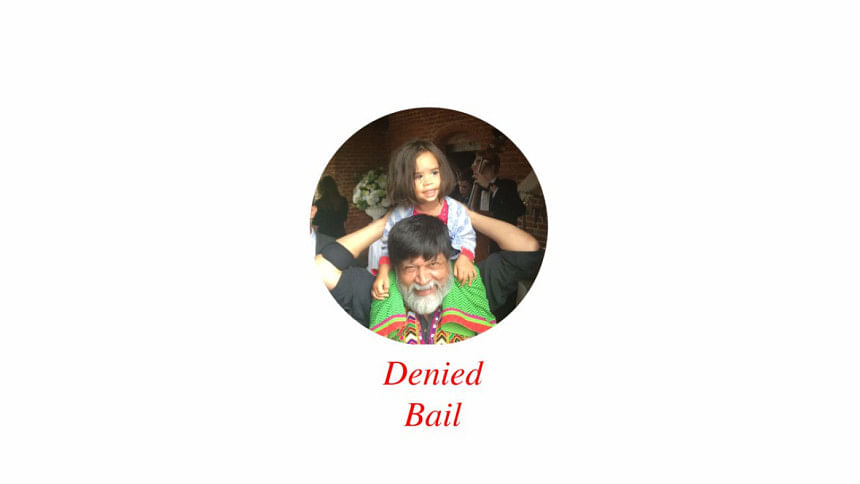 September 5 - 14 (30-39 days)
France, Poland, Italy, the list of countries protesting for you grows. A UK arts and culture open letter draws signature after signature: Anish Kapoor, Steve McQueen, Antony Gormley, Ben Okri, Akram Khan, Charlie Brooker, Emma Thompson, the heads of the biggest art museums, and more. But, a High Court bench felt "embarrassed" to hear your bail petition. September 11, bail is denied. The world reels.
September 15 - 24 (40-49 days)
Protests continue—Shahbagh cries "Let democracy be free!"
Then the hammer blow—the government attempts to revoke your Division 1 status. A bed, a table, a chair, a mosquito net, a table fan, an attached bathroom and slightly better food—they would deny you even that. At a loss, Amma cooks your favourite foods: Deemer halwa, luchi, and dahi bora. But when she eats she only thinks of you and your bruised jaw. The government's bid fails. Division remains.
September 25 - October 4 (50-59 days)
New York rallies for you at the UNGA. Explorer WasfiaNazreen flies a banner for you, the 'teacher', across the New York sky. A rainbow breaks forth and strikes its coloured rays over the fluttering image of your face, an auspicious sign in Tibetan belief. In London, poet Rachel Spence reads her poem for you to hushed audiences in the house where Keats lived. Those walls that have soaked up the words of so many poets, now store Rachel's words for you.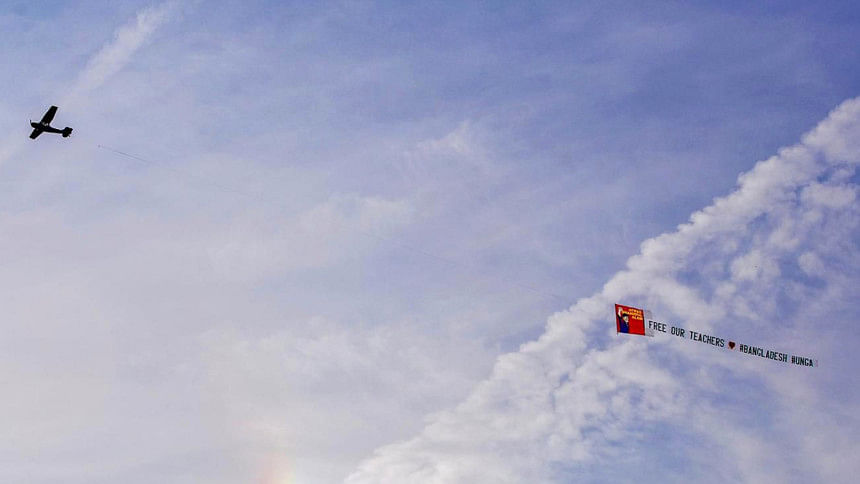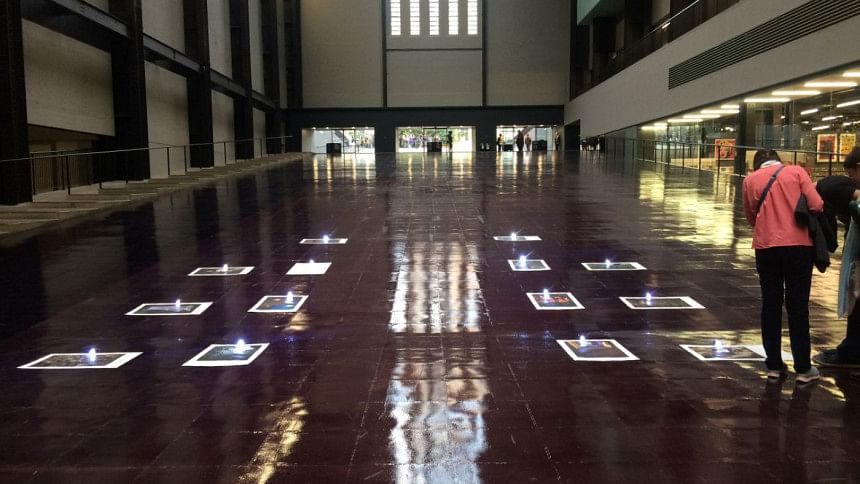 October 05th - 14th (60-69 days)
A bird came to your windowsill. You fed it. It brings its friends and they grow bold enough to fly right into your cell.
Could we get bird seed for them, Saydia enquires? "amar khabare khaey [It is my food they like to eat]" your gentle voice replies. A mass exhibition starts in the UK, involving 50 galleries and academic institutions displaying your exhibition Struggle for Democracy.
The internationally acclaimed Cuban artist Tania Bruguera hears your story and immediately stages two major interventions for you at London's Tate Modern gallery, Europe's temple to contemporary art. It is a passionate gesture of solidarity from an artist who was herself jailed for her work. She is a force of nature. In the Turbine Hall, one of the world's most coveted art spaces, we show Crossfire—your exhibition on extra judicial killings by the Bangladesh government's paramilitary police force Rapid Action Battalion (RAB), and your book My Journey as a Witness. Tania says keeping you in prison is unjust.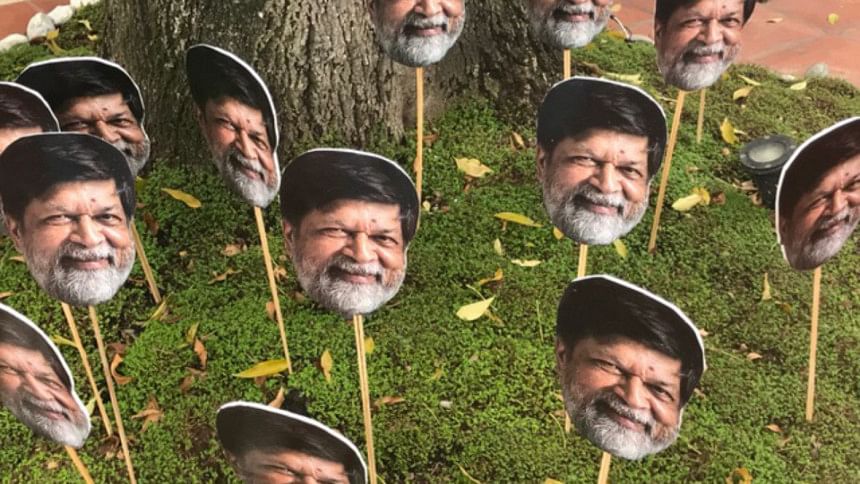 October 15 - 24 (70-79 days)
You win the Frontline Club Tribute Award, London. A room packed with international journalists hears the story of you and Bangladesh. At Dhaka University campus photographers of Bangladesh stage a protest and we are humbled by their bravery. Meanwhile the Bangladesh art establishment remains silent like a faceless emblem of corporate power. The Documentary Film Festival of Mexico City calls for your release in an event attended by over 200 film makers. They plant masks of you under a tree.
October 25 - November 3 (80-89 days)
Within 10 days you scoop three awards—Photo Kathmandu 2018 Award of Excellence, the National Institute of Design's Prof Satish Bahadur Lifetime Achievement Award for outstanding contribution to Media Education in South Asia, and of course, the Lucie Humanitarian Award (considered the 'Oscar' of photography) which professor Gayatri Spivak of Columbia University receives for you in New York.
Your reputation only grows, but Bangladesh's shame only deepens: At your bail hearing the High Court finds inconsistencies between what they allege you say, and what you actually say in your Al-Jazeera and Facebook's live videos. Yet the bench simply drops your case ('out of list'), effectively declining to grant you bail. It seems you are imprisoned at will without trial or charge. Justice has collapsed. In jail, your collars have begun to fray.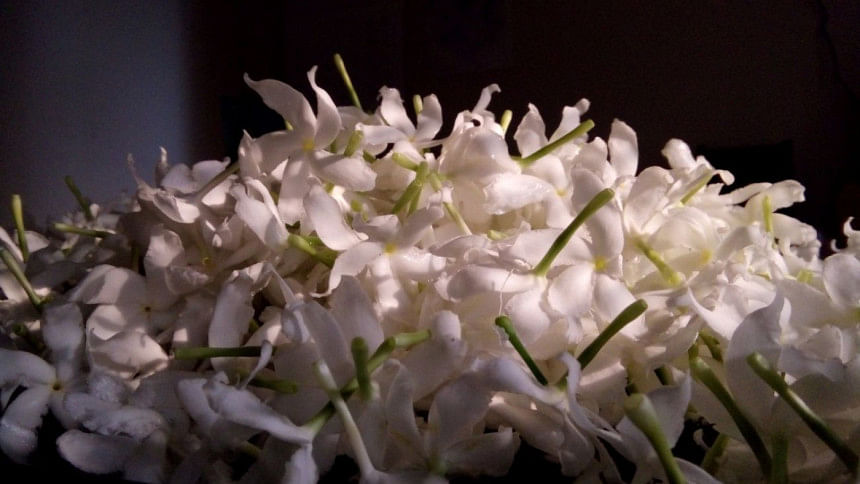 November 4 - 12 (90-99 days)
You pick togor flowers from the prison grounds, for colleagues at Drik and Pathshala, family, friends and supporters the world over. The flowers are beautiful but the soil they come from is not. It is rotten soil trodden by bodies imprisoned by colonial laws that have survived twice-independence. Reading the Prisons Act of 1894, I see it includes strange punishment clauses such as "Chapter XI (12) whipping, provided that the number of stripes shall not exceed thirty". In 1898, Oscar Wilde, probably subject to the same Prisons Act, wrote: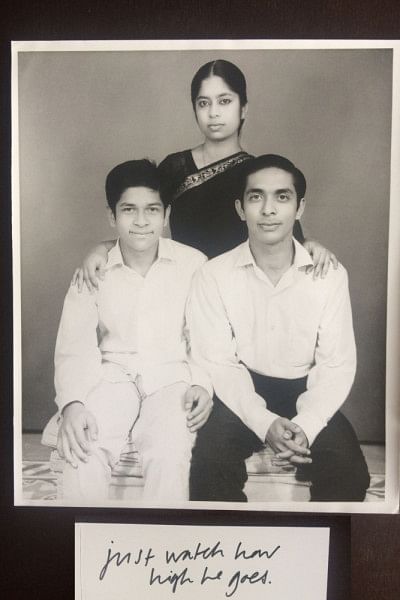 This too I know—and wise it were
  If each could know the same—
That every prison that men build
  Is built with bricks of shame,
And bound with bars lest Christ should see
  How men their brothers maim.
With bars they blur the gracious moon,
  And blind the goodly sun:
And they do well to hide their Hell,
  For in it things are done
That Son of God nor son of Man
  Ever should look upon!
The vilest deeds like poison weeds
  Bloom well in prison-air:
It is only what is good in Man
  That wastes and withers there:
Pale Anguish keeps the heavy gate,
  And the Warder is Despair
For they starve the little frightened child
  Till it weeps both night and day:
And they scourge the weak, and flog the fool,
  And gibe the old and grey,
And some grow mad, and all grow bad,
And none a word may say.
Each narrow cell in which we dwell
  Is foul and dark latrine,
And the fetid breath of living Death
  Chokes up each grated screen,
And all, but Lust, is turned to dust
  In Humanity's machine.
(The Ballad of Reading Gaol, Oscar Wilde, 1898)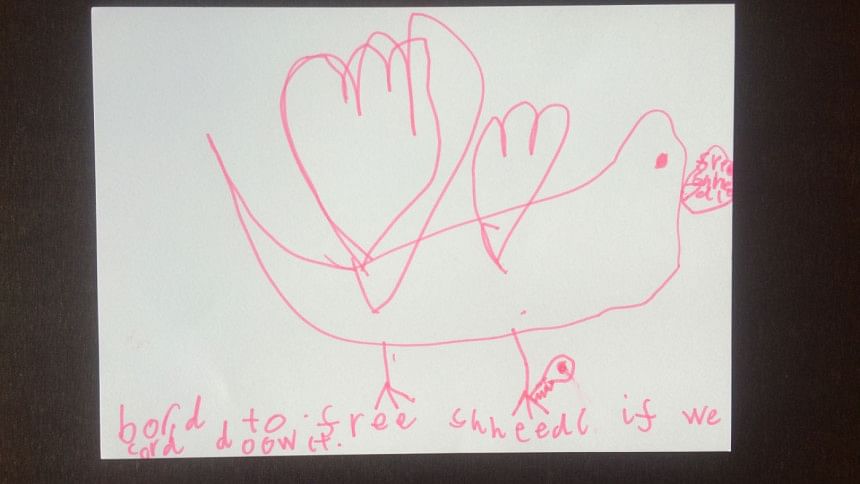 November 13 (100 days)
Today  I receive a message: "100th day of Shahidul's arrest, photographers and activists will gather outside Jatiya Jadughor at 4pm to form a human chain in protest. Spread the word. Join us."
I look at a photo you took in 1989 of Sheikh Hasina, presumably just before she fought in the movement for the restoration of democracy that led to the fall of General Hussain Muhammad Ershad.
You always chronicled Bangladesh's history with your camera and I am confident you will do so again.
I ask my daughter what she would paint if she had a magic paintbrush. She says she would paint a bird that would fly to your cell with a key in its foot. Hold on for the key Mama, it will come, hopefully before Amma leaves this earth.
I found a cassette recording of myself aged around two. In it I only sound your name again and again Zahed, Zahed, Zahed… the mantra of our lives.
Sofia Karim is an architect and visual artist based in London, UK, and a niece of Shahidul Alam.
---