international
Modi's strategic deployment of cultural diplomacy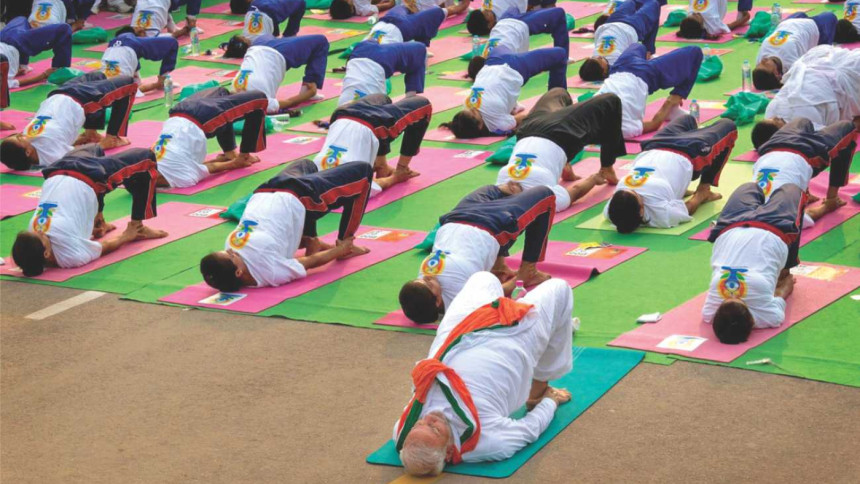 During Bangladeshi Prime Minister Sheikh Hasina's India visit in April, the two countries inked 22 agreements and India extended a $5 billion line of credit, out of which $500 million was targeted towards the purchase of defence equipment from India. This is the biggest line of credit extended by India to any country till date. There was also a spotlight on the 1971 war. Claiming that the 1971 war sparked "ties that have been forged in blood", Modi promptly rolled out five-year, multiple entry visas for 10,000 Bangladesh Liberation War's freedom fighters, 10,000 scholarship spots for their children coupled with free medical treatment to 100 freedom fighters. He also announced the joint production of the Bangladesh Liberation War documentary which would be released in 2021 to mark the war's 50th anniversary. Other cultural highlights were launching the Hindi translation of Sheikh Mujibur Rahman's incomplete autobiography together, naming a road after him in Delhi and deciding to jointly produce his biopic to grace the occasion of the Bangladeshi founding father's birth centenary. The visit concluded on a high note, with the joint statement characterising the Indo-Bangladesh ties as "fraternal friendship".
Interestingly enough, this meeting shared many of the trademark features of Modi's bilateral talks in Asia. He is one of the few Indian leaders to have placed an emphasis on cultural components during state level interactions to complement trade agreements, defence partnerships and economic assistance. Consequently, his 2015 Sri Lanka visit dealt with currency swaps, line of credit but also mentioned developing Sri Lanka's Ramayana trail as a tourist circuit and a visit to Colombo's Mahabodhi temple. Similarly, while Modi's main purpose in South Korea was to sell the concept of "Make in India" and seek collaboration in building smart cities, he set aside a slot for planting a Bodhi sapling he had sent earlier. The Indian Prime Minister whipped out the Buddhism card once again during his much publicised China trip. According to Aneja (2015), Modi skillfully decided to visit the Wild Goose Pagoda in Xian, a symbol of Xuanzang's epic journey to India, before the capital city to signal the cultural connect between the two Asian giants. Needless to state, he didn't leave Xian before presenting a Bodhi sapling to the city's government. Along with trade agreements that India badly needed, Modi ensured cross-cultural bonding by signing a MoU on the joint production of Xuanzang, a film underlining an instance of shared history between the countries.
Modi's generous use of cultural diplomacy has a two-fold goal: to melt distrust or hostility of the other nation by appealing to the inherent similarities of the two nations and to sugarcoat the realpolitik decisions. Ultimately, soft power as Joseph Nye explains is "the ability to alter the behaviour of others to get what you want" through attraction. According to him, a country has three main sources of soft power:"its culture (in places where it is attractive to others), its political values (when it lives up to them at home and abroad), and its foreign policies (when they are seen as legitimate and having moral authority). To create an attractive culture worth emulating, Modi draws inspiration from ancient ideals of India's role as a "vishwaguru" (teacher of the world) and "vasudhai vakutumbkam" (the whole world is a big family). A case in point is yoga. His administration pushed for an International day of Yoga and he declared that yoga was India's gift to the world which enabled you to "discover the sense of oneness with yourself, the world and the nature" (Mohan 2014). In addition, he adeptly utilised yoga as an image building exercise through the participation of the Indian Armed Forces in yoga sessions on World Yoga Day, battling sub-zero temperatures. The message to the world was strong and clear—India is a peaceful nation and there was no need to be fearful of its recent military build-up. This branding strategy could be interpreted as the Indian version of China's "Peaceful Rise" projection.
The Modi admistration has even formally weaved in soft power into its foreign policy doctrine Panchamrit. The latter is a departure from the Nehruvian foreign policy canon Panchsheel which comprised principles of "mutual respect for each other's territorial integrity and sovereignty, mutual non-aggression, mutual non-interference in each other's internal affairs, equality and cooperation for mutual benefit and peaceful co-existence". Modi's Panchamrit is more assertive than pacifist and leaves behind India's longstanding stance of neutrality and non-involvement. Panchamrit's five pillars are "dignity, dialogue, shared prosperity, regional and global security and cultural and civilisational links" (The Telegraph, April 4, 2015). The current foreign policy ideology indicates that India has finally achieved superpower status and is now a major confident force to be reckoned with on the global platform. 
"Cultural and civilisation links" denote the soft power components of India's foreign policy under Modi. In the case of Bangladesh, blending soft power with hard power has a strategic aim: containing Pakistan and China, two of India's biggest geopolitical concerns by smoothing the Indo-Bangladesh rapprochement process. In order to ostracise and alienate Pakistan, Modi praised Sheikh Hasina's crackdown on terror by contrasting India and Bangladesh's development-oriented outlook to that of an unnamed nation in South Asia and implicitly condemned Pakistan's leniency towards curbing terrorism. The discussion and new initiatives regarding the 1971 Liberation War also subtly shamed Pakistan for committing genocide and underscored the importance of India as an ally. From a psychological point of view, by making the 1971 War a focal point of the Indo-Bangladesh relationship, Modi undoubtedly exploited the gratitude of its eastern neighbour by repeatedly evoking kinship ties and memories of Bangladesh's independence struggle. With a wary eye on China, these tactics may have helped India coax Bangladesh to accept the $500 million line of credit for defence purchases from India. This move is a small and most probably ineffective attempt to reduce the country's defence equipment reliance on China.
However, despite flaunting cultural diplomacy extensively, its effectiveness remains uncertain. In the case of China, for example, pulling off cultural stunts failed to yield any beneficial results for India on the strategic front. Similarly, only time will tell whether underlining historical and cultural ties will succeed in upgrading the Indo-Bangladesh relationship to a mutually fulfilling one, free of hostility and distrust.
Swaroopa Lahiri is a graduate student at University of California, Santa Barbara.