Reflections on rural life have always been intrinsic to the music, art and literature of Bangladesh. Peasant women have remained a subject of interest for many artists. The first generation of modern Bangladeshi artists—SM Sultan (1923-1994), Zainul Abedin (1914-1976) and Quamrul Hassan (1921-1988)—endeavoured to depict the lives of Bangladesh's working-class rural women in their own distinct ways. While Abedin and Hassan portray peasant women in submissive roles, I argue that Sultan's women exude feminist consciousness in their rebellion against the patriarchy.
Women in rural Bangladesh are among the most deprived of the nation's population. As far as economic activity is concerned, women provide the same amount of labour as the men—for example planting and harvesting paddy fields—but are paid half the men's rate. They face discrimination in everyday life imposed by the patriarchal structure of the rural society in which they live.
Quamrul Hassan's paintings of rural women, in my reading, adhere to the norms of patriarchal society. There is extensive depiction of the veil in his paintings Three Women, Happy Return and Charming Lookout, that (re)produced and even romanticised women's seclusion and men's control over them. In the patriarchal context in which Hassan was painting, the purdah was associated with male power and dominance over women as it restricted women's mobility in male public spaces and prevented them from full participation in national life in areas such as education and employment. By showing women in purdah, Hassan did not challenge the existing ethos of the day, but instead represented the docile, subjugated image of traditional Bangladeshi rural women. His paintings were mainly based upon memories of his lost mother whom he had loved immensely. Some of his paintings were painted at a time when he was with his wife and their daughter. The affection and contentment he took from his relationships with all three female archetypes may have inspired him to imbue the figures with feminine qualities, engaged in maternal activities in the domestic spaces of village life.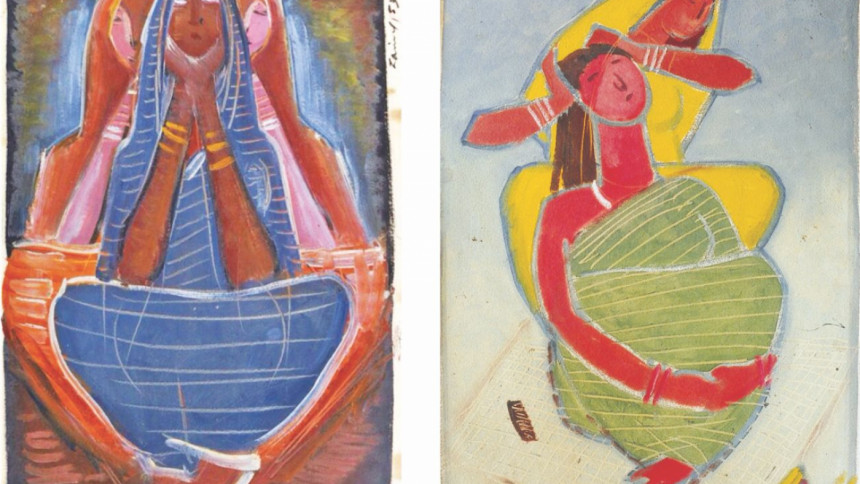 On the other hand, in Hassan's Charming Lookout, the female figure has a glamorous appearance, with almond-shaped eyes, a pointed nose and red lips. Her supple, voluptuous breasts and thin waist makes her appear explicitly sexual and desirable through the male gaze. Moreover, the facial features of his female figures are reminiscent of dolls, which is perhaps a reflection of his fascination with clay dolls.
Like Hassan, Zainul Abedin too represents working class women with feminine qualities within the confinement of the private sphere. Abedin's women are objectified, but unlike Hassan's, his women do not attempt to titillate the viewer with voluptuous breasts and curvaceous bodies. However, Abedin's Santhal Women, with their bare backs, do offer a certain sensual appeal.
Abedin depicted working class rural women extensively in his Famine series paintings of 1943. Here, women are represented as helpless victims, carrying their children around and begging. The suffering and starvation are depicted by emaciated figures with dishevelled hair and tattered clothes in his Famine series.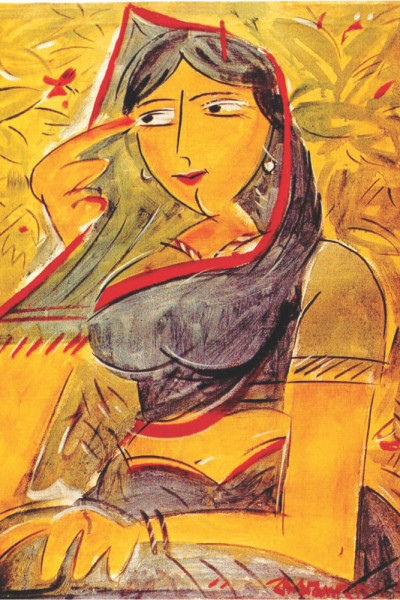 In contrast, Sultan's muscular figures offer a powerful representation of working class women. In Cutting Fish, the women cutting the fish exhibit a masculine demeanour in their facial features and muscular bodies reminiscent of Judith, Her Maid and Holofernes' Head by baroque artist Artemisia Gentileschi (1593-1653). Her side profile eludes the male viewer's gaze.
Although Sultan also represented women in the domestic domain in his painting Cutting Fish, unlike Hassan, Sultan's women seem to renounce their femininity through their masculine carriage. Although Sultan has shown some women with veils like Hassan and Abedin, in his painting Rural Life the male-like physicality stands as a direct threat to the patriarchal structure which advocates that women are docile and submissive. In Sultan's image of the Mother and Child, the mother and child avoid eye contact and appear to repel interaction. Unlike Hassan and Abedin, Sultan's depiction of mother and child does not capture the close and intimate essence of motherhood which is essential to the norms of patriarchy.
Sultan's work delves deeply into rural life, so by portraying athletically built women immersed in agricultural work alongside muscular men, Sultan perhaps wanted to demonstrate women as being equally able as men, but despite putting in the same labour as men, female wages in the rural labour markets of Bangladesh are significantly lower. In villages, women's freedom of expression is mostly shackled by patriarchal culture, so by giving a powerful representation of rural women, Sultan goes beyond the normal parameters of domestic space in a possible attempt to encourage women to raise their voices against gender disparities.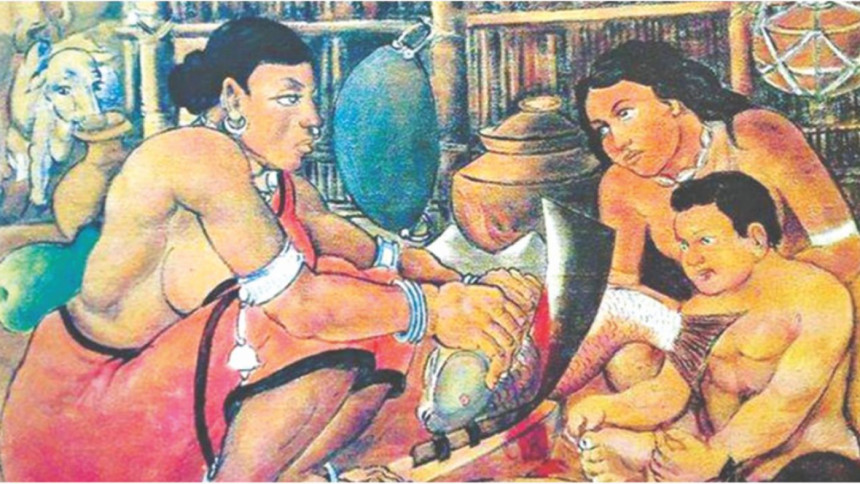 Sultan has given monumental status to working class women, reminiscent of Russian peasant women in Socialist Realism—a style of art developed in the Soviet Union that became a dominant style there and in other socialist countries. The proletariat was at the centre of communist ideals, so artists depicted the social life of the common people using muscular peasants and workers in factories and collective farms. In the Soviet Union, women occupied an important position. They were not only expected to be good wives and mothers but also "an efficient and interested toiler of the State".  Since the Soviet Union lacked the necessary number of workers in industry and agriculture, the government endeavoured to build up women's power, encouraging them to assume agricultural leadership and responsibilities. The art of socialist realism, like Sultan's work, vividly depicts young, robust, active and strong peasant women.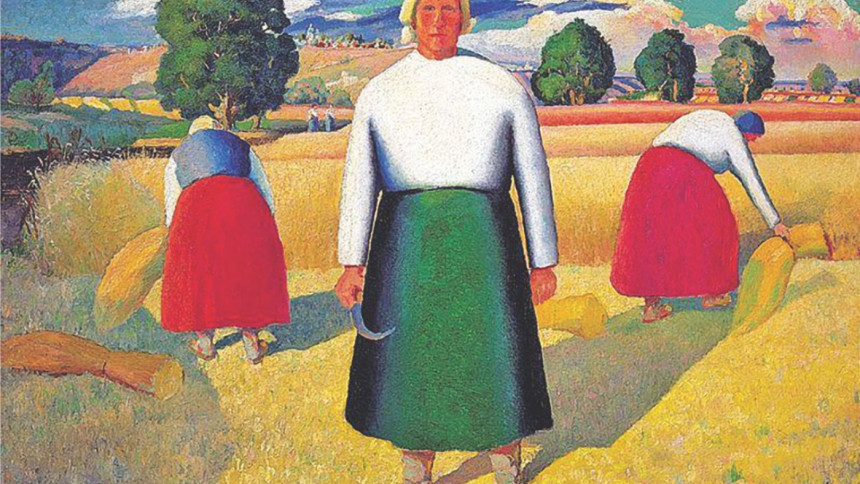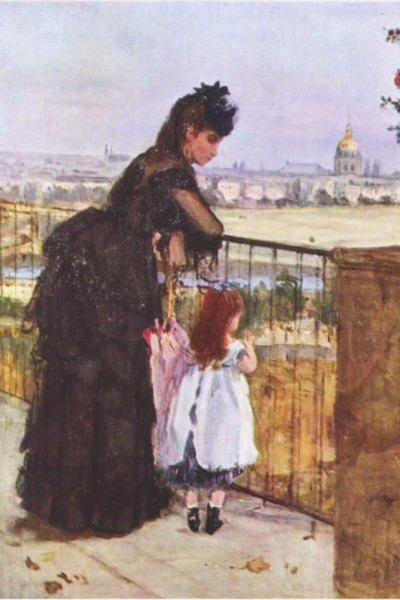 Sultan represented a powerful vision of working class women in the villages of Bangladesh. Women are excluded from economic and political power through patriarchy, and Bangladeshi patriarchal culture does not encourage quality education for women, thwarting their efforts to identify problems arising from gender inequality, such as wage discrimination and gender-based violence in the forms of physical and sexual abuse. Sultan's powerful portrayal of both men and women contradicts the general perception that women are inferior to men and must rely upon them for their economic well being. Sultan's artwork thus becomes a powerful vehicle for disseminating women's abilities and potential as the equal of men, despite the fact that they are being oppressed by men and face financial and social discrimination. This incites women to rebel against the patriarchal society and end the all-pervading discrimination against them. In contrast, Abedin and Hassan's women evoke a visually weak representation of Bangladeshi rural women, showing them as subjecting themselves to the norms of patriarchal structure with the extensive use of veil and repeated images of mother and children. Hassan has portrayed prettily attired, beautiful women, rendering them desirable to the male gaze, while Abedin depicts starving women in sketches to reflect the plight of poverty.
Selima Quader Chowdhury is a lecturer at University of Liberal Arts (ULAB).