International
Hong Kong histories: converging narratives of struggle
Examining the telling history of British colonial presence, Chinese nationalism, and other internal struggles for autonomy to contextualise the current events in Hong Kong and tell a concurrent story of the demonstrations.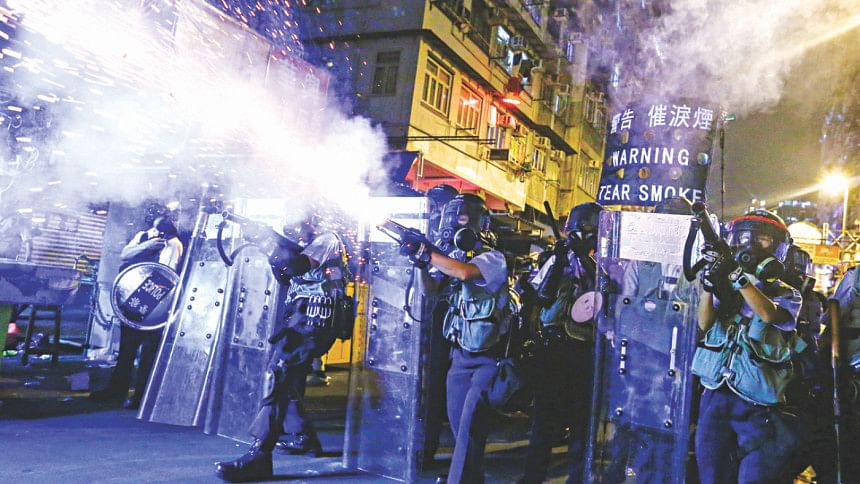 The ongoing protests in Hong Kong are not just about an extradition bill, civil liberties, or even a constitutional right to democracy—much more is at stake. This is a question of what a modern-day standoff with the Communist Party of China looks like. Activist Joshua Wong, who played a pivotal role in the 2014 pro-democracy Umbrella Movement, said it like this: "(These events) all matter of course. But in the end it is about the future of Hong Kong beyond 2047, a future that belongs to our generation."
This movement is removed from the Chinese imagination. It remains a movement by and for Hongkongers. But why has this erupted so suddenly? How has the cosmopolitan financial hub known as the "gateway to Asia" disrupted global economic machinery to confront the largest country in the world for greater democratic freedoms?
To understand what's going on beyond the news updates, let's turn to the history that's informing and shaping the movement, and contextualise the demands of the protestors and response of the state. Let's look at China's relationship with its borderlands and the variety of state-minority relations to understand why Hong Kong has reached this point of outright dissent, and why struggles for autonomy in Tibet and Xinjiang are not making the same headlines. Placing these histories alongside Hong Kong's allows for deeper insights into the motivations of the Communist Party of China (CCP) and the people of Hong Kong. It tells a story of how extraordinary these demonstrations are, and the gravity of this moment in China's history.
British colonial presence
The handover of Hong Kong in 1997 marked the end of a 99-year lease the British had over Hong Kong territory after concessions from the opium wars. It was a historic moment—after being under British rule for more than 150 years, this Western-bred population was being handed back to communist China, still reeling from the 1989 Tiananmen Square crackdown. It was China, but it wasn't really China. It was detached physically, culturally, and politically.
People were concerned about this sudden shift in power once the British presence was removed, and many had the means to leave, thanks to the island's thriving trade economy. To quell concerns of human rights abuses and restrictions of civic freedoms in the mainland, Beijing proposed a constitutional principle called "one country, two systems" to preserve their way of life by keeping their capitalist system for 50 years (ending in 2047), promising freedom of the press, and the right to assembly and to elect a leader "in the near future."
Journalist Javier C. Hernández said in a podcast interview for The New York Times, "There was a sense that (the handover in 1997) was going to be a grand political experiment to blend autocracy with these civil liberties but I think what a lot of people are now thinking is, 'Maybe we were wrong.'" Below the surface, Beijing has been asserting more power over Hong Kong in an effort to reorient it to match China's values and absorb it into the mainland. Today's extradition bill is a bolder example of a long line of policies and legislation chipping away at their rule of law and way of life.
With this coercion comes a very clear sense that Hongkongers' identity is being leached away. A Hong Kong identity is distinct from a Chinese identity—it reflects a history of civic culture and freedom influenced by the British, a pride in the mixture of Eastern and Western values and freedom of thought. As Hernández noted, the protestors want China to abide by "one country, two systems" to prevent the communist party from turning Hong Kong into any Chinese city. They don't want stability and economic prosperity in exchange for CCP-controlled courts, or a press that has no ability to criticise the government. They want a voice and a seat at the table.
In 2014, the Umbrella Movement halted the daily goings-on of the financial hub, bringing traffic on an eight-lane road to a standstill for miles and closing down businesses in an impassioned struggle for true universal suffrage. The name comes from the protestors' creative use of umbrellas to protect themselves from Hong Kong police's pepper spray. Tens of thousands of Hongkongers peacefully occupied the main arteries of the city to demand the ability to elect their top leader (as promised in "one country, two systems"), and for their current pro-Beijing one, Leung Chun-ying, to step down. This came after a coercive white paper that would extend Beijing's political control.
But it's not just the legislative push. There have been suspicions of imposed internal migration from the mainland to bring in more Han Chinese (the mainland's ethnic majority) in order to promote acculturation of Han to non-Han. And indeed, there has been a recorded increase in cross-border marriages. A national education curriculum was proposed in 2012 that emphasised patriotism, espoused the communist party, and downplayed history like Tiananmen; this moved Wong to mobilise against national education, and later, bring a student movement to the Umbrella Revolution.
Party-led nationalism
The CCP sees colonialism as a painful and humiliating ordeal, adopting it as a central part of the PRC's founding mythology. Their historical narrative traces the colonisation of China to being culturally and economically backward, only able to "rise to their feet" and wrest control from foreign powers through the leadership of Mao and the communist party. This carries a lot of currency today whenever there is perceived foreign influence (a catch-all term the party can invoke when it wants to stoke the nationalistic fire).
Through the 18th and 19th centuries, the opium trade was crucial in forcibly integrating China into the global market, aggressively harnessing them to European (especially British) colonialism. But before that, China was arguably the dominant economic power in the world; multiethnic, multilinguistic, regarded as "the central civilisation" or the "middle kingdom." Opium became the excuse that gave foreign powers the financial wherewithal within China to make their colonial power known. It was a specific historical situation that resulted in the harnessing of their economy and subsequent colonisation, not centuries of weak customs and wisdom.
Historian Maurice Meisner said, "China, long (and not long ago among the most wretched and impoverished of countries) has indeed 'stood up' in the world, as Mao Zedong so proudly proclaimed in 1949, and today stands as an independent power, and rapidly modernising nation." Within this history lies an assumption that the Chinese emerged triumphant from economic and cultural backwaters to become a modern industrial nation, rejecting the traditional practices that had brought them failure and humiliation in the face of invasion.
It's not entirely untruthful, however—the British did employ a systematic and targeted plunder of historical sites in order to secure a psychological victory over the Chinese. "The great vulnerable point in a Mandarin's character lies in his pride," read a British lieutenant colonel's report, detailing how to undermine China in excruciatingly racist detail, "The destruction of the Yuanmingyuan (Summer Palace) was the most crushing of all blows which could be leveled at his Majesty's inflated notions of universal supremacy."
So a fear of humiliation by the British is indeed well-founded in history, but has now been taken into the hands of an authoritarian government. Created as a part of a state plan fueled by excessive nationalism and inflated narratives of historic subjugation, it succeeded in conflating the Chinese nation with the communist party; thus, if you believe in a strong China, you must believe in the CCP.
This provides some context for how the current party-fanned nationalism is playing out against the Hong Kong protestors. If you're in the mainland and only see the CCP's point of view—that foreign influences are banding together to undermine China's rise—it all adds up. Because of this campaign, the protests are a part of a Western conspiracy to prevent China from national unity and rising to its rightful status in the post-Cold War world. The United States trade war could be the main vehicle of a sinister plot, having planted the seeds of a revolution in a vulnerable territory. With this comes anxieties about China's power in the global imagination under intense media scrutiny.
The effectiveness of this narrative is staggering: Mainlanders are not only doubting what's real and what's not, they're using the exact same language (hostile foreign forces, destabilising a prosperous China) that the CCP is using. In an entirely unexpected (and slightly bizarre) turn, this has also motivated a massive online campaign on the app Weibo influenced by China's fan-girl culture to create an idol out of China itself, personifying the nation as a little brother in need of protection.
In the party's point of view, now is not the time to speak against national unity. Unruly citizens must realize that democracy is not a better system. What the CCP has brought is stability and prosperity in exchange for certain tenets of democratic freedoms. By tying economic prosperity into integration with China, they want to quash any separatist movements. A more democratic Hong Kong is certainly a threat to that.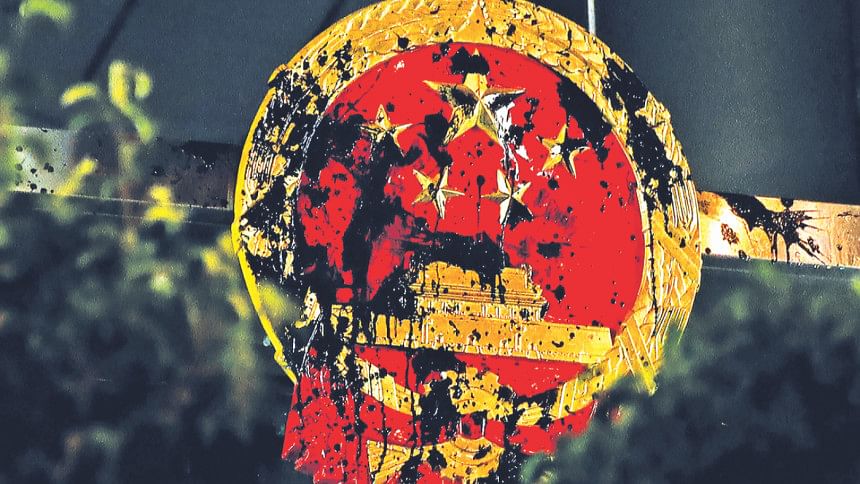 Other internal struggles for autonomy
Delving into how Hong Kong's struggle connects to others gives perspective into just how important these protests are for the future of the nation. How does this protest relate to the Western borderlands of Xinjiang and Tibet? What is Beijing's goal for Hong Kong? And why is China so concerned with limiting Hong Kong's freedoms?
The ethnic Han majority makes up 92 percent of the mainland's population and the government has made concerted efforts to promote Han hegemony. This marginalises the other 55 state-recognised minzu (ethnic groups now classified as Chinese minorities, not Chinese people), who are extensively distributed across the region and have a variety of relationships with the party. Among them, Buddhist-majority Tibetans and Uighurs, the Turkic, majority Muslim ethnic minority in Xinjiang, are on the contentious ends of the spectrum along with Hong Kong, though they are in very different positions with the state.
This policy construction is steeped in Confucian ideology. The father of the PRC, Sun Yat-sen, advocated for a racially unequal model of integration, incorporating ethnic minorities as "unequal siblings" to form a "great Chinese nation". Through this traditional Confucianist lens, minority behaviour and culture were seen as uncivilised and barbaric. Assimilation meant diffusing Han culture to achieve harmonious cohabitation, not extermination, but with a clear end goal of ultimate identification as Chinese.
Historically, minority legislation has waxed and waned in intensity. In the '50s, there were massive class struggles to bring minorities into modernity and denounce a feudal social order. Strong currents of socialism resulted in liberal policies toward self-identification and political autonomy. The Cultural Revolution in the next decades marked an intense struggle when China was not to be a multinational state any longer. After capitalist elements were installed in the '80s, we come to where we are now: the market resolves the minority question by getting people rich (though not as much as the Han), and the CCP ties economic prosperity into Han integration.
Political scientist Bill Chou (recently removed his position at the University of Macau on the grounds of his activism), noted that China's governance in Hong Kong mirrors its policies in Tibet and Xinjiang.
Broadly speaking, Beijing first promises a high degree of autonomy to ethnic minorities before its rule is secured. After its rule is secure, coercion increases—extensions of political and military control, measures to culturally assimilate, integrating and dominating the local market, commodifying culture to promote ethnic tourism. If there is resistance, Beijing imposes a higher degree of coercion to ensure local compliance.
Uighurs and Tibetans have a separate religion, connecting them to global communities, and this threatens the CCP because their loyalties are not restricted to the state. Any stirrings of separatist movements are dangerous for China because these two groups (especially Xinjiang) account for large land mass, important for natural resources and connections to Central and South Asia. Beijing is also interested in industrial projects, like the current Qinghai-Tibet railway, as a part of their Belt and Road Initiative.
It's important to recognise that only an authoritarian government can pursue these policies with such speed and effectiveness. However, the main distinction here is that Beijing supports minority regions rather than minority groups, and Han Chinese benefit disproportionately. With patriotic education, language suppression, media control, environmental degradation, market domination, displacement, and hidden re-education camps (one of the biggest human rights violations today), it becomes a question of narrative: state-led development or internal colonisation?
Tibet and Hong Kong, for example, actually have the same "one country, two systems" offer, but the difference is that China wants to preserve the island's status as a global financial center. Looking at Tibet paints a stark picture—Hong Kong is of global capital interest, not at the margin of global capitalism. Hong Kong is wealthy, cosmopolitan, and secular, whereas Tibet is deeply religious, with an impoverished rural economy. The main divisions from China Proper come from civic culture in one, and ethnic and religious culture in the other. However, for both minorities, neither economic development nor nationalism is sufficient to resolve conflicts with the sovereign power.
"The degree of coercion was stepped up when Hongkongers were perceived as becoming increasingly alienated from the new regime," Chou said. "Even though Hong Kong has a tradition of rule of law which prevents the administration from abusing power and violating human rights, Beijing can rely on the Hong Kong police to carry out violence when it feels its national security is threatened."
The current situation
By comparing and contrasting these histories, Hong Kong's unique position is made clear. The tight targeting of language, cultural, and religious autonomy in Tibet and Xinjiang is subtler and limited in Hong Kong due to its past colonial history, constitutional rights, and civic culture. Still, China's pursuit of assimilation has led to an acute sense of occupation, and Beijing is eager to spin the uprising the other way.
The police violence Chou mentioned is exactly what we're seeing play out today. Right now, the situation in Hong Kong is developing rapidly, building on the momentum that started on June 9 when people marched for seven hours through central Hong Kong to protest an extradition bill proposing to send certain fugitives to the mainland courts. There have been well-documented reports of police brutality and violent crackdowns on protestors young and old—tear gas, rubber bullets, beatings, sexual harassment.
But as we've seen, it's beyond this immediate legislation. There are older histories at play, larger and more important grievances. CK Lee, a professor of sociology at the University of California, Los Angeles, has characterised it as a time of living "dangerously and truthfully".
Lee recognises the protests themselves as a victory. She said it marks a new moment in the political imagination of Hong Kong, an unprecedented level of solidarity and "existential desperation".  The actions of Hong Kong's people have "opened up new territories in their hearts and minds—something Beijing has tried in vain to capture for 22 years."
Rayna Salam is an intern at Star Weekend. She is studying International Development and Statistics at the University of California, Los Angeles.