Dismantling The Privilege Of Ignorance
On the day America, after a long-drawn process involving yet another sexual abuse discourse, finally confirmed Brett Kavanaugh as the Supreme Court Justice, I was travelling on the train from Baltimore, MD to Washington, DC.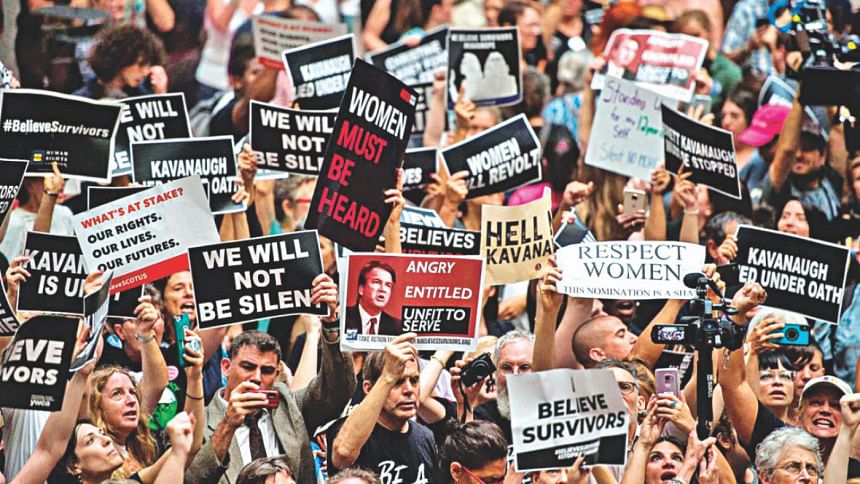 On the day America, after a long-drawn process involving yet another sexual abuse discourse, finally confirmed Brett Kavanaugh as the Supreme Court Justice, I was travelling on the train from Baltimore, MD to Washington, DC.
An aisle over, a young woman was painting a poster for what she said was a protest against the confirmation of Kavanaugh into the Supreme Court. A young man sat down next to her, leaned in and began asking her questions about the protest. She answered diligently and politely, as women are taught to do, no matter their discomfort. He said he doesn't know who Kavanaugh is, so she took her time out of poster painting to educate him about it.To be a young man in this political climate, that too within the vicinity of the capital (Baltimore is just 40 miles outside of DC), and be completely unaware of Kavanaugh's name, let alone the debate surrounding it, is a privilege only a male can be afforded.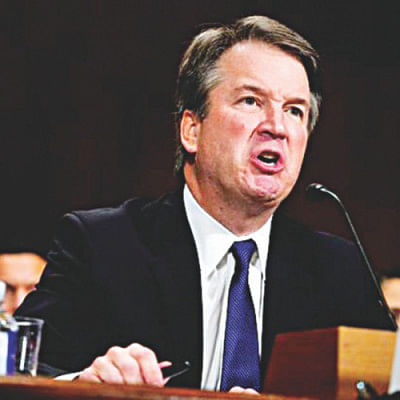 Women can't. His confirmation poses a threat to basic healthcare access and reproductive health options for thousands of women across America, and there is fear that he might overturn a historic ruling that legalised abortion in America.The young man on the train kept asking her questions the entire train ride, often leaning over her further, cornering her (she had the window seat), while she continued to answer politely, paint aggressively, and even saying reaffirming things to him such as "Oh you're very smart," referring to his "curiosity" about what she is doing. An aisle over, I could hear the discomfort in her voice. She was being polite because she had to, because as women and girls, that's what we're taught to do to—to be polite, to be nice, no matter how much the other person is taking up our space without permission.
This scenario is a fitting one for the entire debate surrounding the confirmation of Judge Kavanaugh, which was briefly interrupted in mid-September following accusations of attempted rape and sexual harassment. The accusations ranged from attempted gang-rape of Dr Christine Blasey Ford, to exposing himself to a woman, to sexual harassment of other girls. When Dr Ford came forward with her allegations against Kavanaugh, she was a hero to many women who had been opposing the nomination from the beginning because of Kavanaugh's regressive stance on abortion. For days, protesters would dress up in Margaret Atwood's Handmaid costumes, likely to indicate where the times were headed if he were to be confirmed, and flock the senate buildings to protest his scheduled confirmation.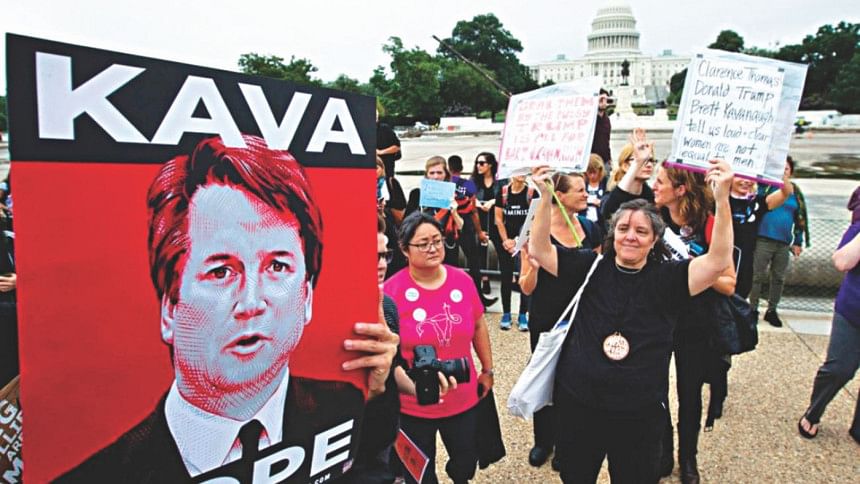 Dr Ford's accusations further validated these protests, leading to another layer of the #MeToo movement, this time with women sharing their experiences of abuse in public, either to the media or while confronting politicians. In fact, during the hearing at the end of last month where both Kavanaugh and Dr Ford shared their accounts, the National Sexual Assault Hotline saw a 147 percent spike in their calls from survivors than the regular weekday.
The hearing cast his confirmation into a doubt for a bit, given the tantrum he threw while answering questions, often evading questions such as if he would support a FBI investigation into Dr Ford's accusations.
Dr Ford meanwhile kept her calm, answering questions gracefully.
Less than 10 days later, following an FBI investigation, Kavanaugh was sworn in as the Supreme Court Justice.
America had heard Dr Ford's calm and Kavanaugh's tantrums, and while a large section of its people chose to side with Dr Ford — believe her against him, the system listened to his tantrum, an apt symbol of how we treat our girls and boys, women and men. In confirming him despite the widespread protests which even led to arrests, and in allowing him a position that could dictate the course of America's legal system for decades to come, women and girls received a clear message: your story may matter now in 2018, but it doesn't matter enough.
To further delegitimiseDr Ford's statement, US President Donald Trump actually apologised to Kavanaugh last week for "all the suffering he endured".
It was on the day Kavanaugh's swearing-in was scheduled to happen that I encountered the polite young woman on the train being bombarded with questions from the stranger next to her. The Kavanaugh saga did little to change the fundamental ways in which women are viewed and approached—in any society: as a function of men, as an obligation, as an entitlement to another man's time, even when they're a stranger.
While most appear disheartened that a man with sexual abuse allegations could be appointed to such a high office, there is, however, value to the positive effects this discourse has had—it challenged the "boys will be boys" narrative; it led to another wave of the MeToo movement, this time in politics; and encouraged many survivors to come out, to join the sisterhood of a sea of women who re-lived their trauma for a greater good.
America today runs on tweets. And this tweet by a Parkland shooting survivor David Hogg sums up the current situation the most:
You know the country's not in a good place when people start learning how the government works.
Maybe the privilege of ignorance remains in men like the passenger on the train, but maybe now America is on the track to dismantle that, too.
Samira Sadeque is a New York-based Bangladeshi journalist.