Free Cataract Surgeries for children: A life changing initiative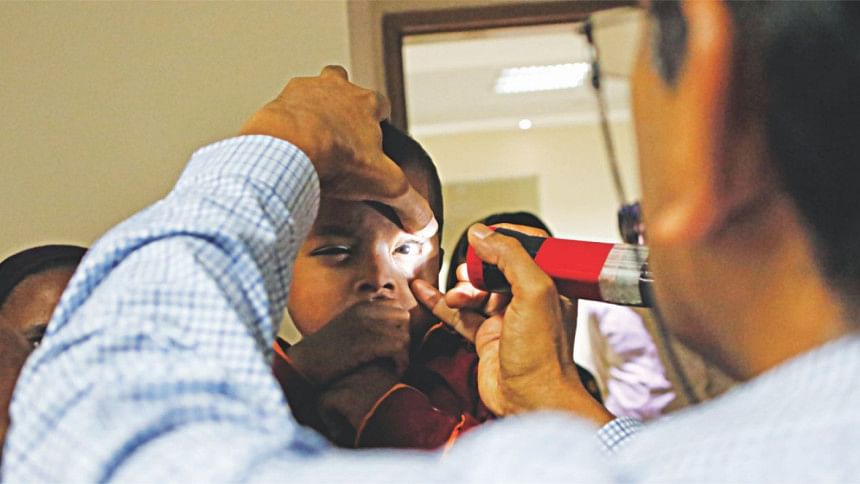 Photo: Kazi Tahsin Agaz Apurbo
On Wednesday morning, the comfortable cabins of the top floor of Bangladesh Eye Hospital were cleaned, aired and the floors were mopped extensively for the arrivals of guests. The guests would stay one night but their presence meant so much more for the eye hospital. The guests -- a group of 12 children with their parents from the remotest parts of Bangladesh came to Bangladesh Eye Hospital for a free cataract surgery, thanks to Dr Kazi Shabbir Anwar. 
Dr Anwar has been conducting free cataract surgery since he returned to Bangladesh after completing his higher studies on ophthalmology from University of British Columbia, Canada. He first started this initiative for poor children when he was working at the Ispahani Eye Hospital. While working there, Dr Anwar was credited with establishing the first paediatric ophthalmology department in a Bangladeshi hospital. "Back then, the surgery cost only 1800 takas for a child," he says. "But most of my patients were so poor that they could not afford the amount and more and more children were becoming victim to blindness only due to poverty."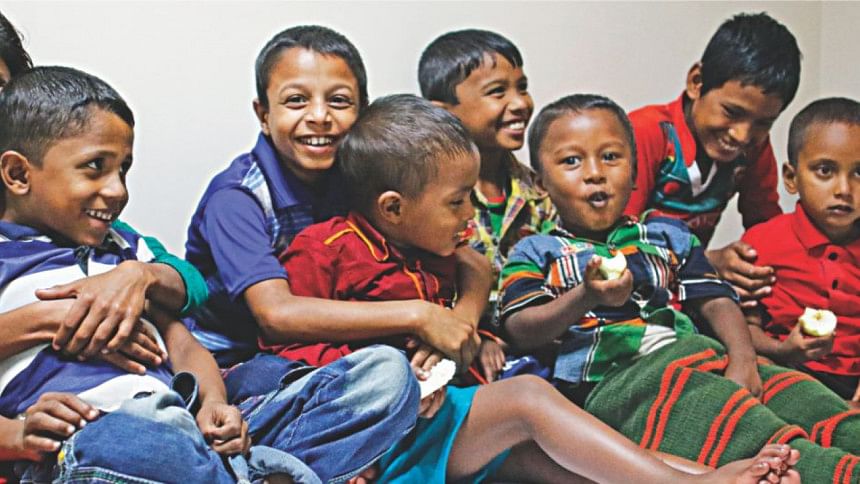 Dr Anwar travelled to different districts with different organisations to raise awareness through presentation, examination of patients and training of health workers and doctors on how to diagnose childhood cataract. He explained that this surgery is special, difficult and different and why these surgeries should not be done in ill equipped hospital. In 1999, Dr Anwar with a few of his friends formed a trust fund to make the initiative more organised.  
Thankfully enough, Bangladesh Eye Hospital along with other organisations stepped forward to help the doctor out. "At present, the programme is running smoothly thanks to the active support of the chairman and managing director of Bangladesh Eye Hospital," says Dr Anwar. "We contact the local hospitals and different charitable organisations in various districts to assemble children with cataract. Then, I used to go to the districts and meet the parents to make them understand how we would conduct the surgery. The children, along with their parents are brought to the Bangladesh Eye Hospital premises for surgery. All the expenditures, such as transport, food, accommodation, medicine, along with the surgery are covered," he adds. The initiative has become so popular in districts like Gaibandha, Kurigram, Chapainababganj that many villagers know Dr Anwar by his name and are ready to send their children for treatment without any hesitation.
From 1999 to 2016, at least 2000 free cataract surgeries were conducted in Bangladesh Eye Hospital under Dr Anwar's charitable programme. 
Last week, Moriom Khatun's 10-year-old daughter Salma Khatun was one of the children to get a cataract surgery done. They came from Ulipur area of Kurigram district. "Anwar 'sir' removed the cataract from my daughter's right eye several months ago," says Moriom. "She can now hold things, eat properly, read and write with ease and can move around independently. Her life has changed." 
After 2013, however, Dr Anwar has been still running the programme despite many ups and downs. Besides this programme, he is also engaged in the extensive research on visual impairment of children. In 1994, his research work on Retinopathy of Prematurity received a gold medal from the Ophthalmological Society of Bangladesh, for identifying a new cause of childhood blindness.
"I want the next generations to have healthy eyes -- as simple as that," says Dr Anwar. "Besides providing free surgery, I would like to build an army of volunteers, through my trust. Simply by disseminating correct information and by raising awareness, we can cure a large segment of visual impairments in our country," says this inspirational personality.