Rape of Marma sisters
In conversation with Rani Yan Yan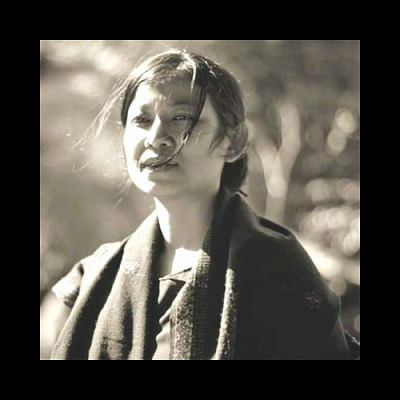 On January 22, two teenage sisters of a Marma family were allegedly raped and sexually assaulted by security forces in Orachhari village under Farua Union in Rangamati's Bilaichari Upazila. The news of the incident spread on social media, but reports are conflicting and often incomplete. There is limited access of journalists and human rights activists to the survivors who, at the time of this issue going to print, were still being kept at a hospital in Rangamati. Star Weekend speaks to Yan Yan, queen of the Chakma Circle, who is one of the few people allowed access—and whom the survivors have trusted with their stories. Following is a transcription of the full interview: 
We've been hearing contradicting and misleading information about an incident of sexual violence against two Marma sisters in their residence in Bilaichari last week. You've had an opportunity to speak to the victims themselves. Could you tell us what they say happened?
The two sisters—the elder is 19 years old and the younger is 14—say they saw four men from security forces around three in the morning on January 22. According to them, the men came to their house in the village and took their parents out for questioning—about a terrorist or something of that sort, as there had been raids in nearby villages the previous day. Two of these four men went inside their house, with the torchlight on, checked the rooms and left. They went back inside a second time, but left again. The third time, they turned off the torch and got inside a room where the two sisters and their seven-year-old brother were. The perpetrators apparently then put a gun to their heads, and asked them not to make any sounds and cover their eyes. Both of the men raped the elder sister, by turn; then they sexually molested the other sister, but when one of them attempted to rape her, she started screaming despite the men's threats [to be silent].
The sisters told me that the next day—I don't know the time—the villagers went to the army camp, but they were told that "nothing had happened" and to keep quiet about it. I know I should have asked them many more questions, but I am not an investigator. It is not my role to interrogate them, and I didn't want to traumatise them all over again.
When did you first speak to the sisters and under what conditions?
One of their relatives brought them to the Rangamati Sadar Hospital on January 23. I first heard the news from a women's rights activist. We all decided to go to the hospital around 10 am on the following day.
We went to the ward where they had kept the girls, but the police didn't let us in at first. When I told them I wanted to speak to the girls, the police said that it was a restricted area and that they had been instructed not to let anyone enter. I asked to see written instructions to that effect from a relevant authority, and told them that if they could not show any documentation, it was my right to speak to the victims. I don't think they had any other excuse, so they let us in.
The sisters were with the doctor at the time; their medical examination had already been completed on the 23rd (the report of which should be delivered by January 30)*, but they were being examined again because the elder sister was bleeding on the 24th.
When I spoke to the girls, they were traumatised; they told me they were scared that they were surrounded by the police at all times. I asked them what they wanted to do and they said, "If you can give us protection, we want to go with you." I thought it might be good for Raja to give them some mental support, so I asked him to come to the hospital. I also asked Banchita madam [Banchita Chakma from the Human Rights Commission] to accompany us. 
When we went back to the ward, we had to face same thing again. At first, they didn't recognise that he was Barrister Raja Devashish Roy. Even after he was introduced, the police told us that the Raja could not visit the girls. When we protested, finally, they said, "You can go, but you can only speak in a language we understand."
In the morning, when the police had said I could not speak to the girls, I had told them they were welcome to listen to our conversation. But of course I was speaking to the girls in Marma because that is their mothertongue. That is why they were unwilling to let us speak to them again in the afternoon.
The Raja said that you cannot prevent anyone from speaking in their mothertongue, and that you cannot force someone to speak in Bengali if they cannot speak in Bengali. Finally, we spoke again and Raja also assured the girls that he would try his best to protect them.
Have you had a chance to speak to the parents of the victims? There has been news that the sisters are not willing to leave the hospital with the parents.
On January 24, there was a press conference in Rangamati, so we knew that their parents were in town. We expected them to come and see the sisters, but they never showed up. On January 25, I had to come to Dhaka; around 7 or 8 pm, I got a message from the girls' attendant, saying that their parents had come to the hospital with lots of police and men in plainclothes, and that they were going to take the girls out [of the hospital]. When I had spoken to them last, the sisters had told me that they did not want to leave with their parents, so I told the attendant that if they still felt that way, they should say so. The sisters refused to go.
On the 26th, when I was on my way back from Chittagong airport, I got a frantic call at 10 pm from one of them, urging me to come right away. "The police are driving us away," she said. I asked them to wait till I arrived. I got there in an hour; advocate Sushmita Chakma, their lawyer, was there and Banchita madam also came. We told them that the girls wanted to come with us, so they should release them into our custody. We were told to wait for the Additional SP, who came after a while and said that it was a court matter and that without a court order, the girls could not be released. We wanted to make the point that a case had not yet been filed so the court could not have been involved. The police cannot just come in to protect the girls when the girls did not ask for their protection. But the Additional SP kept on repeating the same thing, and there was no point in arguing.
We went in again the next day, in the afternoon, with the Raja and MP Ushatan Talukdar, who had been informed by the Civil Surgeon that the medical tests had been completed and that they were conclusive, so the girls could be released.
That is when the drama ensued—I do not know if you have seen portions of it on YouTube, but the SP came in, as well as some representative from the DC's office. The room was filled with 30-35 of their people, while there were seven of us. We were taking videos and photos, which later found their way to the media. In the end, the girls were not released.
For our readers who may not have been following the case, can you explain why the sisters are not willing to go with the parents?
They told me that they have been seeing members of the security forces all their lives and that they are scared of what they have done and what they can do. They do not trust law enforcement agencies. The sisters know for sure that their parents have been intimidated because when they came to take them away on the 25th, they essentially asked their daughters to lie [about the incident]. They don't want to go back to the village because there is no protection there. And if they go back with their parents, they are afraid of repercussions because they have already spoken out. Besides, their parents haven't been in contact with them since they were hospitalised, so they know there are restrictions placed upon their parents. We also know the parents are not in the village, and that they have been escorted in and out of the hospital.
Has it been difficult for human rights activists to get access and provide assistance, or for journalists to speak to relatives without surveillance?
There are severe restrictions on civilians to go in; no journalists are being allowed. When we go in, we cannot record anything or take photos. The authorities are scared that the sisters will say something to us and we will record it and make it public. On the other hand, the sisters have been questioned over and over again by their men. The OC himself came in, charged the girls and took their photos and videos—even though they are rape victims. Even yesterday (January 29), there was a man who said he was working for law enforcement who was trying to ask them questions, but the girls refused to talk. There are plainclothes men with smart phones in their pocket, with the camera facing our way—we are always under surveillance, the girls are under surveillance.
Since the sisters have been questioned multiple times and everything has been recorded, we think that if there is any contradiction in their statements, it might be used against them. What we have been trying to tell these men is that you cannot interrogate them. They might be able to question them if a case is filed, but otherwise, what mandate does the police or intelligence have to interrogate them and traumatise them over and over again? 
Will a case be filed soon?
I actually asked the girls whether they want to file the case because the elder one is 19, so if she wishes to, she can do so herself. She said, "Not now. You have to get me out of this place."
*at the time of going to print on January 30, we had not received confirmation of the delivery of the medical report.