Exhibition
The dolled-up, leopard-spotted women of 'Concealed'
Habiba Nowrose's first solo exhibition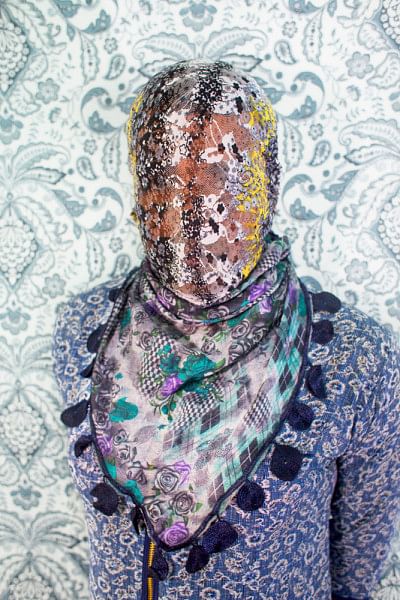 Photos: Courtesy
The female subjects of Habiba Nowrose's 'Concealed' series are lost in the dizzying patterns and lurid swirls of their immediate surroundings. Faces and bodies blend into kitsch backdrops. Instead of standing out, the women in her portraits are an extension of their surroundings, prisoners of their situation, and not their own persons. It is exactly this loss of individuality and identity that is the theme of Habiba's ongoing exhibition at Kala Kendra.
"I have tried to create a sense of ambivalence in these portraits. As women we are often compelled to portray our beautiful selves. In that path to avail beauty we are made to shed our individuality. Eventually we lose ourselves and become one with that fabricated image," remarks the artist and photographer. Indeed, her subjects are present, without really being there at all. They become mere props to complement the colours and composition of the canvas—instruments to propagate a cause they are not in control of. With faces, necks, hands, and arms wrapped up in brilliant, vibrant prints, their powerlessness is abundantly clear—this is a cover-up of monumental proportions, but hidden under bright georgettes and done up with a bow, one could never tell.
Habiba provides context to her extensive use of fabric: "The evolution of modern-day women cannot be separated from the evolution of fashion and the garments industry. Whether it is the lace makers of Nusrapur during colonial rule or garments workers of today, whenever we speak about fashion, we also talk about an industry that is considered profoundly feminine." When asked if her utilisation of fabric is intended to be empowering or disempowering, she explains, "It really talks about how women are derailed. We are defined by society and let societal pressures confine us. The person you see is not how I define myself." With garish animal and floral prints superimposed over their bodies, and entrapped in a psychotic maze of patterns, Habiba's sitters have been given a face they have not chosen for themselves and involuntarily woven into the fabric of a society that refuses to acknowledge them.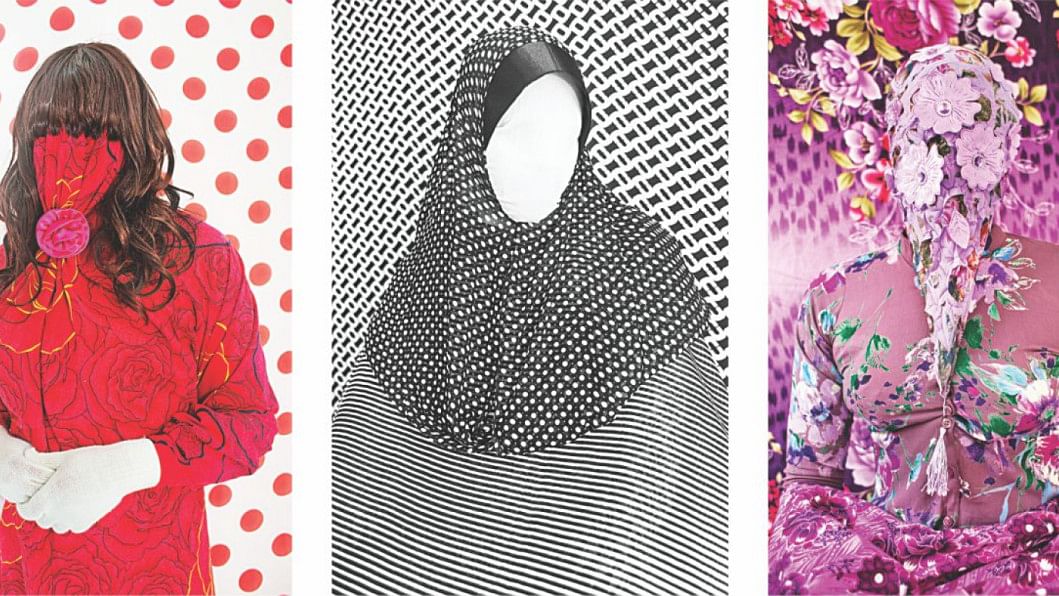 While the overuse of fabric, accessories, and jewellery represents the theme of fetishisation, Habiba's choice in the jungli pattern was initially meant to give the sitters a lower middle-class character. She recalls Eid shopping with her mother who would insist their bua would prefer tacky jongli prints over minimalist ones. However, the whole arrangement comes off more avant-garde and sumptuous than working class, and Habiba agrees that over the course of the exhibition, her work has taken on a different meaning. "In the process of creating my characters, I also used my own clothes and borrowed my cousins' besides the fabrics I selected from the cheap, local cloths of Chadni Chawk and rejected export stock lots," she explains. The result is an amalgamation of social classes and backgrounds.
At times nauseating and claustrophobic, this visually exhilarating series wants to make the viewer uncomfortable with its dolled-up and leopard-spotted specimens. Gagged and camouflaged, the women of 'Concealed' speak volumes nonetheless, of the stereotypes we are boxed in, of the masks we are given.
'Concealed' will be open till August 31.