EXHIBITION
Priyabhashini's orchestrations of carbon
'Megher Shongi', sculptor Ferdousi Priyabhashini's 13th Solo Exhibition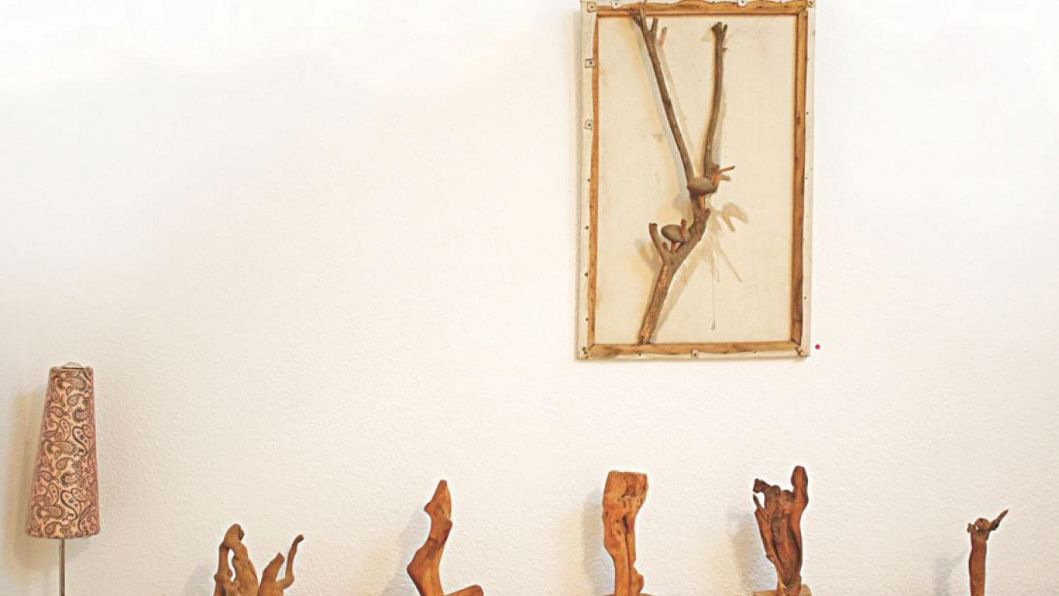 Photos: Kazi Tahsin Agaz Apurbo
That Ferdousi Priyabhashini's driftwood creations are more sentient than inanimate becomes apparent the second you step into Shilpangan, a contemporary art gallery tucked away in a cosy corner of Dhanmondi 13. Her current exhibition, Megher Shongi, is a tribute to the monsoon, her most loved of the six seasons, and the inspiration for her woodwork orchestrations. With boats and boatsmen, long-legged water-birds, and stranded figurines, her characters and forms look like they've emerged straight out of a tempest.
When asked about her artistic process, Priyabhashini shares, "Everything I've used has been borrowed from nature, from my surroundings—a dead branch from a tree, a piece of tin from an old house, a discarded object lying around. I try not to cut away at the wood or change the materials I work with. The smallest object can be full of meaning."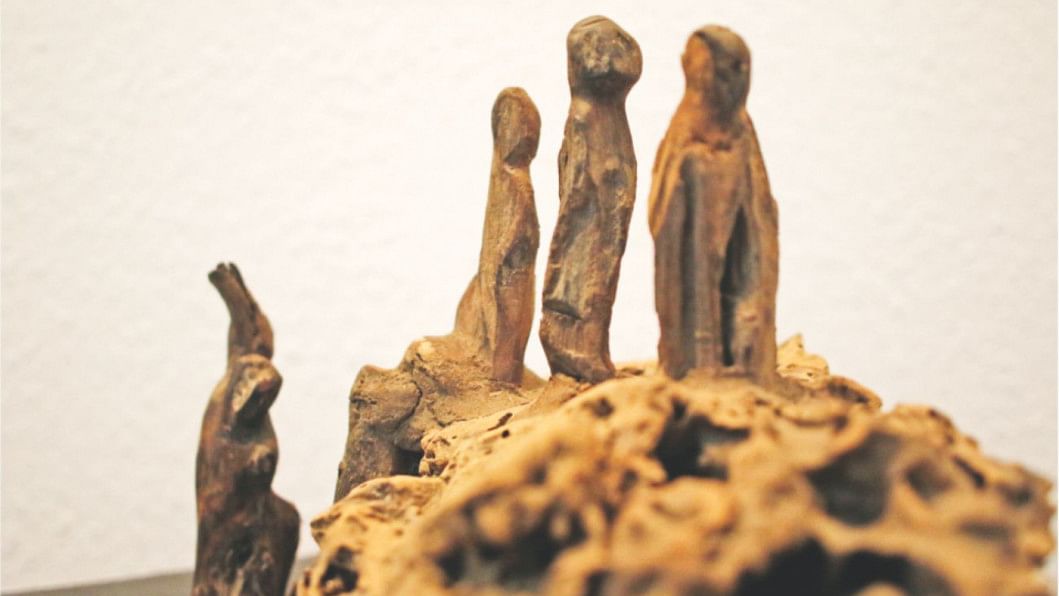 Indeed, even Priyobhashini's smallest statuettes are magical in their own right. There is a trace of the occult in the crooked twigs and tattered scraps of Hamliner Bashiwala, as if it may come alive the moment you look away. The macrocephalic, hunchbacked Pandit Moshai cuts a fine figure, literal in representation, but with all the whimsy and wit of a caricature. With entwined forelimbs above a single, stable torso, Protipokkho perhaps portrays one's fierce inner struggle rather than that with one's enemy—the twists and knots around the head representing one's confusion and distress. 
While she has depicted the atrocities of the war of independence and the sufferings of the common people in the past, she asserts that her motive for this collection lies elsewhere, "I have always tried to portray the best in people, in situations. You see so much hardship all around—a labourer carrying an unbearable load, a woman threshing vast mounds of wheat. But there is dignity in their suffering, their struggle, not only frustration—and it is this that I strive to present in my pieces." 
Matrittyo is one such wondrous piece. In a single slender, winding column of wood, Priyabhashini has not only brought out the figures of mother and child, but also the tenderness of that relationship through the subtlest curves and angles. Opekkha has all the expectation of a waiting lover, with its downcast face and sloping shoulders. With a bend at the knees and a fold of the arms, Chitte Nrite Nritye possesses the poise and gravitas of a classical dancer. 
Bhije Pakhi, Khudharto Bok, Milon Tithi, Srabon Pakhi, Badol Pakhi, Modhujamini, Chatak, and Shikari Pakhi are among the many fantastical water-birds at the exhibition. Curiously shaped and with elevated beaks, robust wings, and dancing legs, Priyabhashini's avian acquaintances are among some of the most striking characters on display, perhaps second only to the Shopno Ghora, a chimerical, spidery, many-legged horse—the stuff of myth and fantasy.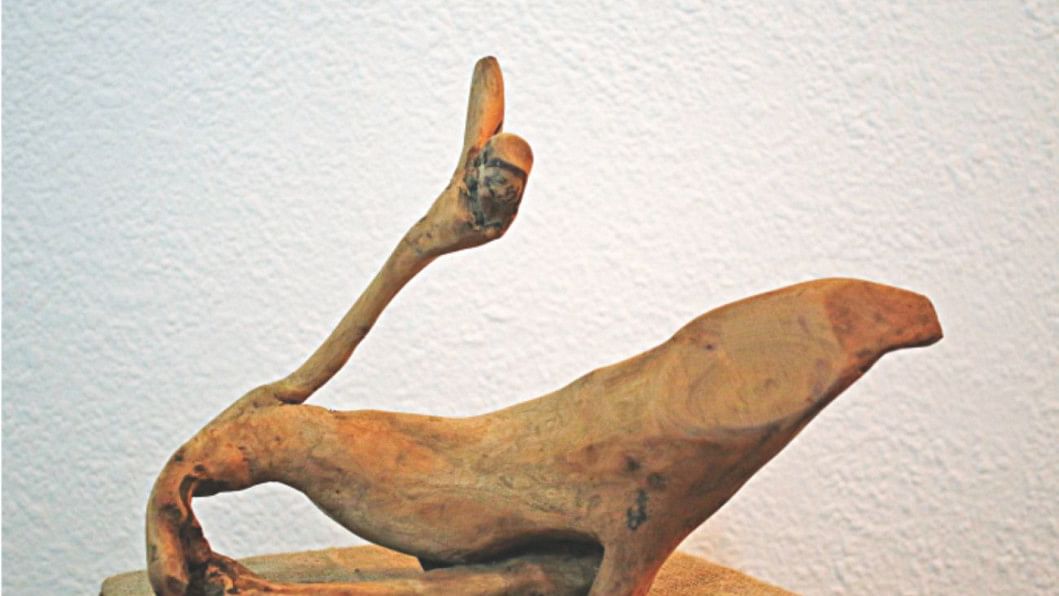 Priyabhashini says she wants her artwork to fill people with happiness, and has already started working on a new installation, toiling away 8-to-11 hours at a stretch every day in her studio on a larger-than-life project on the genocide that she has been planning on bringing into her house for the past 10 years. Her organic forms possess such incredible vitality that, through jagged lines and perfect arches, they become animate. Her surrealist works not only fill one with wonder, but invoke emotions that can resonate so strongly with the beholder that they calm the mind and elevates the soul.
'Megher Shongi' will be open till August 18.