exhibition
An opulent display of sculptures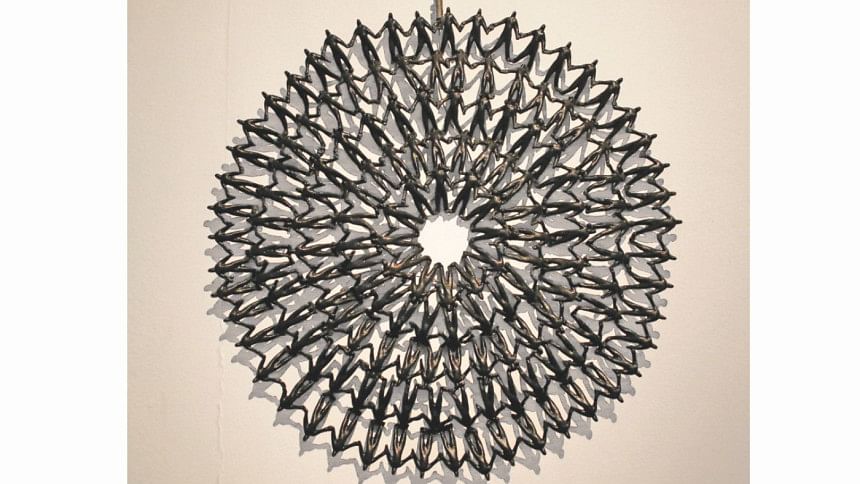 As one enters into the National Art Gallery of Bangladesh Shilpakala Academy (BSA), one encounters a magnificent ray of light illuminating many of the finest pieces of sculptures. The ongoing "4th National Sculpture Exhibition 2018", showcases 117 selected works by 98 sculptors from around the country. It is a timely initiative for which the BSA authority deserves accolades. The maiden National Sculpture Exhibition was held in 1976 while the second and third ones were held in 1982 and 2014 respectively.
Cultural Affairs minister and chief guest, Asaduzzaman Noor, said during the inauguration, "Equilibrium of quality and quantity is noticeable in the show. We have a plan to set up a sculpture park at Suhrawardy Udyan once three ministries –Ministryof Cultural Affairs, Ministry of Public Works, and Ministry of Liberation War Affairs –unanimously decide to do so. Until then, we are soon going to set up a small sculpture park in front of the National Art Gallery Building of BSA. We will next transfer the park to Suhrawardy Udyan while also incorporating new works." The minister also promised that National Sculpture Exhibition will be organised biennially from now on.
Hamiduzzaman Khan, special guest of the programme, paid his deep homage to several notable sculptors and then added, "To hold the exhibition, a yearlong search was held to select the best sculptures from an array of submissions. The quality of the displayed works is world standard for which the nation can take pride in. The displayed sculptures are on diverse themes and media." 
The organisers also awarded five best sculptures in two categories at the inauguration ceremony. Khokan Chandra Sarkar received the National Sculpture Award 2018 for his mixed media work titled 'Behind My Trust-9' while four other sculptors-Palash Saha, Kazi Salahuddin Ahmed, Alok Kumar Sarkar and Shimul Datta received Honourable Mention Awards for their works.
Khokan Chandra Sarkar's mixed media sculpture titled 'Behind My Trust-9' shows a disengaged cow head decorated with floral motifs, firearms, tanks, grenade and military uniforms.
Kazi Salahuddin Ahmed's mixed media sculpture titled 'Fragmented Unity-1', shows disorganised tiny objects such as thin pieces of wood and rolled paper pasted on a board. Alok Kumar Sarkar's mixed media work titled 'Relation' represents a circular composition of two figures made of varied geometric shaped solids. Shimul Datta's work titled 'Pressure in On-7' delineates a human figure bending backward as various metallic objects are pushed into the mouth of the figure. Palash Saha's sculpture titled 'Shongkot' (Crisis) demonstrates twisted water pipes and taps. Dry leaves are amassed underneath the installation-type work to signify the crisis of drinking water.
The display is rich because of the inclusive participation of Bangladeshi sculptors of different ages. Debashis Pal's stoneware and ceramic work titled "Melody of Humanity" shows a raft of craniums led by a flautist. Chandra Nath Pal's mixed work titled "Mask" is a symbolic representation of human evil. AAM Kaoser Hassan's stainless-steel work titled "Destination -2" is a modern and innovative work where he depicted a slanting sculpture with egg-shaped upper surface flitting on a metal base.
Sanad Kumar Biswas brought in a new media called Thermocal Silicon to portray his experimental work titled "Sensibility of a half dead alien-1". Shamiur Rahman Noyon has a silver colour pallet to display at the show while Ashim Halder Sagor's "Existence in the Nature-3" shows a man's head sprouting from pieces of roots. 
"Freedom of Speech" has been represented in round-shaped wielded metal by Aminul Islam. There is another Aminul Islam; whose work titled "Face of Life-77" is a depiction of fibre head with hollow eye sockets. The hollow portion is filled with pillows.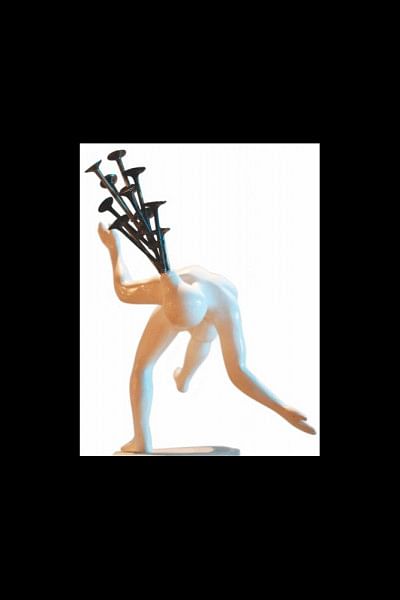 Tanjila Sumaia Siddiqye's stoneware work is a symbolic depiction of Rohingyas in quest for shelter. Tejosh Halder Josh's bronze work titled "Run-17" is an interesting one as it signifies human beings' rat race following various cycles. The wooden sculpture by Uzzal Khan is a beautiful representation ofa moving scene of genocide from the freedom struggle of 1971.
Jafrun Nahar's iron sculpture titled "Dhenu-3" is a simplified depiction of a cow. She has used various geometric shapes and forms to portray the work. Habiba Akther Papia's brass work titled "Unwritten Elegy-2" is a metaphorical presentation of the unnamed rank and file. Sigma Haque Angkan has beautifully portrayed several bronze sculptures with the title "Amar Meyebela".
Manindra Kumar Paul's metal sculpture titled "Meditation-6" evokes a simple meditative Buddha while Shyamal Chandra Sarker has beautifully portrayed the symbolic game of hegemony in his brass sculpture "Adhipotter Khela-6".
Besides the selected works, fifteen sculptures by country's eminent sculptors like Abdur Razzaque, Anwar Jahan, Nitun Kundu, Syed Abdullah Khalid, Ferdousi Priyobhashini, Shamim Sikder, Hamiduzzaman Khan, Alok Roy, Mahbubur Rahman and others are also on display at the show. The exhibition is open from 11am to 6pm daily till June 7.
Zahangir Alom is a reporter of Arts and Entertainment, The Daily Star