exhibition
Opening up a new horizon of oriental painting in Bangladesh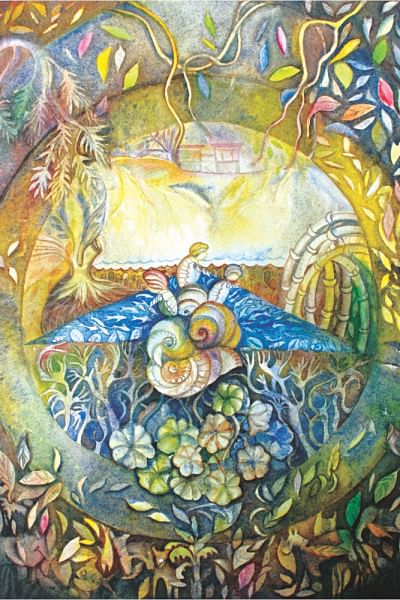 Photos: courtesy
In art classifications, oriental art exists as one of the major branches as it is often interchangeably used with the terms Eastern or Asian art originating from various Asian cultures. During the first decade of the 19th century – inspired by Rabindranath Tagore – a group of Bengali artists, prominently Shilpacharya Abanindranath Tagore incorporated all oriental art trends including, Ajanta, Elora, Mughal Miniature, Persian, Chinese and Japanese art heritage towards forming a Neo-Bengal School that upheld swadeshi (patriotic) values. 
Later, following that trend, Abanindranath's disciples, especially Nandalal Bose and other popularised oriental art in India. Shilpacharya Zainul Abedin established the Department of Oriental Art in the Government Institute of Arts and Crafts (Now Faculty of Fine Art, University of Dhaka) in 1955.
Bangladeshi artists have carved a niche in the oriental art milieu over the years. With single-minded devotion and talent, they have created an art language of their own and have taken our collective art legacy to a greater height. 
The 6th Oriental Painting Exhibition 2016, organised by Oriental Painting Study Group (OPSG) in association with The Daily Star and the Department of Oriental Art, University of Dhaka, is now on-going at the Zainul Gallery, Faculty of Fine Art, University of Dhaka. The exhibition, opening from 11am to 8pm daily, will continue till November 13. 
A total of 83 artworks by 77 artists from Bangladesh and India, including selective paintings by the students of the Department of Oriental Art, University of Dhaka (DU) and Faculty of Fine Arts (Oriental Art Discipline), Rajshahi University (RU), are on display at the show. 
The exhibited artworks range from elements found in nature to human figures and portraits, landscapes, contemporary reality, mythical nuance, feminine grace, cultural heritage and even a few abstract pieces. The exhibition presents works on diverse art media like oriental wash media, tempera, watercolour on silk, gouache, acrylic on canvas and paper, print, oxide charcoal on board and etching.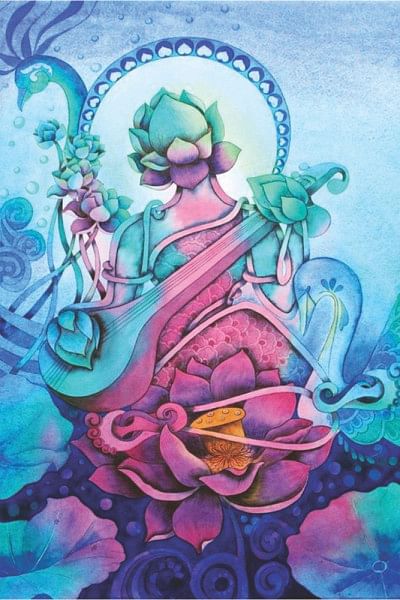 Artist Shawkatuzzaman portrayed twilight-time hilly landscape that evokes a spiritual quest. Professor Abdus Satter's work deals with print, but it has an impression of wash painting technique. He has superbly depicted the lotus following simple forms with scintillating colours.  Malay Bala observes the beauty and diversity of nature through his keen aesthetic lens of the mind. The artist, using less and soft colours, has beautifully portrayed the desired human life resembling a tree. 
Rashid Amin's work is interplay of a Chinese wash technique with the lovely aspects of Bengali monsoon. Shankar Majumder's work delineates the struggle of rural females. Dr. Sushanta Kumar Adhikary work has hinted at the absorption of oriental principles and style by Western masters like Picasso. Kantideb Adhikary's piece gives social messages comparing the life of parasites with that of street children.   
Suman Baidya's work has symbolically portrayed an ominous bird that takes away a beguiled human being on its wings. Amit Nandi's painting helps viewers think of the contemporary reality in a different approach. Incorporating the form of traditional Sora painting.
The exhibition is significant with regard to the participation of some renowned Indian artists. Anuradha Gayen artwork is suggestive of vibrant hues and compositional beauty. Haren Das' artwork delineates pigeons in a beautiful natural setting. Through the use of colour, movement, light and shades, Swapan Das searches the subconscious of Sigmund Freud in the mystical land of Lalon. The linear, two-dimensional works of some of the participants bear distinguishable style of oriental art. 
To motivate current students of the Oriental Art discipline, OPSG has launched Oriental Painting Awards this year. OPSG has conferred five awards worth Taka one lakh on five young artists among the 26 participating students of DU and RU at the inaugural ceremony held on November 8. OPSG has also organised a five-day (November 9-13) oriental wash painting workshop, conducted by noted Indian artist Swapan Das, at the Department of Oriental Art, DU. Besides, the group has also launched a website that will display oriental paintings globally by the artists of Bangladesh and beyond.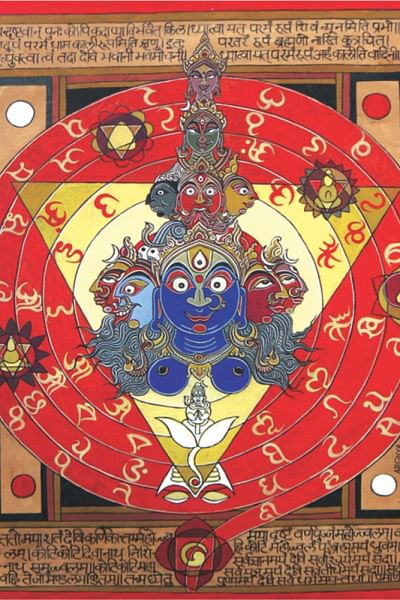 Warm colours, mature composition, golden section, decorative motif, soothing texture coupled with exquisite tonal gradation appear very strong in Nipa Rani Sarkar's work that has bagged the 1st Oriental Painting Award. Nipa poetically depicted the saga of celestial romance in her work. The artist immaculately incorporated aesthetic elements of nature like blossoming lotus and its leaves, feathers of peacock to signify the divine love between Lord Shiva and Parvati. 
Raihan Ahamad, who is the 2nd Award recipient, has depicted an innovative theme. His portrayal of a woman using laptop in modern times is evocative of style and colour treatment of famous oriental painter Abdur Rahman Chughtai.
The philology of time with the symbols of zodiac is apparent in Samina Zaman's work that has received the third award. Abu Hossain's painting evokes elusive beauty. He has received honourable mention award for this work that incorporates surrealistic imagery. Hasura Akther Rumky has also received an honourable mention award for her panting that is the depiction of a female visage mingled with nature. Nature with its diverse element and the female figures are recurrent themes revolving around the works of other participating students, whose works are no less important than the award winning ones. 
The purpose of holding this exhibition is to inspire both artists and art connoisseurs in searching their cultural roots and to nurture their very own art heritage. OPSG aims to open up a new horizon of oriental painting in Bangladesh.