Exhibition
Far from the Maddening Crowd
Kazi Mrinal's Utopic Vision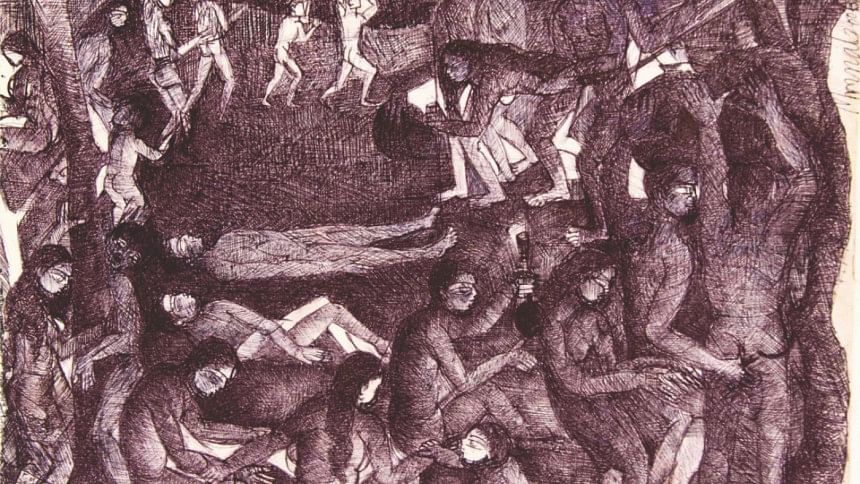 "He can form cures out of the source of pains!"
— Rumi
(The verse on Solomon and the Queen of Sheba, The Masnavi, Book Two, translated by Jawid Mojaddedi.)
"Far from representing reality, pictures probe multiple realities by fabricating narratives of events that never occurred." This quote by Mark C Taylor from his book on the American painter Mark Tansey sounds like a fitting homage to the works of Kazi Mrinal. Mrinal's images are like visioned unreality. They are structured by the communion-seeking mind rather than originating from contemplation or critical reflection on real events.
As an artist, Mrinal began to develop his pen on paper works since the early 1990s. But he never thought of having a solo exhibition before the current show at Shilpangan which he titled "Roop, Auroop, Auporoop"—the manifest (reality), the unmanifest (reality), the sublime, in literal translation.
Before the current success in amassing works representing his development in the last 30 years, his works began to attract a small coterie of connoisseurs. The small-scale images that are usually teeming with human forms, besides obvious references to nature, became a regular feature in the now defunct Chhobir Hut, a platform for artists developed in a public space next to the Suhrawardi Udyan. Building on the unique and incomparable technique Mrinal developed in the 1990s with pen and ink, which always seemed facile and fluid in his hand, the small-scale pieces leverages a new way of seeing.
If for the American artist Tansey "art is about art," for Mrinal art is about an unveiling of a vision. Though neither grand, nor mundane, his vision attaches an unwavering interest in man's communion with nature. Trees provide the backdrop for each composition—their shadows even dapple the figures. If we are to hone in on the societal aspect of this primordial vision, it can easily be described as a utopic take on an enlarged family, in which the flora and fauna are members.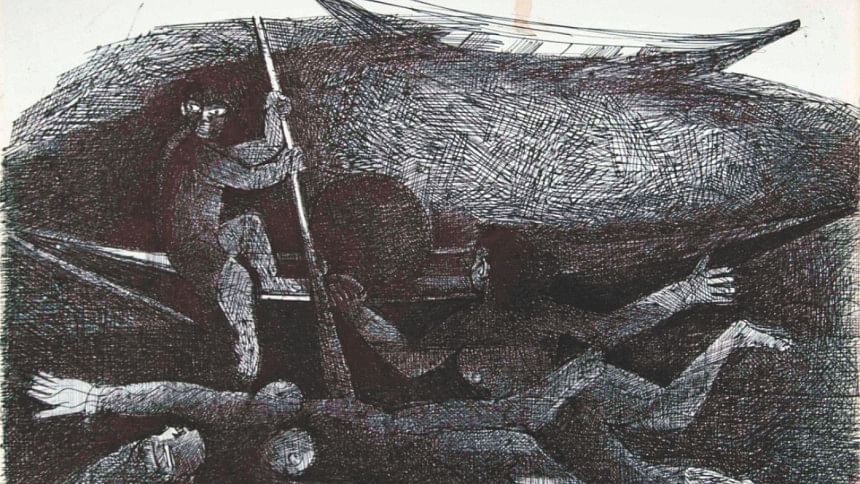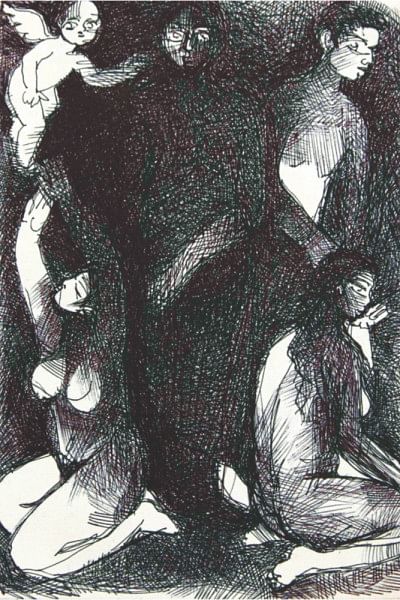 One witnesses men and women in the buff. There are babies too—roaming around au naturel, or scaling trees and even enjoying being incognito amidst nature. These are occupants of ecologically-inclined communities. Unlike S M Sultan's active communal men and women, these are creatures of dreams. The dreams have not been far removed from his aesthetic concerns—their cognate is to be found in the triad roop, auroop, and auporoop.  According to theosophy, especially of Abrahamic lineage, roop is often a mirage, whereas auroop sets the stage for visions. With the idea of the auporoop, perhaps the sublime is invoked—images that reside between heaven and earth.     
All pictures take their title from the triad. In many, two or three human forms are placed amidst nature. Between the male and the female, whose lives now seem to be thriving in a near-Edanic setting, there remains no possibility of conflict of interest. It seems the idyllic has been superseded by an idealistic vision. In one of his panoramic pictures, men, women and children are caressing birds—mostly of a domestic type. Together they constitute a single frame—a society of plurality where humans, trees and ducks are treated as equals, or so it seems.
Kazi Mrinal doesn't draw with his back to the society. He is not one of those artists whose eyes seek out fragments from nature to produce a romantic interpretation of it. His longing is for a new world-making—a habit that goes back to the days of the ancient philosophers and sages. His gaze trails the essential aspect of human desire—the originary, ahistorical wish to live in a state of eternal bliss, immune from strife and anxiety.
Mustafa Zaman is an artist and art writer.