Event
Bengal Classical Music Festival MELODY AS COMMUNION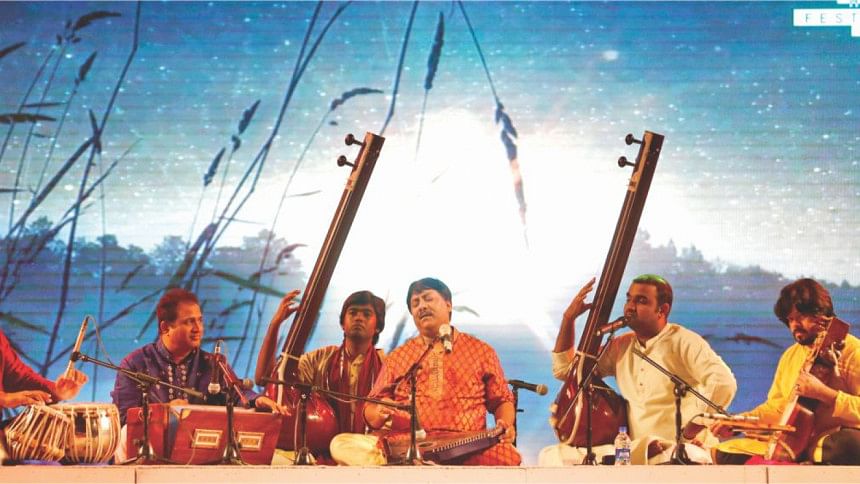 Photo: Sheikh Mehedi Morshed
The five-day Bengal Classical Music Festival took place in Dhaka from November 27 till December 1, 2015, when the pre dawn azaan beckoned the indigo sky. My nights of such bliss concluded with tears pouring down my eyes with the tune of the bandish "Allah mere man me sath, Tu Karim Tu Rahim, Tu Sattar Tu Gaffar," when the heart soared while the mind settled in serene peace.
Participated by the grand musicians maestro of Indian classical music this was the fourth time Dhaka had the opportunity to listen to top Indian classical artistes, vocalists, instrumental pieces and dance. The mega event saw a turnout out of audiences of varied age and lineage, from veteran connoisseurs to first time budding enthused youth. The occasion was garlanded not only by our legendary musicians or classical music connoisseurs, who have pursued their love for noble art amidst the narrow ally of local culture but also by people who were encouraged by the novel and brilliant idea to host this free of cost, with online ticket availability .
 The success of this labour of love was phenomenal: imagine 25,000 people of Dhaka mesmerised in the foggy chilly night devouring the ecstasy that pure music brings! How I was pleasantly surprised to see many of my junior friends like Sajib, 31 of Wari known as a goon of Rock n Roll spending five nights mesmerised by listening to classical music who embarked on this journey with the hand of Bengal four years back for the first time and never stopped coming back! His excited call at 2.30 at night was unbelievable, you never said classical music is like this? Needless to say the impeccable renderings of legendary artistes like Ustad Rashid Khan, Pandit Ajoy Chakrabarty, Pandi Hariprasad Chaurasia, Ustad Zakir Hussain and many more revealed the quintessential beauty of Shastriya Sangeet which was unknown to many for a very long time. Just as the Almighty has made our senses so complete that beauty never requires explanation…so did the musical renderings which did not require grammatical understanding of Shastriyousong+geet(!) to unfold its beauty and brilliance to even the entry level audience.
We are Dhakaites: living in a city of million comrades struggling against all odds with least empathy for each other and unforgiving heedlessness of political good will. The everyday aversion to face news of innocent loss of life on accidents, fire, crime, the sheer chill to reckon the absence of any rule of law; it is as if our sorrow, despair and hopeless struggle is etched as "obhiman" (a word that does not have a English synonym) over the all time smoky sky of the city! But as tomorrow is always another day and good things too happen and in this life there is mercy. So Dhaka had an unforgettable experience to be cherished for a long time.
Who can thank enough Bengal Foundation and the sponsors for opening a door for our youngsters – a step way to heavenly music which was kept locked for so many years. As I write this I can hear my 15-year-old daughter in the next room playing pehli baar dekha tune kinda Hindi song and reckon impeccable talent in tapping each Bollywood dance! But today I am hopeful that maybe one day she may be blessed enough to know what music is, what noble culture is.
Music, such music, is a sufficient gift. It is enough to be blessed to have ears to listen to beautiful music and sing along within heart or soul, as music is a place where there is no divide but one equal possession, equal communion and identity; no end or beginning, but one equal eternity.