The moving islands of the Jamuna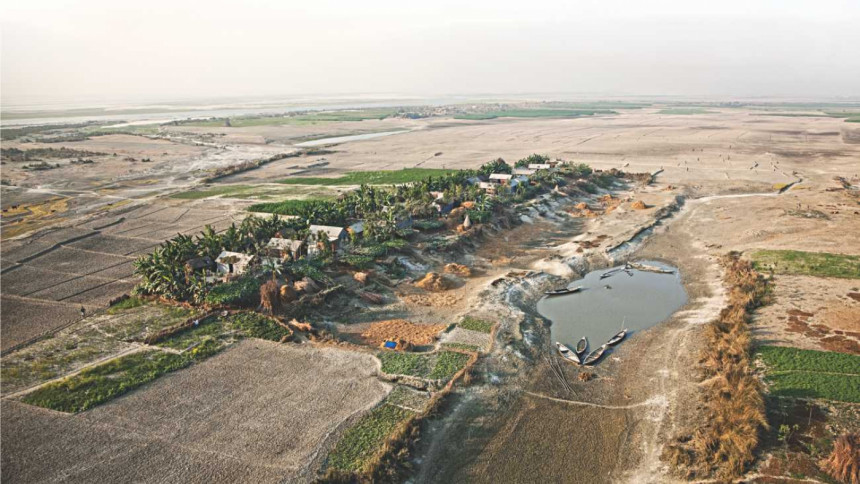 As far as the eye can see acres upon acres of lush green corn plantations sway in the breeze. A cluster of houses and kitchens are shaded by banana and eucalyptus trees.
To an outsider this rich fertile land looks deceivingly like an ordinary countryside. But a second look reveals certain curiosities. The trees, though plenty, are small. There are no permanent structures. Although the river is nowhere in sight, its presence is never far.
All the land in sight was formed by deposits from the mighty Jamuna River within the last four years. The river still seems to be depositing more soil here. But nobody knows when the tide will turn.
"In Ashar and Srabon the current of the river is very strong—even boatmen don't want to brave the water when it is like this," says Md. Shafiqul Alam of Paglar Char. "The char lands are not very hard, so they tend to break away. Sometimes you have entire chars break away—houses, livestock and all."
As surely as the land breaks away in one area, it accretes in another, forming new habitable lands. Throughout the course of the Jamuna (known as Brahmaputra in other parts of the country) but particularly in the north—Gaibandha, Jamalpur, Bogra and Sirajganj districts—the silty water and temperamental current create a landscape of constantly appearing and disappearing islands. 
Over 12 million Bangladeshi inhabitants of chars, or river islands, live like nomads, moving with the land, and rebuilding their lives each time with surprising resilience.
Mohammad Ziaur Rahman's previous village, Sripur, on char Kapashiya, got eroded away just four years ago. But the villagers are practiced at packing up and moving out. "At 30, I've already had to break house and move 10 times."
Gathering up their goats and movable belongings, Rahman, his wife and two children managed to find a boat that would take them to shelter.
"Our people move together. Wherever we settle, we call that area Porar Char," says Rahman. "We call this also Porar Char. But this is Bhatibochagari."
"When we came here it was barely fit to survive. All this was part of the river," Rahman says, pointing to the corn fields. There was no tube well, no latrines, barely a few households. But Rahman had a claim to the adjacent land, if it rose from the river.
"We put all our faith in God and set up our house." 
The first two years, Rahman farmed a leased plot on an adjacent char. But four years later, his faith has proven justified. The Jamuna which swallowed up his previous home has deposited acres of fine alluvial land here. This year he has planted corn on 20 bighas of his own land.
Until the current turns against his favour, Rahman can enjoy the fruits of this land. He is one of privileged few who own land.
Even so, Rahman has to supplement his income by finding labour work in Bogra or Dhaka, or even Chittagong, during the seasonal downtimes on his farm. All over the char areas, one finds children who spend much time away from their fathers. All over the char areas, one finds children who spend much time away from their fathers.
Our boatman, Hamidul's father has been working in Sylhet for several years. He supports his family in his father's stead. He is hardly five feet tall, and looks no more than twelve years old, but immediately gets indignant when his skills are questioned. "You think you know the water better than me? I've been a majhi for six years."
*****
These remote char areas are some of the poorest in the country, lacking much of the essential infrastructure provided by the government elsewhere. Since the land itself is constantly moving, there is no scope of building roads, electricity, water or drainage infrastructure, or hospitals.
Even though the number of government schools has increased significantly since 2002, many chars have no primary school even today. Even the public schools that are there, are often ineffective or even dysfunctional.
Until two years ago, Bhatibochagari's primary school children had to walk to the shore and take a boat to a nearby char. When that char eroded into the river, the school was slated to be moved to Bhatibochagari. 
Unfortunately the hundred plus households here had to wait a year and a half for the government to come up with funds to fill and raise the ground on which the school building would stand. 
Six months ago, the ground was raised for the structure, but the work is still incomplete. Classes have resumed at the front of the school house, while construction continues at the back. 
The management committee responsible for the school's operations was disbanded when the school was moved. A new one is yet to be formed. In its absence, the responsibility falls upon the union council member of the relevant ward to get the school up and running.
Bhatibochagari's member lives on an adjacent char, and is seldom seen here. "It's not that he doesn't come," says Jouran Ali, a substitute teacher. "But it's been about a month or two."
Md. Yusuf Ali is a former union council member for some 700 households in Kalashona, Kabilpur, and Ratanpur chars. Even though his constituency is close to the mainland, and becomes connected to it when the water recedes during the dry season, Yusuf concedes that he found it impossible to take care of his responsibilities. 
"Whatever budget we have gets depleted commuting to the char," says Yusuf. "After that, there's nothing left for the work."
Bhatibochagari's school officially has four teachers, who are rarely, if ever, present. Government rules require primary school teachers to be graduates at the least. Since there is a scant supply of graduates on the chars, teachers have to come each day from the mainland. 
At ten kilometres across, the Brahmaputra is the widest river in Bangladesh. Many of the chars are difficult to access—up to three hours by trawler boat from the nearest ghat on the mainland. So the teachers appoint inadequately trained locals like Jouran Ali as "proxy teachers" instead of commuting to the char.
"There is very little incentive for us to come," says a teacher of Kouchkhali public school. Spending Tk.1,000 a month out of pocket, the four teachers of Kouchkhali have arranged a boat from the mainland. But if they chose not to do so, there would be no consequence, they say.
While many chars do have government or semi-private primary schools, it is rare to find any secondary schools at all, according to Yusuf."There is a Madrassa in Kabilpur that teaches till class 10. Some opt to go to a school 5km away from across the river." The journey there is two hours. 
The absence of secondary schools has had a terrible impact on young women."[After class 5] the girls are bored with nothing to do and nowhere to be," says Yusuf. "Then you see them getting into illicit relationships with boys. This causes our social fabric to decay. And it presents them with great dangers. This is why we're forced to marry off girls below the age of 18."
Even though child marriage is illegal, those who arrange them are rarely prosecuted, as the police and judiciary system are largely absent from the chars. Till today, disputes, and even criminal offences are tried by the unofficial shalish or arbitration system.
*****
It was under these trying circumstances that, in 2002, Friendship began working in the chars with a hospital on a barge. It would anchor at some of the most inaccessible chars, and often provide more than a hundred surgeries in a day. In a few years the NGO has built two more floating hospitals, and extended into a three-tier healthcare system that delivers services to the patients' doorstep through trained medics from within the char community.
Next, Friendship went into education. "Teachers were impossible to get on the chars, when we started working in the char regions," says Friendship's founder and executive director Runa Khan. "There were islands where perhaps just one person could read and write… so we just chose the best educated people, and said, we're going to teach them the rest."
Friendship school teachers are given monthly trainings on the material to be taught during the following period, and how to teach it. 
"Since we started we've had a hundred percent pass, and between 99 and 100 per cent A+s and As in the national examination," says Khan.
Dressed in a striped white full sleeve shirt, with a neat grey beard and betel-stained lips and teeth, Md. Shafiqul Alam sits on the heavy mahogany bench in the dining room of the Friendship Centre, and remembers how he became a teacher.
There was no school on Naoshala Char, where Alam was born. His father was an illiterate farmer who had lost all his land to river erosion bit by bit. Eventually they lost their home. 
"One moment we were on dry land," says Shafiq. "The next, the water rose to my knees, then my waist... the ground started giving away beneath our feet. The entire village was in chaos." They had not expected the river to become so vicious so suddenly.
"We had to pay Tk.150 per person for a boat to take us to safety. Most got away with their lives that year, but we lost all of our property."
The family moved to his brother's village in Char Newaji which had a public primary school and a private secondary school. 
Secondary school was difficult. His brother paid the private school fees but could not afford his books and stationary. Shafiq tutored students to get by, occasionally living in other people's houses to complete his SSC. After that he was unable to go further.
For years Alam struggled to get by, being unqualified to teach at a government school. His opportunity came when Friendship opened a school near his home in Paglar Char.
Now 50, Alam is still eager to attend his monthly trainings at the Friendship Centre. "When it is time to come here I am usually quite excited at the prospect of learning something new. To teach things I did not have the opportunity to learn when I was young." 
The lessons are not easy. Alam struggles with the nuances of English grammar, but enjoys the challenge. "I find if I go home and work on it, it gets easier."
Hundreds of teachers like Alam who are unqualified to teach in government schools now teach in Friendship schools with training, support and supervision from the organization.
A similar approach—training the char dwellers to empower them to work in their community—applies to its other programs. The Friendship Centre hosts trainings for paralegals, medics and farmers.
Alam is surprised to learn that the centre has won one of the world's most prestigious architecture awards, the Aga Khan Award for Architecture."We wanted a place where we could have our training sessions, and were very happy to have this." 
The facility exudes serenity and elegance. Red brick walls open out to pools and courtyards across which giggling children run barefoot—quietly, as if careful not to spoil the ambience. The orchestra of frogs and crickets are less bashful all night. 
Architect Kashef Chowdhury was inspired by the introversion and introspection of the third century (BC) Buddhist monastery at Mahastangarh. The Friendship Centre was designed as a space where the trainees could become completely absorbed in their studies during their time there.
Friendship schools teach according to the government curriculum, but add a key unit dealing with the behaviour and attitudes of children.
"A Friendship school pupil should be distinguishable just by appearance," says Md. Anwarul Islam, Regional Manager of the education program to a room full of teachers. "Your students should appear clean and they should exude dignity, humility, courage, and enthusiasm."
"Each Friendship school is equipped with nail cutters, combs and mirrors," says Islam.
A new set of textbooks will teach local culture, and instil in students a sense of pride and interest in their own local cultures.
In a subtler way, the serenity and beauty of the Friendship Centre nurtures sophistication in the teachers.
"The rooms are very beautiful and very clean," says Alam. "We're very cautious to keep it that way." 
Assembled in a training room framed in elegant brick and fair-faced concrete, the equally crisp shuddha Bengali of the trainers and trainees represents an isolated community's growing connection to the mainstream.
Naushad Ali Husein is a freelance journalist and a Senior Executive at Friendship