Into the fountain of enlightenment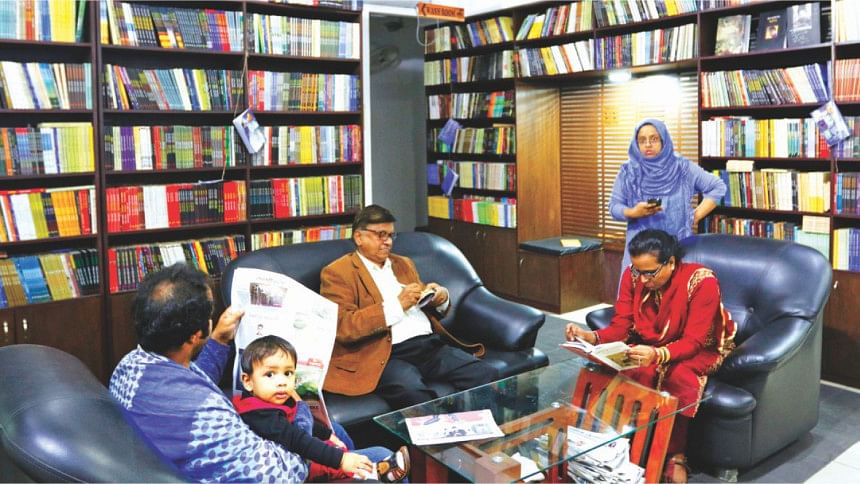 Do you love reading? If yes, then this article is especially for you. What if there was a space in busy Dhaka where you could spend hour after hour browsing shelves and finding one gem after another? What if you could curl up with a bowl of cashew nut salad or simply sip on coffee while losing yourself in your book of choice? What if your kids could learn and play and dream on the green grass? Just pay a visit to DipanPur in the capital's Elephant Road and delve into a unique combination of literary and culinary delights.
Reading and snacking aside, this charming book café has a sad albeit inspiring story behind its conception. And before going there, you would do well to know this.
DipanPur has been named after Dipan—our very own Faisal Arefin Dipan, the publisher of Jagriti Prokashony, whose only dream was to enlighten people. The dream faded when he was brutally hacked to death inside his office by suspected religious extremists for promoting freethinking and secularism through his publishing house.
But it is also true that you can kill the dreamer, but not the dream. DipanPur is an attempt to continue Dipan's dreams. It started its journey on his 45th birthday—July 12 of this year. This time, the dreamers are Dr Razia Rahman Jolly, Dipan's other half, and 21 of their close friends.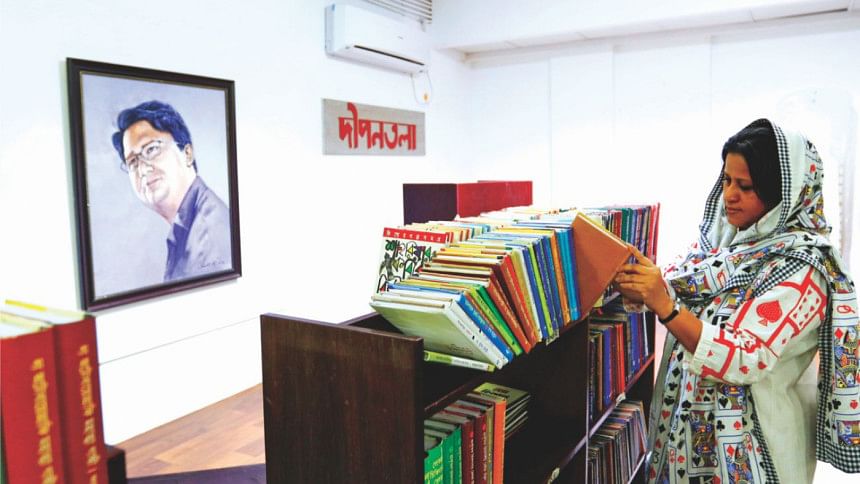 "It's a very emotional place for us and we are very passionate about it. We don't consider it a business venture. When Dipan left us, we decided to do something in his memory. We went to the city corporation to name this road after Dipan. But that was not possible due to the bureaucratic tangle and we ultimately gave up. Afterwards, we decided to do this so that people can know about Dipan and his passion for books. I know it's difficult to manage the whole thing, as I belong to a completely different profession, but I tried," Jolly says. "Dipan and I were childhood friends and we grew up together. He couldn't live without books. Though he was a student of economics, he would read a lot outside of his regular studies," Jolly reminisces.
Upon entering DipanPur, you will notice the chair and the table where Dipan sat when he was murdered. He had been sitting there checking proofs of books to be published when the unknown assailants killed him. More than two years have passed, but the dried blood stains on the chair, the proofs and his bamboo pencil holder with pens and markers remain. The memorabilia have also been displayed, one after another, on the table. The materials themselves recount the story—the story of the bookworm.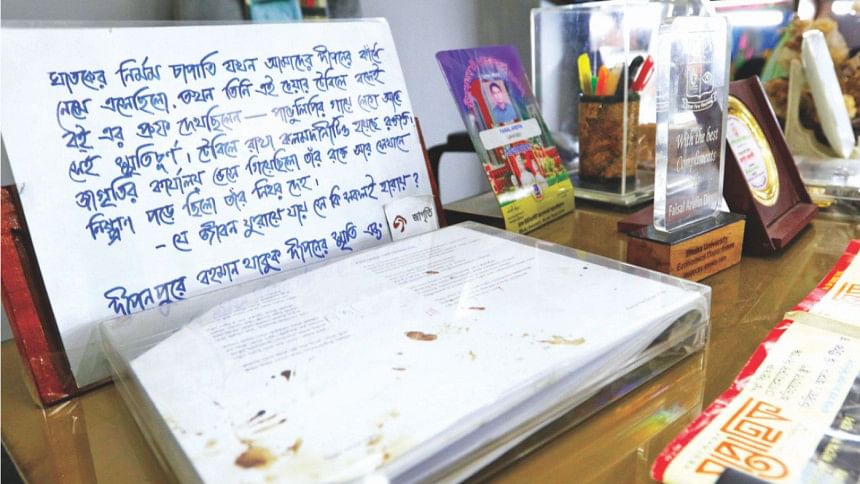 What is not there in DipanPur? According to Jolly, DipanPur houses a collection of around 15,000 books, including a wide range of contemporary, classics, and children's books. The shelf containing Humayun Ahmed's books is visible from afar. Next to it is a collection of Muhammad Zafar Iqbal's. You can browse from shelf to shelf to find books on the Liberation War, poetry, novels, travelogues, and much more. And for all this, you do not need to spend a single penny. If you want to buy books, you can do that too. If you fail to find something you're looking for, don't forget to share it with the staff. They will deliver the book to your doorstep. Apart from these, there is also a "Not for Sale" section where you can find a collection of rare books. 
What is really unique about DipanPur is how they created a space that is not just a bookshop, but an environment that is pleasing for book lovers. Money plants on the brick walls, a view of the bustling city from the window and the smell of books create a captivating environment for the reader. One will surely be satisfied with the food of the café as well. Named Dipanjoli, it provides delicious snacks, meals, drinks, and fresh fruit juices.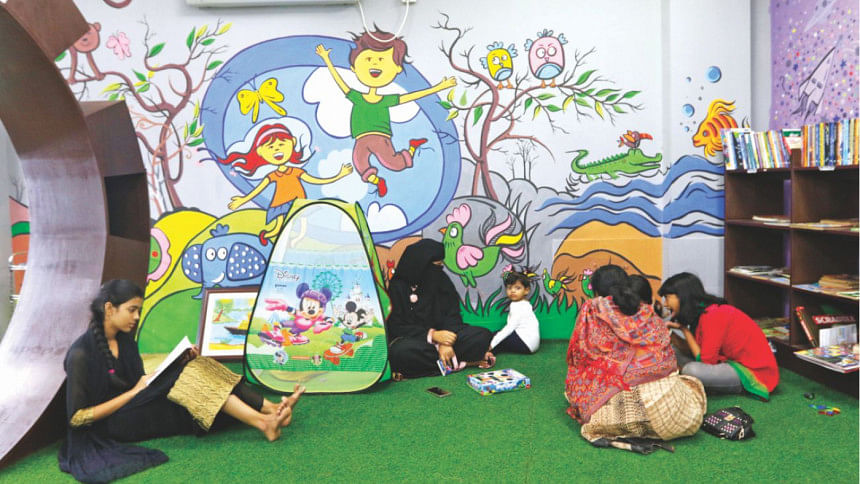 Since the University of Dhaka (DU) is located nearby, a large number of students come to DipanPur on a regular basis to escape their mundane daily routines. One such regular visitor is Prethee Majbahin, a third-year student of the Department of Criminology at DU. "I think it's the complete package—a good environment, good books and good food. And there must be more DipanPurs for the bookworms. A generation cannot grow up without books," she says. Majbahin comes and spends time there whenever she can after classes.
DipanPur has become a place for gathering and sharing of ideas by people of all ages, especially on holidays, as there is a small corner named Dipantola, where different events such as music performances, poetry recitations, book unveilings, meetings and simple get-togethers are held. Sometimes, it cannot accommodate all the visitors. Rita Rani Debnath, Assistant Professor at the Department of Political Science, Eden Mohila College, prefers meeting with her university friends at DipanPur. "Earlier, we would go to restaurants or cafés or open places at DU for our hangouts, but now we try to do it at DipanPur. One of my friends recently had the unveiling of his book cover here and we prefer meeting in a place that has an air of academia to which we belong," she says.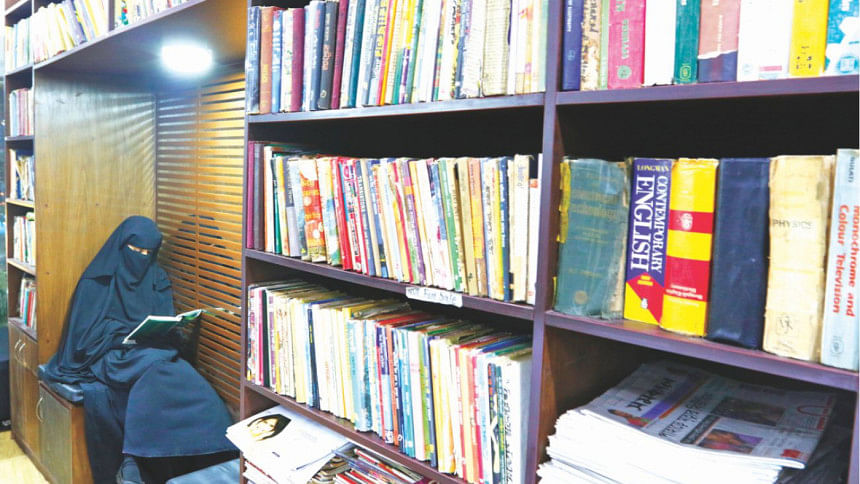 Professor Debnath also brings her six-year-old son Roktim, as Diponpur has a special corner for children called Dipantor. Dipantor contains plenty of colourful children's books, comics, fairy tales and other reading materials. Dipantor is a worthy opponent against our children's gadget addiction as it offers a small art school on holidays. A few students have already enrolled and it is looked after by a fine arts student from DU.
"I'm trying to increase the number of children's books and activities here. From the experiences of my own children, I have found that we fail to give them a space to read like we enjoyed in our childhood. In the past, every house would have bookshelves; there was a keen interest for books among children as well. The level of interest has fallen in comparison and children are constantly on their gadgets," says Jolly. "Currently, we are planning on opening a music school, which won't be very academic, but I just want them to spend their time in a learning environment," she adds.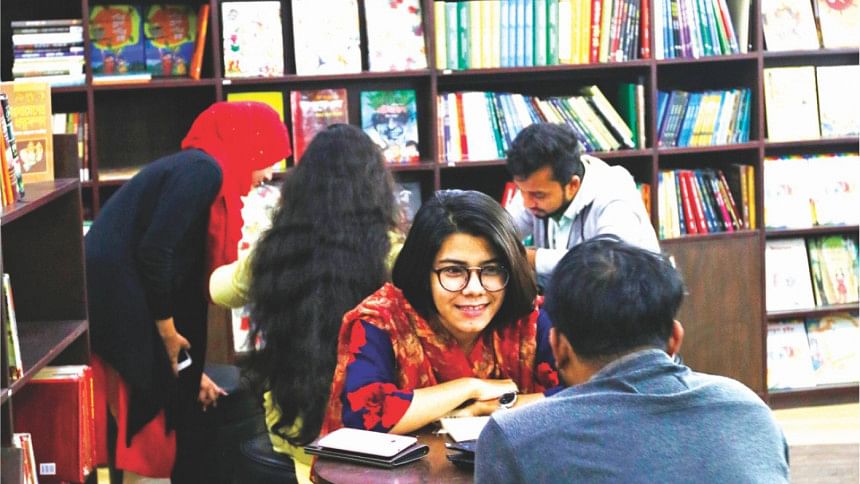 Jolly and her friends are working on expanding DipanPur and collecting more books. "If it becomes successful, we might open a few branches, perhaps in other parts of the city. But, currently, we are concerned about how feasible it will be financially, as it is quite difficult to afford such a large space in a commercial area without a business purpose. We are trying our best to run it by ourselves. The minimal money we are getting from it cannot cover the total cost yet," she adds.
Even today, though some fear taking their children there, in light of what was done to Dipan, DipanPur can still be a place to awake and enlighten our souls. If you have not visited yet, but intend to, get yourself or your loved ones a gift that will help them be better human beings.