A school off the beaten track
Can scaling up the quality of education keep our children in schools?
Just a few days back, The Daily Star ran a report that students' enrollment in government primary schools is decreasing sharply. While acknowledging that this figure could be an indication that the population rate is falling, the article also concluded that students are instead opting to go for either English-medium schools or madrasahs (two extreme ends of the education spectrum, might I add?)
The entire report painted a sorry picture of the state of education in the country. Public schools, hundreds of them, were empty. This is indicative of a bigger problem in a country where so many people still find it difficult to access education. Are we just going to allow all of these (already) established school structures to go empty? I certainly hope not.
But, then how can we bring children back to Bangla-medium schools?
A primary school in Tala upazila of Satkhira is slowly figuring out the formula for success.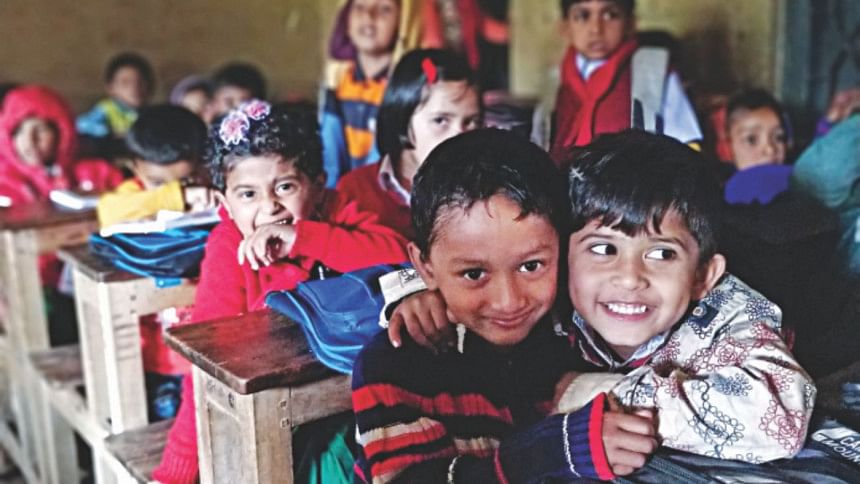 In search of a road to education
Just off the road from Tala Bazar in Satkhira upazila is the small compound of Shishutirtho, a privately-run primary school. It's not an intimidating sight by any means. Humble in appearance, Shishutirtho is reminiscent of a house right out of the world of the children's puppet show "Sisimpur" on BTV.
On a Friday afternoon, I would be hard pressed to find anyone here but there is one inimitable figure standing near the gates of the school. 
Sabina Yesmin introduces herself as the school's Principal. She has been a part of this school since 2002 and has moved up to become principal from assistant teacher over the years. During this time, she has brought in sweeping changes in how the school runs, with jaw-dropping results.
Her school has practically beaten all other schools in the upazila (public and private) academically. Of the 44 government scholarships reserved for Tala upazila's 235 primary schools for students who did brilliantly in their PSC (Primary School Certification) exams, Shishutirtho alone bagged 16 scholarships last year. Those are good odds.
Sabina's students do not miss classes, come rain, sun or wind, logging in an almost clean sheet of attendance. Another rarity, especially in this district in the south-west of the country, where water logging, cyclones and other natural disasters often result in students missing school a lot.
In Bangladesh, the cycle dropout rate in the year 2017 was 18.8 percent—21.7 percent boys and 15.9 percent girls, according to the Annual Primary School Census 2017 published by the Ministry of Primary and Mass Education. In comparison, Sabina's students rarely dropout of the school. She does not have an exact number but says with confidence that the dropout rate is near zero.
Shishutirtho also has a clean bill of education records. Students rarely do poorly (98 percent pass rate), and almost always manage to win accolades in singing, dancing and art competitions on both district and national levels, a beaming, proud Sabina tells me.
These are remarkable accomplishments in a country still struggling to keep their children in school even though education is free for all until primary level, a country that pledged to ensure access to quality education under the Sustainable Development Goal 4 which says "ensure inclusive and equitable quality education and promote lifelong learning opportunities for all."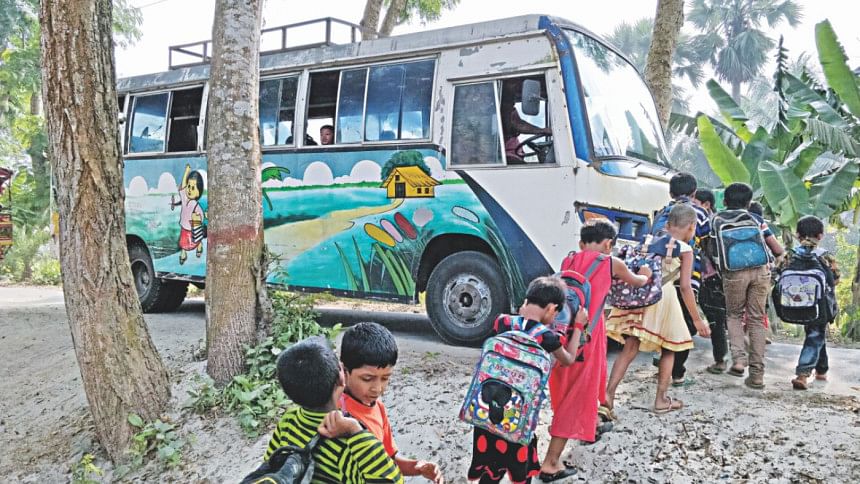 If you are fooled into thinking that Shishutirtho has a state-of-art school campus catering only to the rich and well-off, you are gravely mistaken. In fact, until last year, they taught their students at an unused space at Muktijoddha College in Sathkhira and only moved to their school compound this year, which is still very small.
A small primary school standing under the shade of a looming, ancient rain tree, Shishutirtho has around 350 students and cannot accommodate more due to lack of space and adequate infrastructure—in each class, they can accommodate around 40 students only. But each year, requests for new admission overwhelms the school authorities. In sharp contrast, a government primary school in Manikganj—Nimta Govt Primary School—has only 22 students, eight in the morning shift and 14 in the day shift. In class two, there was just one student.
As many as 5,036 government primary schools have fewer than 100 students. Of them, two schools have fewer than 10 students, 23 schools fewer than 20 students and 446 schools fewer than 50 students, according to last year's annual performance report by the Directorate of Primary Education.
But Sabina tells me how she was compelled to take in more than 40 students into her Play Group section, just because of the demand.
It is a painstakingly thorough process by which students, many from ultra-poor or poor households, are being encouraged to stay in Shishutirtho to complete their education (at least up to the primary level) and turn over good results.
The school uses a "block teaching" method—essentially, one teacher, one class, one year, all subjects. While there are limitations to this process, it is working out for the school so far; because it is primary education, one teacher is able to teach all subjects. This method also ensures that teachers are well aware of their students' weaknesses (in particular subjects) and also form a close bond with them.
There is also no corporal punishment here, which is yet another step forward for a school set in a rural setting.
And then there is the culture of accountability that Principal Sabina, a visionary by all means, has established. The school has constant communication with the students' parents; they hold monthly meetings with the guardians, where the teachers share the progress of the students and continue to encourage them to ensure their children show up in class. Then there is the weekly meeting Sabina holds with the teachers (a largely female squad, might I add) to discuss new and improved techniques to hold classes and improve the quality of education.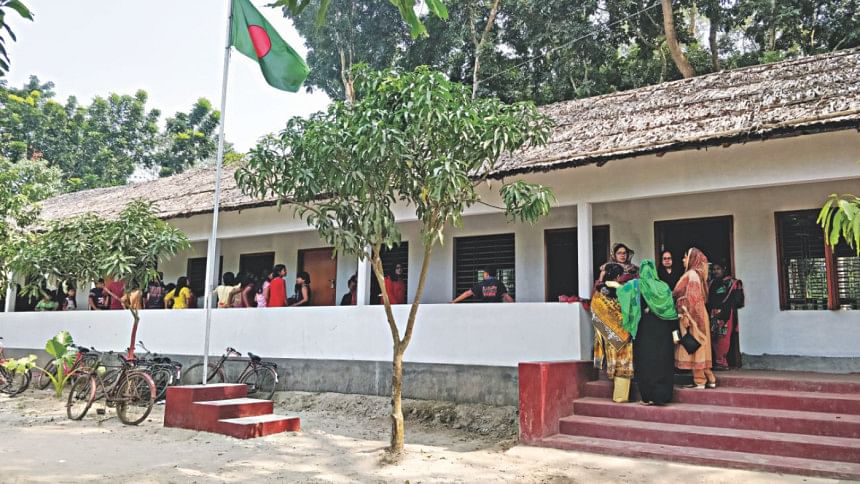 Although a private school, Shishutirtho does not have any individual ownership per se. It was established by members of the community at Tala upazila in 1996. Currently it has a seven-member school committee comprised of members from the community—senior teachers from nearby colleges and schools, concerned parents, NGO representatives and so on—which remains valid for three years.
This committee earlier pooled money to buy a school-bus and four vans for the students, which goes around the area picking up and dropping off its wards while also making sure that the students actually show up in school.
Around 23 percent of the students at the school are from the Dalit community and from ultra-poor households. Since students from different walks of life—the Dalit community, the Hindu community, children of landless families and ultra-poor families—study side by side here, the very real worry of discrimination and social disparity also came up in my conversation with the Principal.
Although the tension that arises from social disparity cannot be brushed off altogether, the school authorities try their best to foster an egalitarian atmosphere, like suggesting parents to give nutritious but simple meals for tiffin, and making sure that all children get textbooks (subsidising those in need).
Shishutirtho also provides free education to at least 40 students who are in dire financial need. They manage this scholarship money from the school fees, Tk 320, which they collect from other students. There is an informal need-based system in place, too, so that those who do not get formal scholarships can still continue their studies.
I also met up with one of the alumni members of this school, who went on to get a degree from the University of East Anglia and is back to work in his hometown. Satkhira is among the most vulnerable to climate change and its corresponding environmental and socio-economic problems. The alumnus believes that it is access to education that will empower the people of this district.
Visiting Shishutirtho made me realise that scaling up what they are doing and polishing their concepts might be an easy answer to ensure access to quality education for all. Yes, the scale at which this school is operating is very small, but maybe, just maybe, they are on to something.