Against the odds
The Dhaka Medical College Hospital has successfully conducted some of the rarest surgeries in the world this year. Doctors believe that they can achieve a lot more if they are given the right facilities.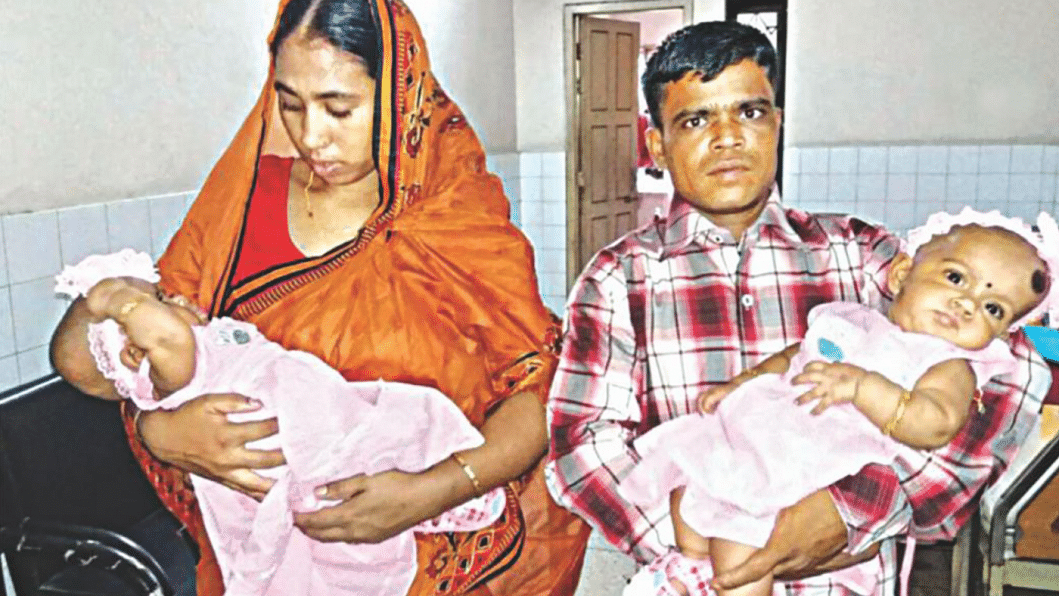 Dr Samanta Lal Sen was going through a difficult Saturday. His peon had conveniently extended his Eid holidays, and Dr Sen had come to know of this only at 9 am that day after he reached his workplace.
As a result, the National Coordinator of the Dhaka Medical College's Burn Unit spent the first hour struggling to explain to the patients, flocking in into his unguarded chamber, that it was not him who they needed to meet but the doctors who were on duty.
Now retired, Dr Sen is responsible for the overall coordination of the Burn Unit, rather than conducting surgeries. However, trying to explain that to the pouring number of people was next to impossible.
From the request of a septuagenarian woman from Sylhet—who had tried to get to the doctor's good side with three home-grown mangoes—to oversee her son's operation (which had nothing to do with the Burn Unit), to a youngster in his mid-20s, who attempted to start a freewheeling conversation, without an appointment, regarding a surgery which he may require in the near future, the queue seemed endless.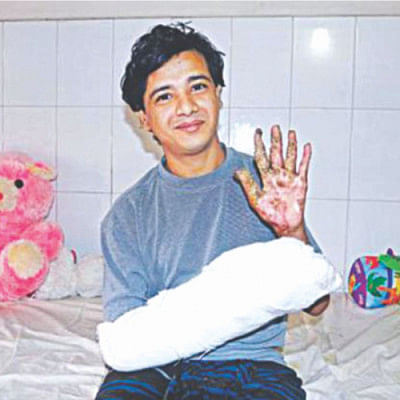 The situation eventually came under control after a replacement was found to occupy the peon's desk outside. "A number of these patients aren't even in the right department," says Dr Sen after taking a breather. "Many of them come to me, not because of my expertise, but because my father was a famous doctor in Sylhet. And they think that the doctor's son can cure everything," he adds with a smile.
The scenario witnessed, in a way, reflects the great deal of pressure that the Dhaka Medical College Hospital has to undergo throughout the year. Often the only hope for patients who can't afford expensive treatment, you find people from all over the country desperately seeking appointments here. Take for instance, the case of the Burn Unit. While the hospital has 100 beds, they are currently treating around 500 patients. Every time there is a major accident, the number of patients goes up exponentially.
When you place the rare operations that have taken place recently at the DMCH against this backdrop of enormous pressure and sub-par facilities, you can only marvel at the achievement.
This year alone has witnessed the DMCH succesfully perform three rare surgeries.
The first one was conducted in January on 27-year-old Abul Bajandar, who was dubbed the tree man because of the large, wood-like warts on his body, caused by the rare genetic condition epidermodysplasia verruciformis. In fact, it was so rare that he was one of the first three cases in the world, as per records.
Dr Sen, who was a part of the team that conducted the surgery, recalls the first time Bajandar set foot at the DMCH.
"When he first came to us, we were all surprised because we had never seen such a patient. It was a risky surgery because we did not want to cut his blood vessels. There were these wart-like things on his hands and if we would have cut a blood vessel, his fingers wouldn't function.
"The first 10 to 12 operations were quite risky. But eventually it became easier. Based on blood tests we know that this is something that can grow again. It can recur. So we have to be in touch with Abul for at least a year and observe him," explains Dr Sen.
The case of Muktamoni, the 10-year-old girl who carried a tumour that weighed three kilograms, in her right arm is another example. The picture of the innocent girl with a bloated arm had caught the attention of the entire nation. In addition to the tumour, one of her lungs had also failed.   
"When we spoke to the Prime Minister regarding Muktamoni, she asked us to look for hospitals abroad. We have a bilateral deal with the Singapore General Hospital. But when they checked her papers, they emailed us saying that this can neither be operated on nor cured," recalls Dr. Sen
"We told ourselves that look, even if they refuse her, we can't do that. She was operated on thrice and has now come to a stable position. She is still under observation, but seems fine now," he adds.
More than the disease itself, it was the lack of awareness of the family that led Muktamoni to such a difficult position, according to Dr Sen.
"A big problem over here is that not many families are aware or educated. Muktamoni had Hamengioma which is very common in Bangladesh. However, the family must have received some wrong advice from a village doctor and she ended up carrying the tumour for ten years. That's why it got so complicated," he explains.
The most recent case of the conjoined twins, Tafu and Tahura, again highlights the fact that the DMCH does have the ability to take on complicated surgeries. Born in September 2016, Tafu and Tahura were joined in the hip. While the birth of conjoined twins is rare in itself, only 6 to 19 percent of babies end up being joined at the hip. This was the first time that such an operation had taken place in the country.
"Aside from the fact that they were sharing the spinal cord and many other organs, their kidneys and heads also showed different issues, which had to be taken care of as well. When they first came to us, one year ago, we made a path for them to help them excrete. Ten months later, we managed to separate them after a nine hour surgery," says Professor Shahnoor Begum who works in the Department of Pediatric Surgery of the DMCH.
Prof Shahnoor reckons that the doctors from her hospital can do wonders if they are given the appropriate facilities.
"Everyone studies from the same book and nobody lacks the ability. Our doctors are going abroad and doing well there. Why can't we do well here? The problem is that we are overburdened, we have inadequate facilities," explains Dr. Shahnoor.
Explaining the immense progress that the medicine industry in Bangladesh has made, she says that no one would have dared to conduct such a surgery in the country 10 years ago.
"To make a baby less than six months old unconscious with anaesthesia is always risky. But today, we managed to do that to a pair of conjoined twins and were succesfull as well. It just shows how much we have progressed," she says.
Both Dr Sen and Dr Shahnoor believe that doctors in Bangladesh are equally, if not more, skilled than those abroad. The older Dr Sen in fact believes that the time when Bangladeshis won't need to think about going abroad for treatment is not too far away.
While not many may share a similar level of optimism, there's no doubt that at a time when the country's medical sector is constantly criticised for improper treatments, the recent examples provide a flicker of hope.
---
Follow Naimul Karim @naimonthefield