Dhaka needs more trees, but…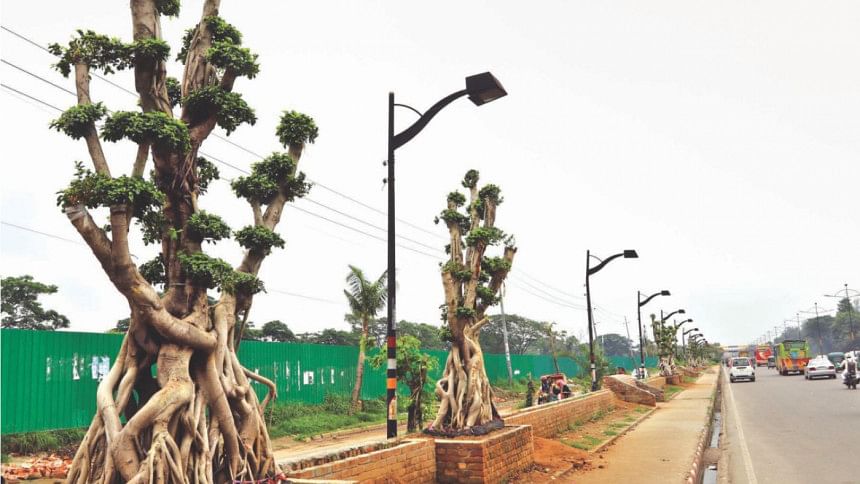 Ask old-timers about the Dhaka they experienced as kids, and they would tell you about the lush greenery that the city boasted of once. The newer settlements of the then capital city had more open grounds, parks with shady trees and grassy tracts, and water bodies. In fact, an urban planning act in 1919 stipulated that the city should have a green belt; it even prescribed the number of trees that should be planted within the belt.
At present, however, Dhaka is experiencing an unprecedented level of urbanisation and is listed among the worst cities of the world in terms of quality of living. While a liveable city should contain 25 percent greenery of its total area, the capital has barely five percent greenery for lack of regular plantation, and no maintenance of the existing ones—to say nothing of unplanned urbanisation and development. While some projects have been undertaken over the years to plant trees in different parts of the city, many urban planners and horticulturists highlight that tree plantation alone is not the be-all-end-all when it comes to implementing urban forestry programmes in Dhaka.
"What are the species of trees that we are planting? Plant species need to fulfil a set of function other than be visually pleasing. They need to be able to organise and define the space where they are planted. Urban forestry mostly includes the management of trees in a wide variety of habitats in and around urban areas, including parks, streets, roadsides, and dividers, and each of these places demand different species of trees and shrubs. So while planting, we also need to keep in mind whether these species of plants are being able to fulfil their function in that particular landscape," says Dr A F M Jamal Uddin, Professor, Department of Horticulture, Sher-e-Bangla Agricultural University.
The debate over functionality of trees have come into discussion in recent times, especially after rows of bonsai-looking, grotesque foreign trees were planted along a 6 km stretch from Zia Colony to Shahjalal International Airport intersection, as part of a beautification project curated by the Roads and Highways Department. Why a foreign species like this was chosen is confusing, especially since there are many native and local tree species that are more suitable to the city's environment, weather and cultural context. A tree that will end up being hardly 20 ft high won't be able to serve its utilitarian purposes by providing shade and working as an air filter.
Historically, we have proven ourselves wrong when it came to planting different invasive alien species like Eucalyptus, Sissoo and Akashmoni throughout the peripheral areas of the country. These trees were planted as fast-growing, shady trees with commercial value, but no one had anticipated the thirst of its roots and how the trees would cause a fall in the underground water level. "They might have increased green cover, but certainly not without posing health and environmental hazards," argues eminent botanist Dwijen Sharma. Even when it comes to planting trees in avenues, we should have a strong precedence of native trees, he believes.
Luckily we have been blessed with seasonal flower trees that are conducive for roadsides. "As a part of the beautification project with Dhaka North City Corporation, where I worked as an advising horticulturist for planting trees, we kept two things in mind," says Dr Jamal. "Firstly, to choose trees that will ensure green cover throughout the year and secondly, to make sure that we have seasonal flowers flourishing and blooming in the roadside trees. We can always opt for Krishnochura, Jarul, Shonaloo, Kodom and Hijol, Tomal around water bodies. These native trees are able to amaze passers-by with their glorious hues of yellow, red and purple, while leaving a lasting impression on the foreign visitors about the natural beauty of our country." 
Not only are we planting the wrong trees, we are paying no attention to the existing ones or to what happens once a tree is planted. Architect Iqbal Habib reinforces the need of having policies to ensure proper maintenance of the trees. Last year, after artist Khaled Mahmood Mithu died when a tree fell on him, a report in the newspaper Prothom Alo revealed that there was no authority assigned to identify and take proper action regarding risky and unsafe trees on street sides and footpaths. "Even though the two city corporations are tasked to cut down planted, uprooted or dead trees, they do not have any mechanism to mark hazardous trees. Neither of the two city corporations has any statistics on the number of trees planted on city roads, islands and footpaths. There is no authority assigned to identify risky and unsafe trees on the street sides and by the footpaths in the capital despite loss of lives due to felling of trees. As city corporations, WASA, and other utility agencies often dig up streets for maintenance and repair work, many trees get severed in the process. Also roots cannot spread, rendering the trees fragile from within, due to ongoing construction works."
Another problem is the lack of balance between our development and conservation efforts, believes Mohammad Rabiul Islam, an architect who works as a consultant for the Dhaka North City Corporation.
There are several cases where city corporation contractors, engineers and also influential locals cut a significant number of trees, many of which are century-old, for road widening and infrastructure development projects. "Currently in most places in Dhaka—except perhaps Ramna Park—you won't find many trees with historical importance, as most of them have been uprooted," he continues.
In recent years, Dhaka has started experiencing a new trend of undertaking beautification projects every four to five years, which are short-sighted, and requires massive transformation—often by uprooting trees. Though they promise compensatory afforestation by planting saplings, as Islam points out, "any sapling, even if it is four to five years old, can never be an alternative to large shady trees, considering the ecology that these trees support." He further elaborates that while there are alternate ways to carry out development projects, this requires a reasonable amount of planning, regulations and integration among different stakeholders. Be it urban development or beautification, we need to approach it in a holistic manner.
As Iqbal highlights, undoubtedly our city needs more green cover, but these trees should do more than just add beauty to the roads. Apart from being aesthetically pleasing, they should have long term social and environmental benefits too.
After all, we need trees to lessen environmental hazards, not increase it.