theatre review
CRUTCH'ER COLONEL: LIFE AND DEATH OF AN 'UNSOLVED' HERO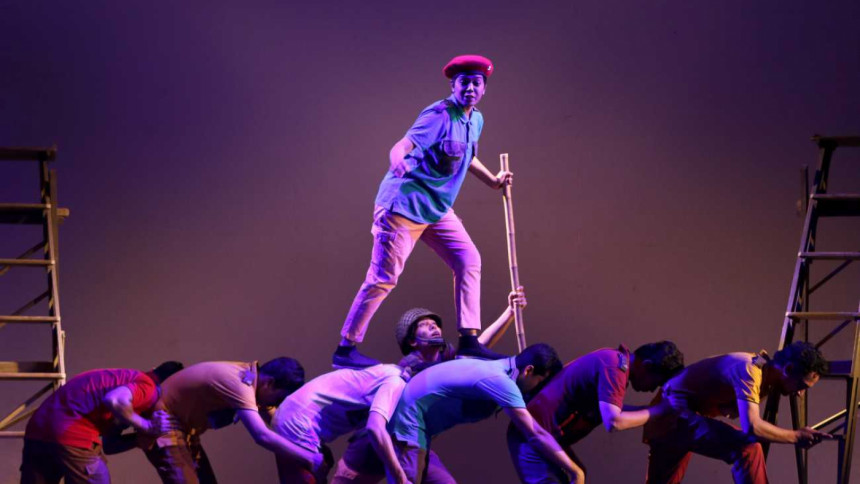 Bangladesh's theatre scenario has been the source of my personal frustration ever since I started working as an arts journalist. What is most aggravating is that it is the section of our mainstream performing arts which, I believe, produces the most high-quality content across the board, but has the smallest following – and that is probably because rarely is a theatre play in Bangladesh mindless, 'easy'  entertainment. 
Bot Tala is not one of the foremost names in our country's theatre in terms of stature or portfolio, but there is one area in which it stands shoulder to shoulder with the biggest troupes of the country: at less than 10 years of age, it has found its signature 'language' of expression on the stage. Their latest production, "Crutch'er Colonel" (based on Shahaduzzaman's documentary novel of the same title), is a creative follow-up to their previous production "The Trial of Mallam Ilya", a political drama. Adapted by Samina Luthfa and Soumya Sarker and directed by Mohammad Ali Haider, it chronicles the life of Colonel Abu Taher, a decorated Liberation War hero turned controversial military revolutionary. A high-achieving officer of the Pakistan Army who deflected and joined Bangladesh's Liberation War as a Sector Commander and lost a leg in battle, Taher eventually led the military mutiny that took down Khaled Mosharraf's government and freed Lieutenant General Ziaur Rahman in 1975, and was eventually sentenced to death in the country's first court martial.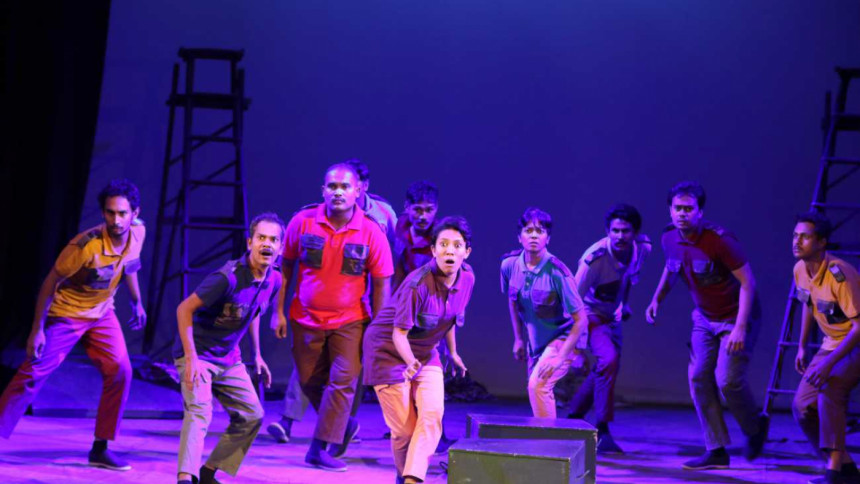 To visually adapt a historical, non-fictional novel on the birth of Bangladesh and its subsequent tumultuous political landscape is a task so daunting that even before the play begins, I was flooded would questions and anticipation of how it will be handled. History, especially the political kind, is often at a junction of interpretations, and Bot Tala chooses the route of presentational theatre to bring clarity whenever that junction arrives. The play openly addresses the moral qualms of visualising landmark historical and political events and characters by seamlessly transforming the stage of the play into their rehearsal room, injecting discourse and clarification of the actors in their real lives before establishing the narrative. It is in these passages that questions like "Is Taher a hero or a villain?" are raised, while important reminders like "To understand Taher, you have to understand his relationship with Zia" are also uttered. These little passages of the play also act as disclaimers of sorts, putting at ease the audience in what otherwise could have been an uneasy auditorium. But Bot Tala makes sure to express that these clarifications are not from a place of fear and safe-playing, as epitomised in a bold moment of stage-writing genius with the dialogue "Every historical event has a grand narrative and a small narrative; our Liberation War's grand narrative has not yet been established." 
Aesthetically speaking, the play has lots of great elements, most of which are trademark Bot Tala. Using a minimalistic stage, the use of human bodies as stage props to great effect is something we have come to expect of the troupe, and they have a few of those moments – be it using human bodies to create a boat or a high wall. Choreographies are a common element of Bangladeshi theatre and "Crutch'er Colonel" is no different, and considering it's a two-hour play with numerous characters portrayed by a cast of 12, the energy on stage is commendable. Element of humour in a play as serious as this is difficult to inject, but is present in an appropriate dose, mostly through a fantastic satirical portrayal of Khandakar Mushtaq Ahmed. The actors constantly switch roles (Taher alone is played by seven different cast members at various depths) but it's not disruptive. The depiction of historical moments – like the March 25 genocide and the assassination of Bangabandhu – are chill-inducing, as are the ones where Taher and cohorts escape from Pakistan's garrison town of Abbottabad to join the War and the battle scene where Taher loses his leg. The music, by Pinto Ghosh, is done with a lot of care. The pacing of the story is also good, and the two-hour runtime doesn't feel overly prolonged. In terms of acting, seasoned campaigners like Samina Luthfa, Kazi Roksana Ruma, Pankaj Majumder and Imran Khan Munna are brilliant in their multiple roles, and younger cast members like Evan Riaz and Manzurul Islam Roni go toe to toe with their senior counterparts.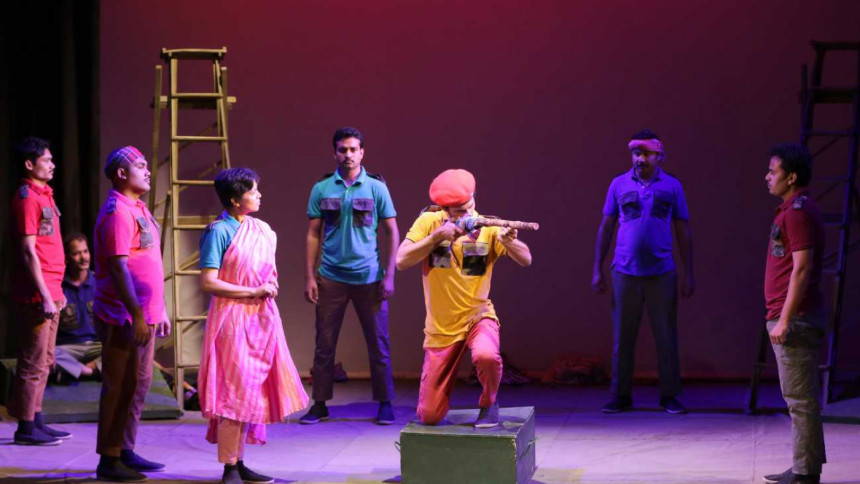 One of the weakest aspects of the play is its costumes, but considering the small number of the cast, the multiple roles they play and the pace of the story, it is a genuine limitation. The production goes the representational route to counter it (for example, Taher is symbolised by a red cap, while the female characters have a frontal drape representing a sari) with some success. Although the play has already been truncated from the initial production runtime of three plus hours, maybe curtailing some of the choreography would not harm the production too much. 
Colonel Taher is one of the most colourful, fascinating characters of our liberation and post-liberation history, but he is also one of the biggest 'unsolved' characters of Bangladesh's history. While his valour and leadership in the War remains unquestioned, it was his vision of the military force as a 'People's Army' and his communist ideology that make him a character who inspires heated debates. In his ideology Taher was clear, resigning from the Army because it did not reflect his vision, and joining politics to bring about the change he envisioned for Bangladesh. He failed in establishing that and he paid the price for it, unapologetic at death as he was in life. The play doesn't try to answer whether Taher is a hero or a villain, but puts him in the true light as depicted in the book – a man living by his idealistic sword and dying by it, and a life in between dedicated to a Bangladesh free of class divisions that he envisioned. 
"Crutch'er Colonel" was not written as a play; coming back to the point that history is often subject to interpretation, in a book that scope is much greater for the reader. To give it a much more concrete interpretation in the visual form leaves a potential threat of a telescopic depiction, and the play punches above its weight to navigate that minefield. The story, by its sheer historical nature, is magnetic, but to bring it to stage is a brave, brave thing to do and to see that come from a 'smaller' theatre troupe is a testament of the strength of Bangladesh's theatre. Just for the subject matter itself it is safe to say "Crutch'er Colonel" is a potential landmark in the country's theatre history, but it is Bot Tala's execution that takes it in that direction. 
Fahmim Ferdous is a subeditor, Arts and Entertainment, The Daily Star.