Trends in Fire Incidents show Lapses in Government Action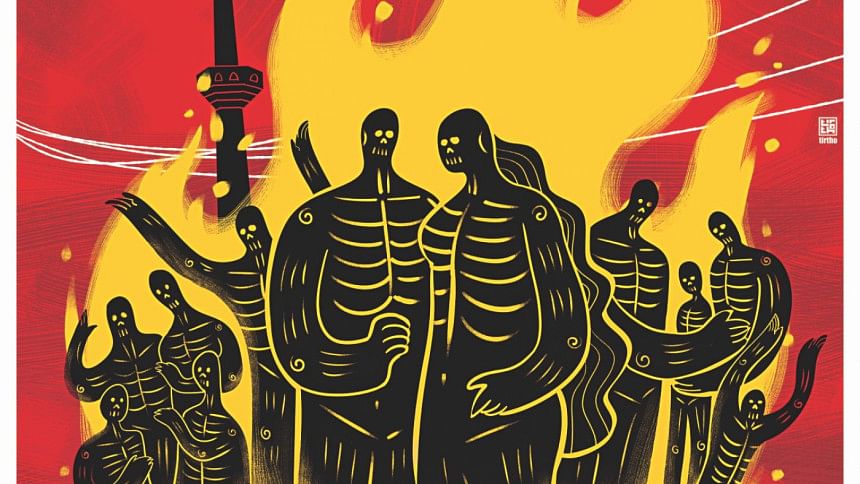 On Wednesday last week, a busy street in Chawkbazar in Bangladesh's oldest neighbourhood burst into flames, killing at least 67 people and injuring many. Firefighters ploughing through the burning buildings found nothing but charred timber and ashes the next day. As investigations ramp up, some witnesses claim it started when a compressed gas cylinder, commonly used for cooking, exploded in a mixed-use building. The inferno fed into chemicals, including paint, stored on the ground floor of the building. As tragic as the disaster has been, this comes as little surprise to locals. Old Dhaka is known for its serpentine alleys and crammed buildings, allowing accidents like fire to rapidly spread and engulf an entire neighborhood.
Bangladesh is notorious for poor implementation of safety regulations and building construction codes. In 2012, at least 112 people were killed when a fire burnt down Tazreen garments factory in Dhaka district. Earlier in 2010, a fire ripped through a chemical warehouse in Nimtoli, also in Old Dhaka, claiming 124 lives.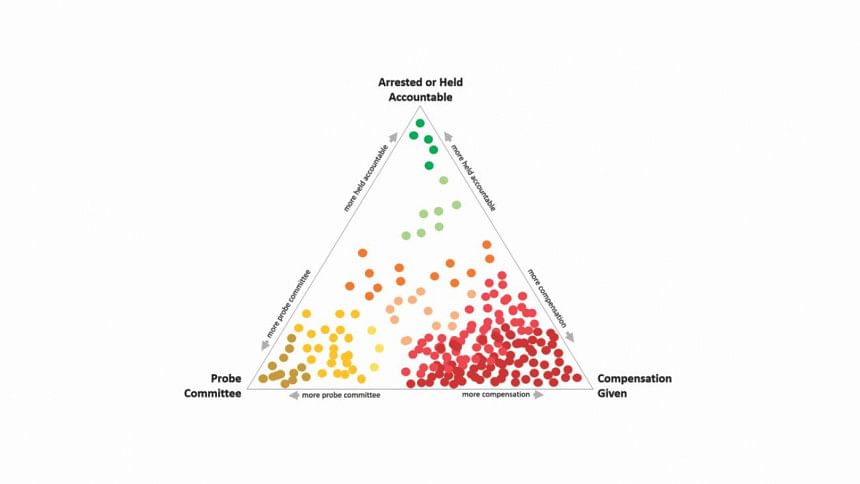 There are more fires now than ever
According to data publicly released by Bangladesh Fire Service and Civil Defense, there has been a steady increase in the number of fire incidents in the country. In 2018 alone, fire service officials reported over 19,000 incidents, majority of which occurred in Dhaka and Khulna. However, trends suggest that the approximate value of losses (in BDT) is more contained than in the past. The number of civilian deaths from fire have also declined—the highest reported being 271 deaths in 2010 and 365 in 2011. However, in absence of an independent authority to record fire incidents over time, these statistics provided by Bangladesh Fire Service and Civil Defense could not be verified.
Short circuits and exploding LPG cylinders are the main sources of fires
Digging deeper into official data also revealed insights into common sources of fire disasters, predominantly short circuit and explosion of compressed gas cylinders used for kitchen stoves. In 2018, nearly 40 percent of fires started in residential buildings from short circuits. Just under 18 percent of fires resulted from cooking appliances such as stoves or gas cylinders, while, surprisingly, 15 percent of incidents can be sourced back to lit cigarette butts. This distribution of common sources of fire disasters is consistent with what we found from a separate, comprehensive analysis of newspaper reports on fire incidents—majority of which claimed fires have started from short circuit, explosion of compressed gas cylinders in the kitchen and leakage in the gas line.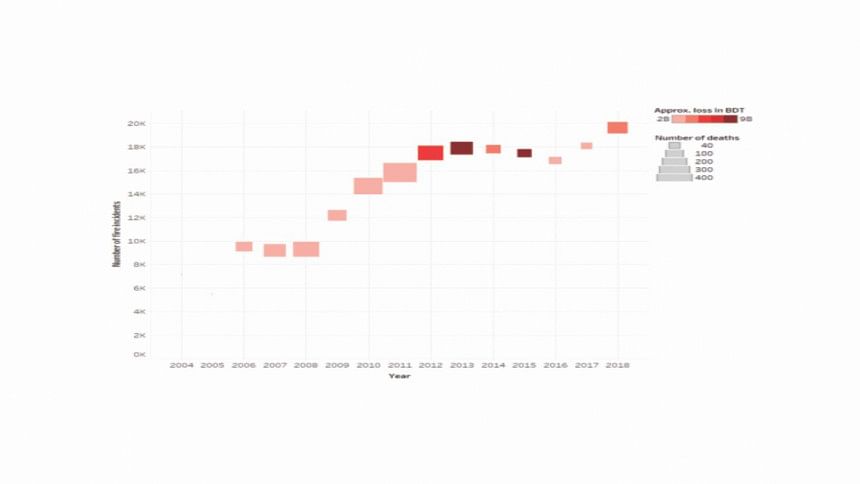 Fires are always underreported
Less than 1 percent of fire accidents or disasters are picked up by local reporters, of which even fewer provide in-depth investigation into the source of the fire or estimate of the value of losses. Among those reported, just under 10 percent of stories follow up on administrative action towards survivors of fire disasters and the "human story".
History stands testament to the country's thriving civil society and grassroots movements in taking the streets and compelling policymakers towards action. The absence of the same rigor in investigating and preventing fire incidents is perhaps most glaringly reflected in the disappointing implementation of Bangladesh Building Code and National Fire Code in recent years. Following Nimtoli fire tragedy in 2010, the investigation committee recommended warehouses containing chemical materials to be moved out of Old Dhaka, yet these ideas remain only on paper. Local authorities and businesses have both failed to comply, owing to cheaper rents and lower maintenance costs in old buildings. The buildings are often used illegally for commercial purposes and were not built following the most recent safety codes—thereby putting them in high risk in the event of any disaster, natural or otherwise (The Daily Star, 23 February 2019).
Investigations into fire incidents lead to nowhere
We analysed reports from The Daily Star on fire incidents between 2015 and 2019 to isolate how authorities had reacted to medium to large scale fire disasters, categorising actions as (a) arresting or tangibly fining building owner or violators of safety regulations or imposing a court order for them to provide adequate medical and rehabilitation support to affected families, (b) providing state-sanctioned compensation to affected families, and (c) forming a probe committee. We found in an overwhelming number of cases that government has provided state-sanctioned compensation to affected families (ranging between BDT 20,000 to BDT 200,000). In many instances, the government has both compensated survivors as well as formed a probe committee to investigate the fire incident—yet very rarely has these investigations resulted in tangible actions towards holding violators accountable.
We therefore find despite growing number of fire incidents in the past decade and repeated investigation reports citing gas cylinder explosion or short circuit as common causes, there has been lapse in government proactiveness in implementing stricter building safety codes and compelling businesses such as chemical warehouses to relocate to non-residential areas. There also seems a gap in raising awareness among locals on safety standards and hazards of mixed-use buildings and inadequate community participation from civil society to relocate business owners. Given Dhaka's rapid urbanisation, it is unlikely the hazards of fire breaking out will become lower—and responsible authorities and community leaders need to take immediate action to minimize risks in an already complex political and infrastructural landscape.
Methodological limitations
Official data sources had several discrepancies that we have tried to smoothen or discard during this analysis. However, several statistics could not be verified with other independent, credible sources. Data was scraped from The Daily Star's archive and reports were cross-validated with other leading dailies. However, analysis based on newspaper reports is limited to a single source in this piece and future iterations should involve a comprehensive assessment across all major national dailies.
Manash Kumar Mandal, Toukir Ahmed Hridoy, Redowan Delowar and Shahadat Zaman Soikot also contributed to the report.
Sabhanaz Rashid Diya is a computational social scientist.