Girls Still Left Behind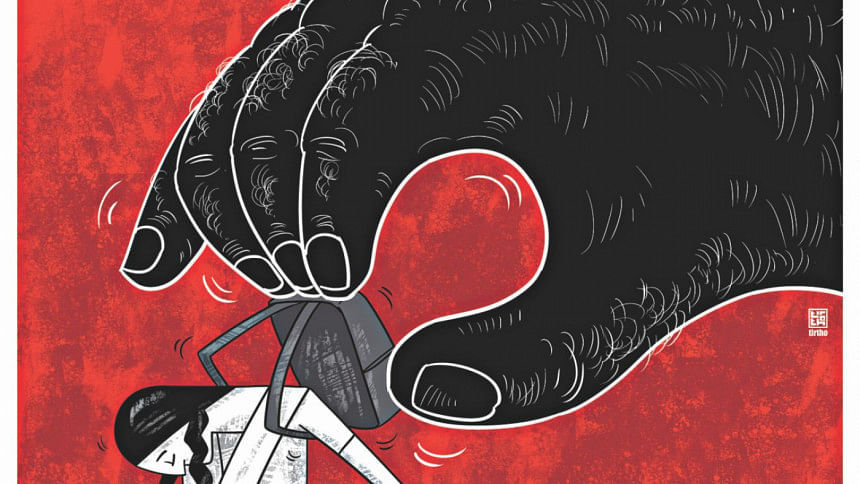 More than half of Bangladeshi female students drop out of secondary education after completing their primary education
"We know education is important. All of my three daughters studied up to grade five. But in our village, the demand of dowry increases if our daughters cross 15 years of age. And if any of them crosses 20, her fate is sealed. In all likelihood, she will never get married and even if someone agrees to marry her, the family will have to pay an exorbitant amount as dowry," says Aasiman Beoa, a woman of around 50, who lives in Baldia village under Bhurungamari upazila of Kurigram district. Aasiman, however, does not consider dowry a malpractice. She says, "This is an old custom. Myself, my mother, my grandmother and all our ancestors have observed this custom."
According to Aasiman's neighbours, her son Abul Hossain, an unemployed youth, himself demanded a "Pagloo" (a three-wheeler vehicle, larger than a CNG) as dowry for his marriage. Abul finally managed to extort a TVS motorbike, cheaper than a Pagloo, from his father-in-law. He has been carrying passengers and goods on his bike and earning a livelihood with it. In many districts of Bangladesh, particularly in the north and north-western parts of the country, dowry is considered a means of livelihood for newlywed couples.
Living in a district where 71 out of every 100 people's income fall below the poverty line, families like Aasiman's have little choice except marrying their daughters off prematurely in fear of paying a hefty dowry later. Those who cannot pay the demanded amount after marriage have to pay a higher price—domestic violence and even, death. According to Bangladesh Mahila Parishad, at least 141 women were killed in dowry-related violence and 208 cases of dowry-related torture were reported in 2017.  In 2016, at least 107 women were killed, five committed suicide and 94 were physically abused. 
To escape such an unfortunate consequence, Aasiman married her 13-year-old daughter off to a farmer in the same village. Her daughter, Sharifa, who in 2015 stood first in the final exam of grade six, is now a mother of a baby boy at the age of 16. Her husband didn't allow her to continue her education. As the wife of a poor farmer, Sharifa has to remain busy from dawn to dusk. Household chores, looking after the harvest, and taking care of her child drain all the energy from her lean, malnourished body. Unlike Aasiman, Sharifa had a dream to continue her education. "I heard of stories about women from our district who got jobs in Dhaka after completing their education. I wanted to be like them. If I mother a girl child, I will not force her to marry at an early age like me," says a disappointed Sharifa, for whom going to school and reading books are now memories of a distant past.        
Unlike Sharifa, RMG worker Momina Begum's parents had allowed her to continue her education. She completed higher secondary education from Chatmohar Mahila Degree College and got admitted to a three-year degree honours course in humanities. "I worked hard to continue my education. My father passed away during my SSC exam. My mother used to weave clothes and my elder brother worked as a bus-helper to help pay for my coaching fees in college. But when I got admitted to degree course, my family could not afford university education; I realised that this education would not help me at all."
According to Momina, classes were rarely held due to the absence of teachers. Most of the teachers insisted that she attend private tuition for better grades. Momina's family could not afford the expenditure anymore. On the other hand, Momina could not see any hope of getting a worthy job with a degree in humanities in this highly competitive job market. "Many of our alumni are still jobless and unmarried. Some of them got into politics and many of them are involved in various sorts of criminal activities. When you are mature and jobless in a town like Chatmohar, nobody will marry you. Again, if you are not married, people will think bad of you. The situation can be so intolerable for a mature, unmarried woman living in rural areas that you will not be able to live in your village," described Momina. In fact, she left her village Katenga under Chatmohar upazila of Pabna district with three of her classmates to get a job in an RMG factory in Savar.
Momina finally got a job in an RMG factory as a worker in the finishing section and she is now supporting her mother with her meagre income. She hopes that if she gets promoted after two or three years, she will return to her village and bring her mother to stay with her in Savar. She says, "My mother was very proud that I would obtain both B.A. and M.A. degrees. Had I achieved those degrees, I would have been the first one to become a graduate in the history of my family. But it was very clear to me that I would not get a better job with those certificates. It would be a waste of time and money." After passing a year of inactivity in her degree honours class, Momina dropped out of the course, convinced that her education would not help her land a job or raise a family.
While thousands of girls like Momina and Sharifa are dropping out due to social barriers, for Dipa Marma, education is almost out-of-reach. She lives in a remote village on the top of a hill in Roangchhari upazila of Bandarban. She completed her primary education in a charitable, NGO-run school at the foot of the hill where her village is located. Although the school was supposed to provide education up to secondary level, it closed all of a sudden when Dipa was in grade six due to lack of funding. The nearest government school was far from her village. "I had to walk for three hours and cross two ramshackle bamboo bridge to reach the government school," says Dipa. Still, her mother convinced her father to enrol her at the government school despite all odds. However, an unexpected incident, which still traumatises Dipa, brought her dream of going to school to an end.
On December 17, 2016 Dipa and two of her schoolmates were returning from Roangchhari school after attending a cultural programme on the occasion of Victory Day. It was a cold, foggy morning. On the way several armed youths abducted them and took them to the nearby jungle. One of the rapists had allegedly proposed to Dipa's friend but got rejected. The perpetrators gang-raped the fifth grader who had just attended the primary school completion exam. Hearing Dipa and her friends' cries, people from nearby villages rescued them. Dipa, although unharmed during that incident, was too traumatised to go to school anymore. Her parents also didn't allow her to continue schooling.
Like Dipa, many indigenous children drop out from school due to escalated violence in the hill tracts. As schools are sparsely established in the hill tracts, students have to walk a long way through the dense jungles to reach the schools from their remote villages, making them easy prey for criminals. In the last six months alone, at least three people have been killed in Roangchhari including a school teacher, 11 girls were abducted and trafficked, and four cases of sexual assaults have been reported.
However, female students dropping out from schools due to lack of security is not at all unique to indigenous villages of Chittagong Hill Tracts. It is one of the major causes of child marriage, suicide, and drop outs of female students in Bangladesh. According to Bangladesh Mahila Parishad, 34 female students committed suicide in 2017 due to stalking and it was found that most of them were pursued by the perpetrators on their way to their educational institutions.
Sharifa, Momina and Dipa are only three instances among hundreds of thousands of female students of Bangladesh who cannot continue their education. According to Bangladesh Bureau of Educational Information and Statistics (BANBEIS), 10,569,921 female students were enrolled for primary education in 2017. However, only 5,580,387 of more than one crore female students enrolled in grade six. According to 2017 Bangladesh Education Statistics, as many as 52.79 percent of female students do not get admitted to secondary education after completing their primary education. The same report also states that 38.44 percent of female students drop out before completing their secondary education. These appalling figures reveal the futility of the various initiatives of the Bangladesh government to ensure barrier-free access to education for female students of the country. 
The government provides a monthly stipend for secondary level (grades six to 10) female students to retain the enrolment rate. In technical schools, a 15 percent quota is reserved for female candidates. Different organisations of the government and various NGOs are working to prevent child marriage. Free and compulsory primary education provided by the government ensured an astounding 99 percent net enrolment rate. However, more than fifty percent of these female students cannot access secondary education in Bangladesh.
According to experts, the state's failure to ensure social safety for young women has been fading the accomplishments of these well-meaning initiatives. Maleka Banu, General Secretary of Bangladesh Mahila Parishad, says, "There is no doubt that adolescent girls are dropping out at an increasing rate. One of the main reasons behind this is that a girl in Bangladeshi society finds herself in a hostile environment from the moment she becomes aware of her girlhood. She faces discrimination in her family, she is stalked on her way to school. In school, she is often harassed by her male classmates and teachers; moreover, it's difficult for her to maintain her personal hygiene."  
"Our society has failed to give them a safe and friendly place where she could thrive and flourish independently. Even, young girls are not safe at all. You will find lots of reports of abuse and rape of young girls," she adds. She also states that the government's step to lower the legal age of marriage for girls will contribute to deteriorating the situation. "With legal provisions like this, more and more young girls will be married off in the face of increasing instances of gender-based violence." 
Khushi Kabir, a prominent social activist and feminist, also focuses on the facts that social practices like dowry is increasing due to decreasing recognition of women's economic role. She says, "Dowry was never a social custom in Bangladesh. It is, in fact, prohibited in Islam. Hindu families practice dowry during marriage which is called Kanyadan. After unplanned industrialisation in Bangladesh's agricultural sector, women's role in farming activities started to decline and unmarried young women started to be considered as burdens. Education has the potential to empower women financially and, in my experience, for educated and earning woman, the amount of dowry is significantly less than that of uneducated and unemployed woman. However, the current dropout rate shows that a large number of women are remaining under-educated and unemployed which can contribute to the rise of the dowry practice." She adds that Islamic scholars and preachers should come forward to eliminate this practice as it is strictly prohibited in Islam and most Bangladeshis are religious."
Besides, emphasis should also be given in ensuring skill-based, vocational education for women. Md Fashiullah, Director of BANBEIS says, "We should think about the employability of our graduates. We should increase skill-based vocational education and encourage our youth to get admitted to technical and polytechnic institutes instead of producing more and more unemployed B.A. and M.A. graduates. If we can ensure better career prospects, the dropout rate will automatically decrease,"
The government has increased allocation in the education sector by 11 percent for the current fiscal year. This is the second highest allocation for any particular sector. Despite investment of such a huge amount of resources, more than half of Bangladesh's female students cannot even go beyond the boundary of secondary education. According to a 2018 report published by UNICEF, Bangladesh still stands fourth in child marriage, only outranked by Niger, the Central African Republic, and Chad. In this situation, it is imperative for the government to address the core challenge which is ensuring social security for women and girls so that they can achieve their full potential in an unrestricted environment.   
The writer can be contacted at [email protected]