Film Review
Call Me by Your Name is one of the most memorable films of 2017
Watching Call Me by Your Name felt like flipping through the pages of a personal diary, sheets littered with memories of a bittersweet summer romance. Coming-of-age stories of love and heartbreak strike a universal chord but I doubt you can find one that depicts first love in all its honesty, purity, and unpretentious wonder as the one told in Call Me by Your Name.
Based on André Aciman's 2007 novel of the same name, the story follows Elio Perlman (Timothée Chalamet), as he spends his summer vacation in Italy with his American father (Michael Stuhlbarg), an antiquities professor, and Italian mother (Amira Casar). When the film begins, he's a lanky but charming teenager trying to navigate the intricate balancing act between adolescence and adulthood. But Elio is precocious and introspective, a bibliophile who transcribes music and indulges in poetry. The setting is the sinfully picturesque countryside of Northern Italy during the summer of 1983, where Elio spends most of his days lounging with friends or his girlfriend, Marzia (Esther Garrel), under the sweltering sun.
When dad's new research assistant arrives, Elio finds himself confronting a personality at odds with his own. Oliver (Armie Hammer) is as unabashedly American as can be. His laid back demeanour and carefree charm wins over everyone within proximity, much to Elio's chagrin. Initially, the two fall into a sibling-like relationship, riding bikes around town and courting girls together. These moments feel deceptively natural, and one almost misses the mutual attraction between them. The narrative is mostly Elio's, and we see his emotions graduate from nonchalant disdain to reluctant fascination to honest love. The remainder of the film maps Elio and Oliver's relationship as it traverses the whirlwind waters of first romance. 
The story unfolds much like a novel, slow and metered in its pacing; but every prolonged second is calculated and essential, mirroring the growing attraction between the two. The scenes are interspersed with exquisite shots of the sprawling lawn, the airy villa, and the unbounded orchard extending into the horizon. Cinematographer Sayombhu Mukdeeprom's portrayal of the Italian countryside is so visually stunning that you will find yourself wistfully dreaming of a summer that never was. You can practically feel the heat on your skin, and taste the sweetness of the often served apricot juice. From the stillness of the air to the beads of sweat clinging to skin, every visual cue hints to the charged attraction between the two.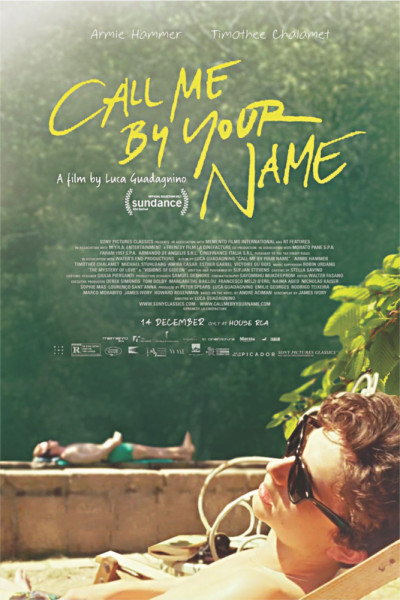 Chalking up Call Me by Your Name as purely a "coming-of-age" story is a rather limiting description of a film encircles multiple themes. As the New York Times puts it, it's "less a coming-of-age story, than one about coming into sensibility." It's a tale of first loves—its innocent beginnings, unrestrained passion and heart-wrenching endings. It's a tale of a young man discovering his own sexuality, without necessarily establishing it. It's a tale of a boy on the cusp of adulthood, and all its associated emotional foibles. It's also a tale that delves into the laughable, sometimes crude, ways in which desire mimics obsession, as depicted in a scene where Elio puts Oliver's swimming shorts over his head. Call Me by Your Name is a lot of things, and Director Luca Guadagnino weaves a story that transcends the traditional genres one might be tempted to characterise it within. The film only subtly hints at some controversial subject matters. The age difference between the leading actors is implied, but never spoken outright. Sexual orientation is explored, but not labelled. And the story only alludes to the forbidden nature of Elio and Oliver's relationship in conservative christian Italy in 1983. Guadagnino chose to paint a picture of love and lust that's universal, but no less poignant.
The cast is outstanding; the actors lean into their characters so organically that you almost miss the strength of their performances. Timothée Chalamet's first starring role was a tricky one. He had to portray a teenager that's frustratingly distant most of the time, but when he starts wearing his heart on his sleeve, his vulnerability hits you like a freight train. Armie Hammer portrayed the nuances in Oliver's character brilliantly. You love the comfort of his presence onscreen but you long for the tender affection he reserves for Elio. Stuhlbarg disappears into his role of a loving, all-knowing father; he delivers a monologue towards the end of the film that will move you to tears like it did Elio. In those final moments, you can't help but marvel at the consideration and compassion Elio's parents displayed towards their grieving son at that time. Hats off to the actors.
Sufjan Stevens's soundtrack is a mishmash of classical, retro and original songs that weave in and out of the narrative seamlessly. The originals, in particular, are breathtakingly familiar. Stevens' lyricism serves as a proclamation of the emotional tempest brewing within the leading men.
Call Me by Your Name begins like an idle summer afternoon but it sure delivers one of the most transcendent escapades on the silver screen in recent memory. As Timothée Chalamet put it in an interview with Christiane Amanpour, it was the "right time for an uncynical, unabashed, pure celebration of love and all the sorrow that comes with it." Oh, what a celebration it was.
Mithi Chowdhury is a soon-to-be graduate of the Institution of Business Administration, Dhaka University and a contributor for Star Weekend and Shout, The Daily Star.