"In the sky of knowledge, there are no borders"
A Review of Mahasweta Devi's Our Santiniketan (trans. Radha Chakravarty). ISBN: 978085742901. Seagull Books, 2022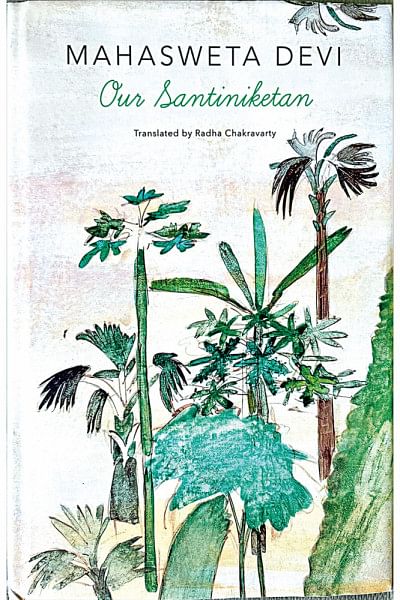 "Today it seems to me that every festival in Santiniketan offered homage to the seasons in some form or other… Much later I learnt that the festivals of Santhals and other Adivasis are the expressions of respect for farming and forest life. There are forms of nature worship based on an advantage of the earth as a primal mother."
One of India's foremost literary figures of the twentieth and twenty-first centuries, Mahasweta Devi was awarded the Ramon Magsaysay Award in 1997 for her "compassionate crusade through art and activism to claim for tribal peoples a just and honourable place in India's national life." Her affection for humans and nature were bred into her by her tenure in Rabindranath Tagore's Santiniketan where she studied from 1936- 38. There were many more from Santiniketan who have been change-makers in different fields like Amartya Sen, Satyajit Ray, Indira Gandhi, Syed Mujtaba Ali and Gayatri Devi to name a few.
The theme of bridging borders has been recurrently spelt out in the narrative translated by Radha Chakravarty from Bengali to English. An eminent translator who has been nominated for the Crossword Translation Award (2004) for In the Name of the Mother by Mahasweta Devi, Chakravarty's rendition retains the flavours of Bengali, livens with the synergy at Santiniketan and gives a vivid stylistic feel of the writer, preserving the persona of a strong, fearless, accomplished, unconventional thinker in her mature years.
Our Santiniketan is a translation, of Mahasweta Devi's Amader Santiniketan written in Bengali. This book came into being in 2001 when the author started penning down her memories on the persuasion of the editor, Alok Chattopadhyay, of Srishti Prakashan. This is an important book for the current troubled and divisive times. The translation of the idea of the world as a family exposed to a larger readership may perhaps impact our move towards a more humanitarian world.
The Santiniketan projected by Mahasweta was a place that transcended all barriers of race, class, creed and wealth coloured with love, kindness and affection. It showcased Rabindranath's vision of an ideal education system. We are told: "And in Rabindranath's time, Santiniketan offered independence. It offered nurture. And those days, they didn't teach us the value of discipline through any kind of preaching.  They taught us through everyday existence"
Mahasweta Devi studied and played together with many, including eminent names in music, Kanika Bandopadhyay and Suchitra Mitra. She mentions others who taught, served or studied in Santiniketan and touched the world in different ways to make it a better place — Amiya Chakravarty, Nandalal Bose, Rathindranath and Mira (Rabindranath's children), Ramkinkar Baij, Rani Chanda, Maitreyi Devi, Mrinalini Sarabhai along with people who were part of the 'kitchen army' or the man who ran the tea stall.
Tagore was present at festivals, rehearsals and even presided during meals on some occasions. They worked at creating an ideal environment conducive to learning. By her description, Tagore had visualised education to build on the strengths of the children or students.
"Santiniketan did not adopt any measure that would jeopardise the children's sense of confidence and security. The attempt was to instil in everyone the conviction that if one tried, one could achieve e-v-e-r-y-thing…
"He (Tagore) was the creator who moulded human character. He knew the children, when they grow up, will choose their parts according to their individual capacities. But his concern was to ensure that the children learn to use time productively and find joy in active effort. We were also trained to think for ourselves and apply our ideas in practice."
Reflecting on her youthful days at Santiniketan, Mahasweta Devi wonders, "Why does education in love not feature in today's curriculum?" Though in Santiniketan, they followed academic rigour, they were disciplined with affection. They were taught to give dignity to all kinds of work. Perhaps that is why Mahasweta wrote, "Santiniketan taught us there is no such thing as worthless activity." There is a sprinkling of humour through the book with descriptions of the young Mahasweta's mischief, her comments on animal life, including Gaekwad's slogan "Give donkeys due respect."
Most of the world regards Tagore as a poet, a writer, a polyglot and the first Asian to win a Nobel prize. This book portrays him as a visionary who connected to people. The author mentions the mingling with Adivasis who would come down for festivals and how the older children would go to Surul, which was part of Sriniketan. Sriniketan and Santiniketan were two projects that Tagore held very dear. He poured, we are told in A History of Sriniketan (Niyogi Books, 2022) by Uma Das Gupta, all his Nobel prize money into these. Das Gupta tells us that Tagore considered Sriniketan as his 'life's work.' Mahasweta writes how it was a conglomerate vision where Tagore wanted the literate middle class to bridge borders between villagers and the city folk, the uneducated and the educated. Now, both these institutions are adopted and flourish under the banner of Visva Baharti.
Mahasweta Devi concludes her narrative with her regret at being withdrawn from Santiniketan too early, though she did return for her university education post the poet's death. Things had changed by then. Towards the end of her narrative, she also gives an opinion on how she feels Tagore's vision should have been interpreted. "I feel that this Visva-Bharati could have been developed into a University with a different character… The institution could have drawn East and West closer to each other. In the sky of knowledge, there are no borders after all."
Reading this memoir has been like an idyllic escape into a Rousseauvian world where one is transported to an existence beyond mundane, manmade borders. That Santiniketan and Sriniketan were both projects shattering the confines of "narrow domestic walls" is evident with the involvement of thinkers, scientists, writers and ideators from all over the world. The translation of the memoir has actually captured that surge of energy that could help us move towards a better, more humanitarian world. This is an intense, immersive, inspiring and refreshing read.
Mitali Chakravarty writes for love and harmony and in that spirit has founded the Borderless Journal.